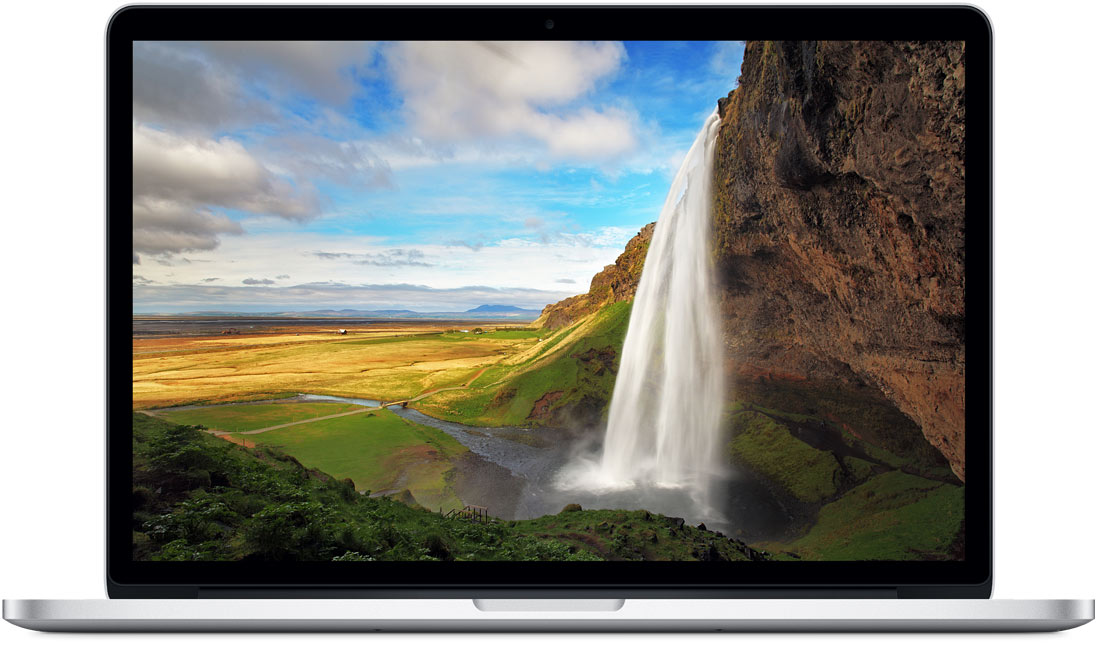 REVIEW: 15in MacBook Pro with Retina Display
Posted on Jun 19, 2015
If you are disappointed that the MacBook Pro upgrade doesn't feature Broadwell processors, then take heart – this performance increase is way above the 2-3% that the newer CPU would bring.
At first glance the new 15" MacBook Pro with Retina display seems to be a fairly minor tweak to the older model, but some of the more nerdy changes under the hood make a big difference. Intel have announced, but are yet to ship the 4-core versions of their 'Broadwell' processor so, unlike the update to its 13", 2-core sister, the 15" still has the older 'Haswell' chips. Intel have a 'tick-tock' release cycle – new processor designs are called the 'tock' release, and then the next release ('tick') is that same design made with a newer manufacturing process. These 'tick' processors consume less power and usually have a tiny speed increase. Broadwell is a tick version of Haswell (still with me?) so wouldn't have added a great deal of performance, though the memory interface is faster and the battery would have lasted longer.
So the new generation of processor makes only small improvements to a computer's overall speed – if you want to see major speed improvements you have to look elsewhere, and that's what Apple have done with the 15" MacBook Pro.
Firstly, and most significantly, the speed of the FLASH based SSD 'hard disc' (hard, but not a disc!) has been significantly improved. It now runs at 2GB/s – Blackmagic's Disk Speed Test maxed out with writes at 1.4GB/s and reads at nearly 1.9GB/s (5GB transfers). That's faster than a Mac Pro running the same test! You probably aren't going to store the rushes from the latest Avengers movie on your internal SSD, but that amazing speed means that applications start up pretty instantaneously. I was impressed.
The 2.2GHz processor option has to make do with Intel's built-in Iris Pro graphics, but the faster versions have a second GPU – now upgraded to AMD's nattily named Radeon R9 M370X, with 2GB of memory. Apple claim this to be 1.8x faster than the previous generation of MacBook Pro (based on Optical Flow analysis) and 1.5x faster at 3D Title rendering. If you are disappointed that the MacBook Pro upgrade doesn't feature Broadwell processors, then take heart – this performance increase is way above the 2-3% that the newer CPU would bring.
There is a slight black flash as the system swaps from the low-power Intel GPU to the AMD, for instance when you boot up FCP X. It's not too annoying though.
The other major feature upgrade – and the only one you really see when you use the laptop – is the Force Touch trackpad. Instead of a hinged plate, this trackpad doesn't move – it senses how hard you are pushing and Apple's 'Taptic Engine' provides haptic feedback (in other words, an audible and tactile click). It works extremely well – there is no difference in feel wherever you click on the trackpad and it even adjusts the sensitivity when you use your big, fat thumb. Pushing harder gives a second click and can be used, for instance, to get a pop-up preview of a web link in an email, or to preview files in the Finder.
One thing that, thankfully, hasn't changed is the glorious Retina display. Both FCP X and Logic really benefit from the real estate of the 2880×1800 pixel LCD. Colours are vibrant and the definition is incredible. The only downside is the shiny finish, intended to transmit as much of the resolution and contrast in the display as possible, but irritating on a sunny day. Not that film editors ever see the sun…
Other features taken straight from its predecessor are the two Thunderbolt 2 ports, two USB 3 ports, HDMI (up to 4096×2160 at 24fps) and an SDXC card slot.
The new 15" MacBook Pro is a truly fabulous laptop. It's fast, playing back 11 streams of 1080p, H.264 (each with 25% opacity) in FCP X without a stutter, and 16 streams of ProRes with colour correctors (all at the Better Quality setting). Put the playback setting into Better Performance and I got bored layering tracks before I ran out of CPU bandwidth. The battery lasts up to nine hours (though not if you play back 16 streams of ProRes!), it's light and, frankly, beautiful to look at – from the finish of the case to the Retina display. It's not cheap, of course – the 2.5GHz model with 512GB SSD is just a pound under £2000 – but I would argue that it's great value for money.
There are more powerful laptops in the world – the 17" HP Book G2 we looked at recently was faster on paper (and cost over $6000!) but that laptop, running Premiere Pro, couldn't hold a candle to the new MacBook Pro running FCP X – in terms of simultaneous clip playback with effects. That's the obvious benefit of Apple making both the hardware and the software. The next version of Mac OS X (El Capitan) includes Apple's proprietary graphics layer – Metal – which is said to be much faster than the OpenGL/OpenCL implementations currently in use. Adobe have already started implementing Metal support for their products, so, once El Capitan arrives in the Autumn, you can expect Premiere Pro (and After Effects, and Photoshop and…) to get an enormous performance boost on Apple hardware.