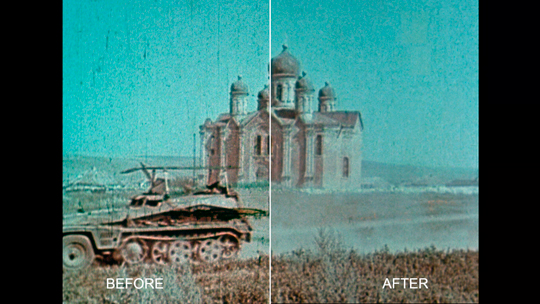 'World At War' Documentary Gets HD Restoration
Posted on Jun 7, 2010 by Alex Fice
(c) 1973 Thames Television Ltd. Courtesy of FremantleMedia Enterprises
In the years since its initial broadcast, this BAFTA and Emmy award-winning series has had many imitators but 'The World at War' remains one of the most revered documentaries ever made.
Now with the emergence of new technology, FremantleMedia are undertaking a comprehensive restoration project and will launch the series as it's never been seen or heard before. This painstaking restoration project is the largest of its kind for a television show, using the Snell & Wilcox ArchAngel of which there are only two in the world – a level of restoration is usually associated with major film studios' classic titles. Each frame has been restored individually and the audio reconfigured and upgraded – on average each episode has over 140,000 fixes, making more than 3.6 million across the entire series!
Also included and restored are the special presentations, giving a total running time of over 35 1/2 hours.
c) 1973 Thames Television Ltd. Courtesy of FremantleMedia Enterprises
(Originally broadcast in 1973 and narrated by Sir Laurence Olivier, 'The World at War' was produced by Thames Television over a four year period. The 26-part documentary series interviewed major members of the Allied and Axis campaigns, civilian eyewitnesses, enlisted men, officers and politicians and made use of the rare colour film footage to investigate the events surrounding World War II to create what is widely agreed to be the definitive history of World War II. The production costs were, at the time, record-breaking in the UK.
Along with the restoration of the complete series, FremantleMedia are offering a number of new features, available for the first time – to include;
• Hard of hearing subtitles
• 5.1 DTS HD Master Audio and 2.0 Stereo
• Enhanced picture now in 16:9 aspect ratio
• 'Restoring The World at War' – new feature detailing the process, narrated by original series Producer Sir Jeremy Isaacs
RRP for the 11 discs DVD release is £79.99 and the 9 discs Blu-Ray is £99.99