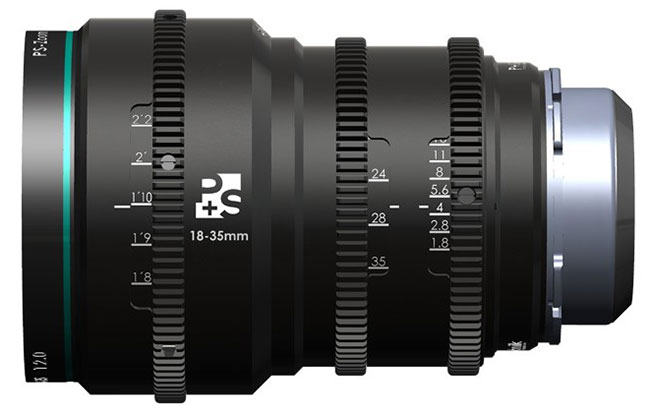 P&S Announced New Re-built Lightweight Zoom Lens
Posted on May 19, 2015 by Alex Fice
The PS-zoom 18-35 started life as a Sigma f1.8 before P&S re-built it.
P&S Technik, the German engineering company, has announced a new spherical, short PS-Zoom 18-35 lens. They have basically taken a Sigma 18-35 f1.8 lens and re-built it with cine style housing with a cam-driven focus system with interchangeable mounts and focus rings.
The zoom lens was designed for heavy use on everyday production, but at the same time an ultra lightweight design was a major goal in its development mainly because of the trend for smaller, lighter cameras and lightweight stabilising rigs. The PS-zoom comes in at just over one kilogram.
Based on the PS-IMS system, interchange mounts (PL, EF, E and MFT) are available for the PS-Zoom lenses. Metric and imperial focus scales are available and can be exchanged easily.
Highlights
•Ultra lightweight design, approx. 1Kg.
•High-speed, T 2.0 through out focal length range.
•Super 35 coverage, image diagonal 30 mm.
•No focus shift while changing focal length.
•Reliable cam driven focus mechanics with hard stops.
•Robust cine-style housing.
•Interchangeable mount kits available.
•Metric and imperial focus scales.