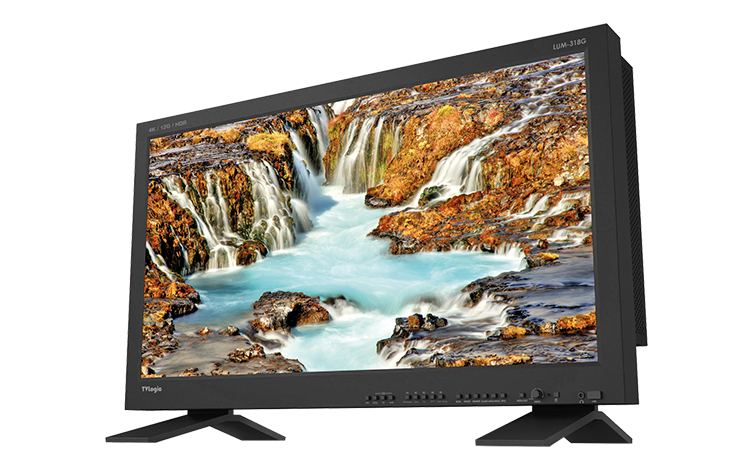 Sound Vision
Posted on Feb 18, 2019 by Alex Fice
Words: Julian Mitchell
Long-term testing of some monitor technologies has illuminated problems, but there's still some great products out there:
BenQ
PV270
It isn't always appropriate to spend £30k on a grading monitor. Lower-budget productions may well be graded in a small suite – often doubling as the edit suite – with no cash available for high-end equipment. One option for these small suites is a monitor that sits halfway between a full grading unit and one designed for photography and print. The BenQ PV270 is a 27in post-production grading monitor with DVI-DP, HDMI 1.4 and DisplayPort 1.2 inputs, but none of the I/O associated with higher-end monitors – SDI, analogue and the like.
Nevertheless, the monitor has many features for professional grading and perhaps deserves more attention. The panel is ten bit, 2560×1440 pixels and covers 100% of the Rec. 709 colour space (but only 96% of DCI-P3). It supports hardware calibration using BenQ's version of X-Rite's software suite, and uses X-Rite's excellent i1Display Pro, i1Pro or i1Pro2 spectrophotometers.
Verdict:
The screen is pleasant to look at with a matte, non-reflective surface and very even backlight illumination. Viewing angle is good and stand is adjustable.
SIZE – 27 INCHES
PEAK BIGHTNESS – 250 CD/M2
PIXEL PEEPING – 2560×1440
SWIT
S-1073H
The new S-1073H FROM SWIT IS A seven-inch LCD TFT panel with LED backlight, a native high-definition resolution of 1920×1200 and a contrast of 1000:1 with a 160° viewing angle, both horizontally and vertically.
The new SWIT is packed with features – the non-glaring LCD screen being the standout. I/Os include 3G-SDI and HDMI 2.0 (4K60p) input and loop output. Users can also select any two audio channels
to output via 3.5mm socket or speakers. Video features include a nine step quick zoom-in and mapping, and there is also focus assist with a precision adjustment tool. Other shooting tools include zebra stripes and false colour.
S-1073H monitor has built-in camera log to Rec. 709 conversion LUTs, including Log-C, C-log, S-log2, S-log3, V-log, J-log1 and RedLogFilm. You can also import your own 3DLUTs to monitor by USB stick and support 17x17x17 3DLUT cube files.
Verdict:
The S-1073H is a workmanlike camera monitor with substantial built-in Rec. 709 conversions in order to deal with high-end cameras.
SIZE – 7 INCHES
PIXEL PEEPING – 1920×1200
OTHER – REC.709 CONVERSION
Canon
DP-V2411
One of THE NEWEST HIGH-END monitors from Canon is the DP-V2411, a 24in professional reference display designed for 4K High Dynamic Range (HDR) broadcast and film production workflow. It offers superb image quality with high luminance and wide colour gamut, extensive functionality and advanced interfaces.
The DP-V2411 delivers a brightness of 600cd/m² when displaying full screen white, with the ability to increase luminance up to 1,000 cd/m² using the boost function. Canon's original built-in backlight control system is able to correct brightness to ensure a uniform, stable, precise and high-quality image.
Delivering accurate colour reproduction, the DP-V2411 uses a direct matrix backlight LED panel, which has been optimised to an IPS LCD to achieve a much wider colour gamut. Standard support includes ITU-R BT.2020 Ultra HD broadcast-standard colour gamut.
Verdict:
Very helpfully, the monitor is able to display metadata from Canon's Cinema EOS camera range and the ARRI camera systems.
SIZE – 24 INCHES
PEAK BRIGHTNESS – 600 CD/M
OTHER – SUPPORTS ACES
Samsung
QLED C49HG90
Most of the world's monitors are either 16:9 (the same ratio as HDTV) or around 21:9 – the shape of the classic Cinemascope screen. Samsung's 49in C49HG90 monitor is more ambitious: it's three-and-a-half-times wider than it is high, with a native resolution of 3840×1080.
As well as 144Hz frame rates, there's backlight strobing. This switches off the LEDs behind the LCD panel when it's changing state from frame to frame. As a result, the tiny moment of blur is invisible and there's no motion smearing. The effect can be made visible by waving a hand in front of a bright area, but at such high frame rates there's no sense of flicker in the image itself.
Colour is good for something that isn't a reference monitor. In standard sRGB mode, errors are generally under five Delta E (under two is ideal), with one error of 6.8 in the yellows. It drifts slightly blue in the highlights, and greens and reds are more saturated than blues, but it's within a correctable range.
Rolling the mouse cursor over a black image, viewed deliberately off-axis, reveals that there are probably eight large rectangular zones on the backlight, with output approaching 600 NITs peak with 250-300 on average. Between these two factors, the C49HG90 won't provide a premium HDR experience, although it
might encourage more games to implement HDR.
Verdict:
The C49HG90 is designed to be a fast-reacting display that fills the user's peripheral vision, while not overly stressing your graphics card. 
SIZE – 49 INCHES
PIXEL PEEPING – 3840×1080
OTHER – QLED NOT OLED
Marshall
V-LCD173HR
The latest addition to the well-known range of Marshall Electronics broadcast and production monitors is the Marshall V-LCD173HR: a 17.3in, crystal-clear, native resolution (1920×1080) monitor, which offers HDMI/HD-SDI conversion capability.
The V-LCD173HR is approximately 8.75 lbs and comes with a range of professional adjustment settings, HDMI and HD-SDI inputs and outputs, a built-in histogram, peaking, false colour, exposure and adjustable safety markers, among others. The V-LCD173HR also monitors up to two audio channels, making it an ideal all-in-one solution for on-set or on-location monitoring.
Users have confidence knowing that video images will come out looking exactly as intended. Additional features of the V-LCD173HR include LED Tally lights, image flip ability and a headphone jack for monitoring two channels of audio.
The V-LCD173HR is a powerhouse production monitor that provides accurate analytics on video image for precise application in broadcast, live stream, film, control rooms, field monitors and cinema production.
The V-LCD173HR offers good value for the price and its versatile mounting options enable it to fit in any kind of production room. It is also Rec. 709 compliant and its 6RU frame comes with rack ears for rack mounting, as well as an optional VESA mount for desktop use.
Verdict:
Many applications are suited for this monitor, including Broadcast, live streaming, production, cinema, film, control rooms, and field monitoring.
SIZE – 17.3 INCHES
PIXEL PEEPING – 1920×1080
OTHER – REC.709 COMPLIANT
SmallHD
1703-P3X
Due to the success of its daylight viewable monitors, SmallHD released the 1703-P3X: a near-OLED bright, fully featured 17in reference grade monitor. The company claims it's double the brightness of other 17in reference monitors, at home in full sunlight, and covers 100% of the DCI-P3 and Rec. 709 colour spaces. The 1703-P3X features a 1400:1 contrast ratio, a 178° viewing angle, and SmallHD's Pagebuilder OS toolset.
Designed to serve the colour display requirements of on-set and post-production colour grading professionals, the 1703-P3X comes pre-calibrated for DCI-P3 and Rec. 709 for broadcast use and cinema mastering. Covering 100% DCI-P3 with a Delta E average of <0.5, it offers installation of the user's 3D LUT calibration with advanced colour management solutions like Light Illusion's, LightSpace CMS or SpectraCal's CalMAN.
The 1703-P3X features one HDMI and two SDI inputs, plus one HDMI and two SDI outputs. The fast and intuitive operating system allows ganging of on-screen tools like HD waveform, vectorscope, false colour, focus peaking and two zebra bars simultaneously. Its Dual View function allows users to monitor two input sources simultaneously with side-by-side viewing.
The monitor's bright display supports any LUT workflow through SmallHD's ColorFlow 3D LUT Engine, which enables 3D LUT support.
Verdict:
The SmallHD 1703-P3X is its newest 17in monitor and comes equipped with a wide colour gamut display that is bright enough to see outdoors. 
SIZE – 17 INCHES
PEAK BRIGHTNESS – 900CD/M
OTHER – HDR PREVIEW
JVC
DT-U SERIES
JVC has two new studio monitor prototypes, each featuring 10-bit panels and 12-bit colour processing. The DT-U28 is a 28in UHD model, while the larger DT-U31 31.5in model features full 4K resolution. Both models can support 12G-SDI – or four times 3G HD-SDI – along with HDMI 2.0 with HDCP 2.2 for 4K support.
Thanks to their high resolution and four HD-SDI inputs, the DT-U Series monitors can also be used as quad-split displays, ideal for broadcast monitoring applications. There is a waveform monitor and vectorscope, too, together with 16-channel audio metering, plus the monitors can support DisplayPort for graphics devices. They are TSL RS-485 UMD compatible, also working with other standard control tools, and can be remote controlled via IP. The DT-U Series monitors are expected to be available at the beginning of 2019.
JVC has also a new range of HD monitors, featuring four models from 17in to 27in with 8-bit panels and 12-bit colour processing. The DT-G Series of monitors have 3G HD-SDI connections with loop, plus HDMI 2.0, and support a wide range of video signals, including 4K scaling.
Similar to the existing DT-V Series, professional features on these models include histogram alongside the waveform monitor, vectorscope and 16-channel audio metering. There's also a 4K pixel-to-pixel zoom function for any area of the screen.
Verdict:
The DT-U28 and DT-U31 monitors both support HDR functions, with Hybrid Log Gamma 3D LUTs. Colour is expected to be Rec. 2020.
SIZE – 28-31 INCHES
PIXEL PEEPING UHD/4K
OTHER 10 BIT
Sony
BVM-HX310
Sony announced a new 31in Grade 1 reference monitor, the BVM-HX310, which offers accurate colour reproduction and high-contrast performance to provide professional content creatives assurance when making critical picture decisions.
 The BVM-HX310 has been created in response to the industry's desire to overcome the challenge of accurate picture evaluation, especially in relation to black reproducibility. This monitor can accurately reproduce images down to individual pixels, thanks to a combination of the Sony specified and dedicated panel and its newly developed, display-processing technology. It is also fully capable of reproducing 4K and High Dynamic Range (HDR) content, supports industry standard brightness of up to 1,000 NITs in full-screen and a 1,000,000:1 contrast ratio for HDR productions.
 The BVM-HX310 hosts all major HDR EOTF and, for the first time in Sony professional monitors, 12G-SDI is supported, enabling 4K transmission with a single SDI cable. It handles ITU-R BT.2020 colour space and HDR images with Hybrid Log Gamma, SMPTE ST.2084 and 2.4 (HDR) gamma alongside S-Log2, S-Log3 and S-Log3 Live HDR for SR Live Workflow.
Additionally, the BVM-HX310's User LUT function will allow users to load pre-defined LUTs based on their viewing requirements on-set or in post-production.
Verdict:
The launch of this new reference monitor also marks the introduction of Sony's new technology brand TRIMASTER HX. Should become the new Netflix standard.
SIZE – 31 INCH
PEAK BRIGHTNESS – 1000 CD/M
OTHER – ALL MAJOR HDR EOTF
TVLogic
RANGE
This has been the year of 4K/UHD and high dynamic range (HDR) for TVLogic. Its range of UHD monitors includes seven LCD monitors from 17in t0 55in, as well as a 55in OLED. There is a 24in native UHD monitor, a choice of three 31in true 4K resolution monitors with different panel brightness, and a great value 43in native UHD monitor.
At 55in, there is a choice of LCD or OLED panels. The OLED features a 750-NIT panel and an ultra-slim bezel, making it an ideal client monitor. Inputs are standard across the range, with monitors accepting 4x3GB, 2x6GB or a single 12GB SDI input. All SDI inputs have a re-clocked output. There is also an HDMI 2.0 input for 4K over a single cable. They feature waveform monitors, vector scopes, cages and all the features you expect from TVLogic.
All monitors feature HDR emulation, a method of making the best use of the panel's maximum brightness and closely matching the appropriate HDR curve. The star performer may be the 31in, 2000-NIT LUM-310R, which shows true HDR even for PQ signals.
The LUM-318G is also a popular alternative. It has an 850-NIT, 31in panel, which can show S-Log, HLG, or PQ signals with minimal compression. The slightly lower brightness has proved a more practical option for editing and grading and with a list price of around £11,000, it is easier on the pocket as well as the eyes.
Verdict:
TV Logic are a company who are always near the front of any new technology and that includes the new dual-layer LCDs that are rumoured to be coming soon.
SIZE – 17 INCH TO 55 INCH
BEST OF RANGE? – LUM-318G
OTHER – HDR EMULATION