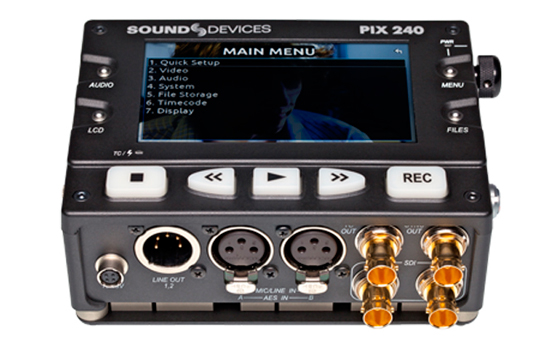 Sound Devices Launch Promising Pro VIDEO Recorders
Posted on May 12, 2011 by Alex Fice
Sound Devices are now have a go at video!Sound Devices traditionally makers of superb location sound recorders and mixers has quietly launched two promisingly spec'ed video recorders, the PIX 220 and PIX 240.
The video recorders add Quicktime recording using Apple ProRes or Avid DNxHD* to any HDMI or HD-SDI equipped high-definition video camera. The portable PIX 220 (HDMI-only) and its sibling the PIX 240 (HDMI and HD-SDI) record Quicktime files to CompactFlash cards or removable 2.5-inch solid-state hard drives.
*Avid DNxHD codec is available as an optional accessory
Key Features
• Apple ProRes or Avid DNxHD codec at multiple data rates
• Quicktime file type 10-bit input video resolution
• Ultra low-noise (-128 dBu) mic preamps with phantom, limiters, line input (based on 7-Series recorders)
• CompactFlash or removable 2.5-inch solid-state hard drives file storage with media spanning, UDF format for Mac OS and Windows compatibility
• High-accuracy built-in time code generator, with genlock / word clock output (PIX 240 only).