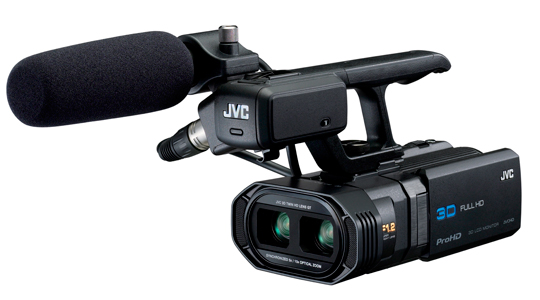 JVC ProHD 3D GY-HMZ1U
Posted on May 12, 2011 by Alex Fice
The JVC GY-HMZ1U has a 3D data rate for recording of 34mbpsJVC Professional Products unveiled the new GY-HMZ1U ProHD 3D camcorder at the 2011 NAB Show. With an integrated 3D twin lens design powered by JVC's proprietary large-scale integration (LSI) chip for high-speed processing of HD video, the GY-HMZ1U can simultaneously record each left and right image in full 1920×1080 resolution.
The handheld camcorder features dual 3.32 megapixel CMOS sensors – one for each lens – and delivers 34 Mbps AVCHD recording in 3D or 24 Mbps in 2D. Video can be recorded with timecode at 60i to provide smooth motion (for sports and other fast action) or 24p for a film-like effect. The GY-HMZ1U can also capture 3D time lapse and 3D digital stills.
"With the new GY-HMZ1U, video production professionals get true 3D with full HD resolution," said Craig Yanagi, national marketing and brand manager. "3D production can be extremely complex, but JVC's new ProHD camcorder makes 3D more accessible to independent filmmakers, commercial and corporate production houses, and even educational markets."
Equipped with an advanced image stabilizer, the twin F1.2 HD lenses offer a 5x optical zoom in 3D and 10x optical zoom in 2D. Video is recorded to non-proprietary SDHC or SDXC media cards or to the camera's built-in 80GB internal memory. The GY-HMZ1U's 3.5-inch colour LCD touch panel offers glasses-free 3D viewing and built-in tools like zebra pattern. Other professional features include a handle with dual XLR mic inputs and shotgun microphone mount (mic optional).
The GY-HMZ1U will be available this autumn and market priced under $2,500.