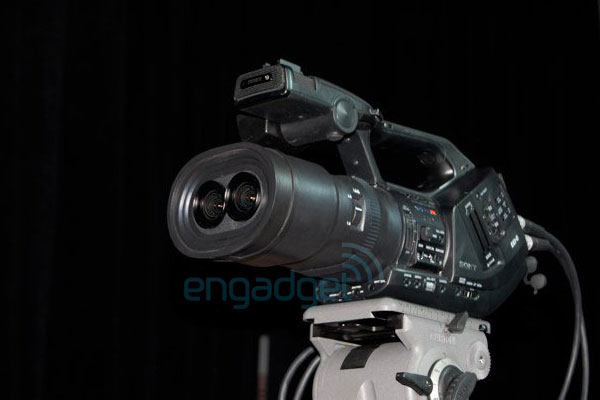 Sony's New 3D Camera
Posted on May 4, 2010 by Alex Fice
The conceptual Sony twin lens 3D camera, Pic © EngadgetDiscover Channel's John Honeycutt announced details of a new Sony 3D camera at the recent SMPTE Digital Cinema Summit. More details came from the CML forum: Sony is ".. developing a new camera system for the needs of independent producers, especially 'run-and-gun' natural history. This new camera system is not a product announcement; it is a conceptual prototype in its early development. There is not a product plan yet. However, Sony and Discovery are working together to gather feedback. Field tests are scheduled to start in July.
Basic specs are:
-3 CMOS 1/2-inch sensors per eye
-full 1920×1080 progressive capture
-interchangeable lens capability
-adjustable inter-axial distance – 1.5 to 3.5 inches –
-adjustable convergence via horizontal lens shift
-full metadata support
-it is being designed by Sony with input and collaboration from Discovery
Technology was drawn from Sony San Jose laboratories, Sony Pictures (Culver City) and Sony Atsugi, with major contributions by 3D consultants 21st Century 3D.