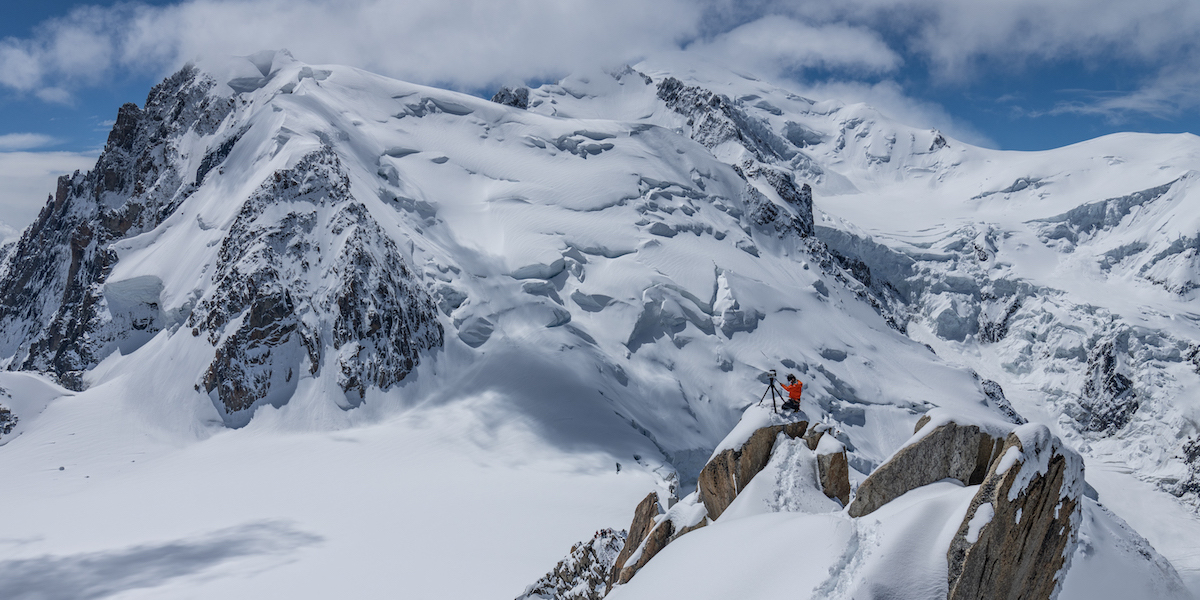 Peak power: Creating The Soloist VR
Posted on Nov 24, 2022
When filming in extreme conditions, having reliable equipment is absolutely paramount. Hear from filmmaker Renan Ozturk about creating Alex Hannold: The Soloist VR
WORDS. Robert Shepherd | IMAGES. Renan Ozturk
Have you ever had a nightmare where you're thousands of feet in the air, desperately hanging on to something by your fingertips, with nothing to catch you when you lose your grip? Well, there's a very real extreme sport fitting that exact description – free soloing. It's a niche and technical form of rock or ice climbing performed without ropes or harnesses. In fact, it's so niche, it's been described as 'a niche of a niche' – yet some practitioners have used it to climb to celebrity status.
One of the most recognisable names in the business is Alex Honnold, whose name entered public consciousness after his 2018 documentary Free Solo. The film follows the daredevil as he realises his lifelong dream: scaling Yosemite National Park's El Capitan without a rope, via the climbing route Free Rider. Not only did he become the first person to free solo the 3200ft vertical rock formation, but the film won the Academy Award for best documentary feature – as well as the corresponding category at the Baftas. Thanks to Honnold, all of a sudden free soloing was in vogue.
For those of us who prefer to free solo vicariously, the American's latest death-defying adventures have been chronicled in Alex Honnold: The Soloist VR, an immersive two-part documentary available in the US on Oculus TV, part of the Meta Quest platform. Produced by Jonathan Griffith Productions, in partnership with Red Bull Media House and Meta Quest, viewers are transported to some of the world's most remote and beautiful climbing locations, captured using the latest high-res 3D 360° cameras.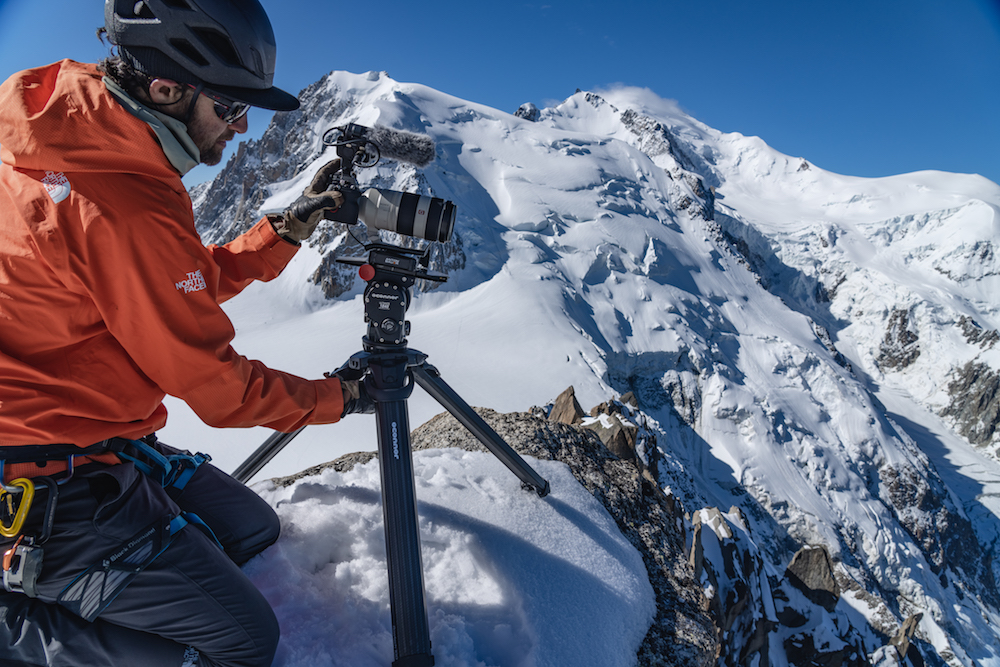 UP FOR IT
We know Honnold's job is a perilous one, but imagine being the person filming him in the mountains of Europe and
the US – it's a tough assignment even for elite climbers. Meet Renan Ozturk, an experienced expedition climber for The North Face and a photojournalist for Sony and National Geographic. For him, heading to extreme environments requires the highest levels of focus and gear prep – filming someone of Honnold's standing is as intense as it gets.
"We try to prepare ourselves for success," Ozturk says. "On the wall itself, every gram matters. You don't want to be worrying about gear in those scenarios, because you need to be thinking about safety and survival. You must know that all your kit is going to be up for that kind of a test."
I'VE GOT THE POWER
When you're working in extreme conditions with zero amenities, an essential part of filming is having enough battery power to make following someone on a treacherous adventure worthwhile. Ozturk had some bad experiences with batteries in the past, so was desperate to avoid the same when he started working on Alex Honnold: The Soloist VR.
"We've had cheaper battery brands fail; we've had them taken away at the airport," he says. "It's something we do not take lightly, especially with the trips coming up this year. If the batteries fail, we have nothing."
Having shopped around, Ozturk explains how the Anton/Bauer Titon Base was the answer. One of the key features of the IATA-certified, 'travel-friendly' 68Wh base is that it offers filmmakers 'portable power they can take anywhere'. It functions in freezing temperatures, making it conducive to brass monkey weather and extreme filming techniques.
"I found it super useful, as I'm a time-lapse junkie," Ozturk says. "We used the Titon Base for landscape time-lapses every day – and when we're doing lighter-weight stuff in the mountains with Alex, it powers the full-frame Sony Alpha camera perfectly."
At 14v/8A continuous draw, the 68Wh battery prides itself on delivering hours more runtime than standard batteries supplied with cameras. The Titon Base was also used to power an extra monitor for the drone as well as the crew's phones.
"There were countless times we've taken the base just to charge other accessories in a pinch," he adds. What's more, with the built-in LCD display, users know their battery life down to the minute, which suits shooters like Ozturk.
"It's cool just to be able to get into the mountains, pop the camera up and run a time-lapse for hours not having to worry about battery failure," he says. "We had no way to charge on the mountain. Every bit of power is precious."
DON'T LOOK DOWN
Even a seasoned professional like Ozturk struggled to balance high-level climbing and filmmaking with no margin for error. After all, it's quite literally a matter of life and death, so even he had fears.
"There are certain times where it's horrifying and you don't want to watch; you're hoping nothing falls off the mountain and kills him, including things like the camera equipment," he recalls. "Then sometimes it feels like another day in the office, his demeanour is so relaxed."
Other times, he and Honnold 'were on the biggest walls, which were crumbling and falling apart as the ice melted out of them… and there was falling rock'. These conditions prevented them from being able to rehearse their moves.
"Every time you go up, you must do it what we call 'on-site', which is figuring it out on the fly," says Ozturk. "So that makes it more dangerous with factors out of your control."
The crew on Alex Honnold: The Soloist VR utilised the Insta360 Titan – one of the biggest VR cameras available today. Ozturk and his team were mounting the camera on the walls as Honnold was climbing past. The way it's shot, the viewer is immersed in a VR environment, so they see and feel like a bystander as the protagonist clambers past on the wall. An excited Ozturk says it's a technique not seen before.
"It's going to be a groundbreaking way to look at climbing in general," he asserts. "The fact that Alex is without a rope on these crazy objectives makes it that much more captivating. It's insane how you can watch him climbing for five minutes and not take your eyes off him."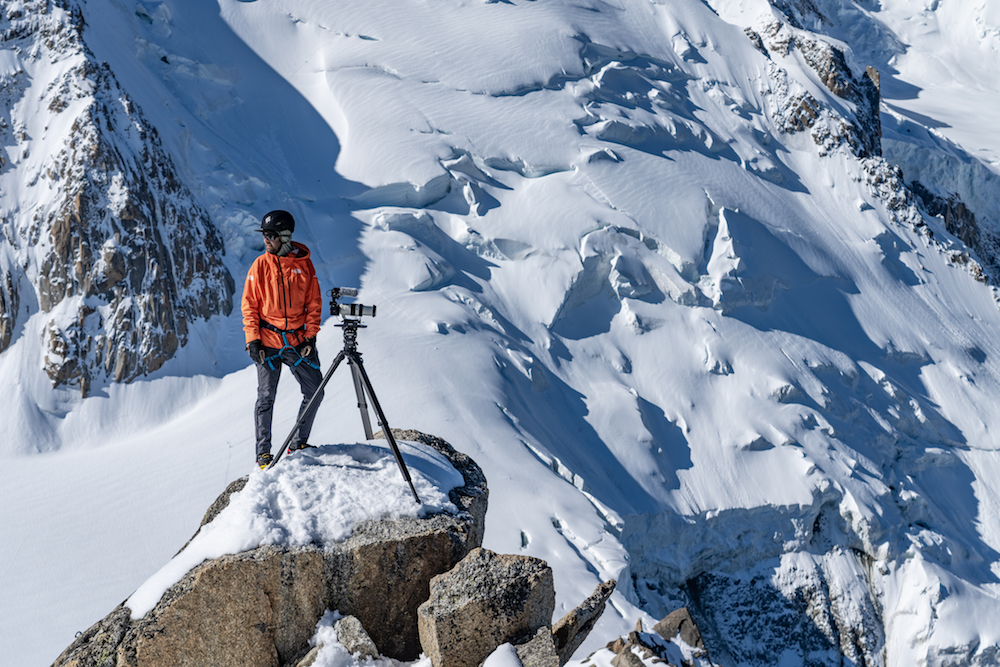 BLOWING HOT AND COLD
Working at altitude means exposure to the elements. Ozturk and crew were up against extreme weather conditions, which the kit itself also had to survive.
"We've been taking the OConnor 1040 system and Titon Base battery to the highest, coldest places in Europe, and then through extreme 120°F (49°C) heat in Las Vegas. I just know that with this kit I can get shots and not miss moments. It helps me take that expedition-style filmmaking into these commercial productions. To have the OConnor 1040 and the Titon Base working seamlessly with the gear that I know and trust – that's imperative."
"If you don't have power, you have nothing. Shooting in this style, you can't afford to miss a moment"
GOING SOLO
Time is money on any shoot, but you'd struggle to imagine a more pressurised situation than hurriedly setting up a shot on a windswept mountain peak.
Ozturk again opines the pairing of the Titon Base with the OConnor 1040 in these scenarios. The former's quick-release 1/4in-20 mounting allowed him to snap on and off the OConnor tripod in seconds for a reliable adventure set-up.
"The OConnor 1040 flowtech system is the perfect intersection of high-end feature films and adventure cinematography," Ozturk declares. "Now we have the ultimate stabilisation for our cameras. The 1040 technology is the same OConnor innovation people shoot on huge feature films and we're proving you can take these tools to the most remote places on the planet. They function just as well – if not better – in scorching desert heat or -40°C in Antarctica."
Ozturk argues that if you'll go to such extremes for a film, it's a false economy to do it on a shoestring budget. He compares camera kit to safety equipment.
TOUCH THE SKY
"Just like when you're climbing a mountain, you're not going to skimp on the rope that will save your life. It's the same with camera equipment," he says.
"It's worth every penny to invest in gear that's going to survive from base camp to summit. You don't want to compromise on new gear, because everyone's been in a position where terrible gear lets you down. Making the right choices removes that element of doubt and fear."
ALL OR NOTHING
If you happen to be a budding adventure cinematographer, Ozturk has some words of advice when it comes to sourcing your camera kit.
"Really focus on investing in reliable power because it does make a significant difference," he insists. "If you don't have power, you have nothing. Especially if you're shooting documentary-style, you can't afford to miss a moment."
Watch Alex Honnold: The Soloist VR in Oculus TV on the Meta Quest platform
This article appears in the December 2022 Issue of Definition. Read the full magazine here.