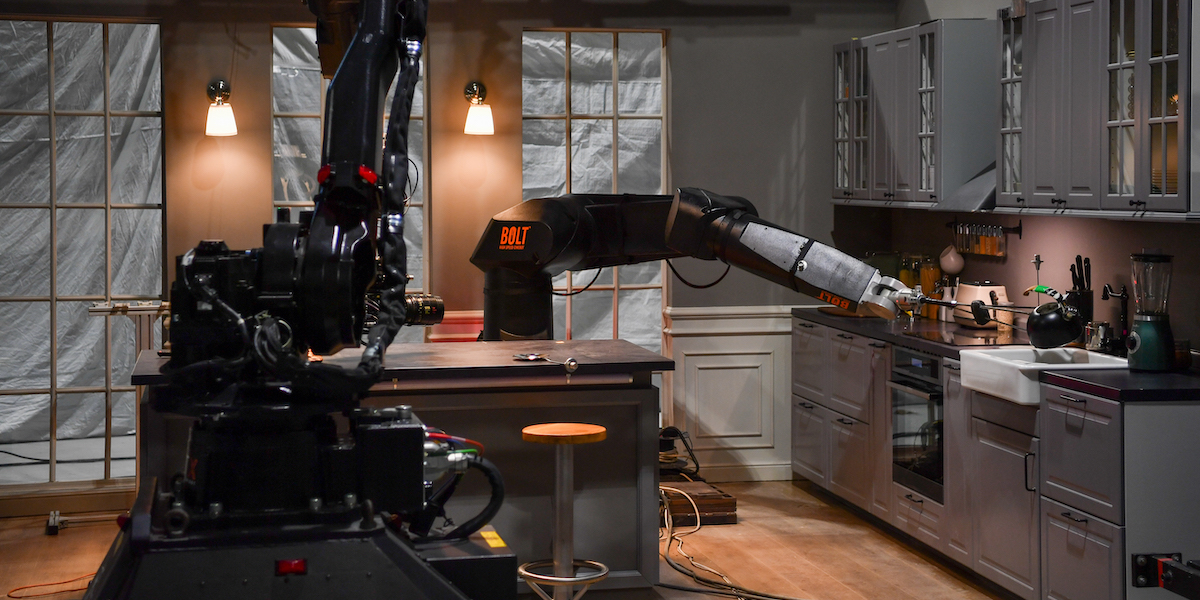 Revealed by robots: The Invisible Man
Posted on May 31, 2023
The Invisible Man has had lots of iterations over the years, but nothing quite like this one
WORDS Robert Shepherd | IMAGES Dorian Culmer & Oana Olariu
The concept of The Invisible Man, a character first introduced in HG Wells' 1897 novel of the same name, has been a source of fascination for many years. Just the thought of a human who can become unseen, and the potential consequences of such power, has captivated audiences in various forms of media for decades.
From adaptations in film and television to video games and even comic books, the concept of invisibility continues to be a popular theme in pop culture.
The original film adaptation of The Invisible Man was released in 1933, directed by James Whale and starring Claude Rains as the titular character. This was groundbreaking for its time, known for its special effects and dark, suspenseful storytelling.
Yet, despite its success, the technology available at the time meant many of the scenes that could have been dynamic remained stagnant or limited in their execution. Fast-forward to today and the technology available to filmmakers is unrecognisable compared to 1933.
The most recent remake (of note) is the 2020 version, in which Elisabeth Moss takes the lead as a woman who suspects she is being stalked and psychologically manipulated by her supposedly dead former partner (played by Oliver Jackson-Cohen), who has now obtained the power to turn invisible.
Audiences are set to welcome another version. But before you question why we need another adaptation, the latest take on the sci-fi story sees 6 Degrees Romania and MRMC partner up to create a rather different approach. For starters, the duration of the entire film is more like that of a trailer.
"At the moment, the movie is around the two-minute mark," explains director Damian Groves. "We don't have an exact length yet as we're still working on the post. We filmed everything at 75 frames and intend to work on the complete length, so we have maximum flexibility for time remapping the single shot."
The rationale behind the decision was to make it as accessible as possible to 2023's audiences.
We wanted to generate some content that would work on social media, so keeping it as short as possible was the aim," Groves continues. "Initially we were talking about a one-minute movie, but the idea evolved beyond that to something a bit more complex, and we didn't want to rein in anything because of time constraints. But we always had it in mind that we wanted a piece of shareable content, and for that to work it's got be short. I think two minutes is a nice compromise, allowing room for the idea to be fully developed."
Groves partnered with Radu Stefan Fulga, DOP (also the motion control operator) and Cosmin Fericean (Cutare Film), having worked with them before.
"We've worked together on several occasions, but this was the first project where the collaboration was in a trio, without a client or agency, giving us greater freedom and time to capture exactly what we wanted." Groves adds.
He says the collaboration with MRMC was a great one because the team had the creative freedom to experiment with its full support. "We didn't get the feeling there were any strict rules or limits to what we wanted to shoot," Groves adds.
The Invisible Man will be released 21st May on YouTube and Instagram
This article appears in the June 2023 issue of Definition. Read the full story here.