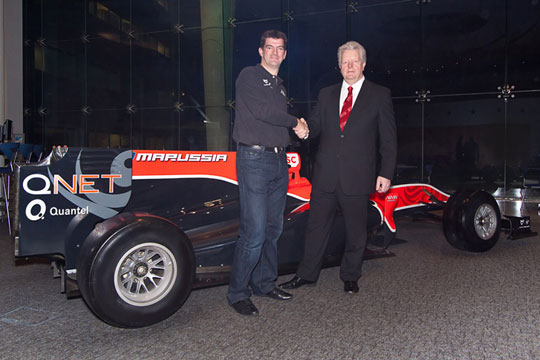 Quantel Break The Marketing Mould and Get Formula One Branding
Posted on Jan 20, 2011 by Alex Fice
Graeme Lowdon, CEO of Marussia Virgin Racing and Ray Cross CEO of QuantelQuantel is set to partner the Marussia Virgin Racing Formula One team throughout the 2011 FIA Formula One World Championship season. The deal will see Marussia Virgin Racing's brand carrying the
Quantel brand at 20 races around the world, kicking off at the season opening Bahrain Grand Prix on 13th March.  Drivers Timo Glock and Jerome D'Ambrosio will also sport the Quantel logo on their race wear.
Ray Cross commented on this unique tie-up: "
Quantel is currently enjoying great success. Stereo3D and our Enterprise sQ system with its unparalleled scalability, performance and ease of use are key drivers of that success. Our new QTube technology will have massive positive impact on our customers' organisations when it is introduced next quarter.  We need to get our message out to News and Sports broadcasters and Post organisations worldwide strongly if we are to deliver on the potential of QTube. We want every broadcaster and Post house in the world to know about us. Which is where Marussia Virgin Racing comes in."
Graeme Lowdon, CEO of Marussia Virgin Racing, commented: "I am delighted to welcome Quantel to the Team as an official partner.
Quantel is a company that is passionate about creating solutions for its customers on a worldwide scale and we both have a shared commitment to excellence in technology. Quantel has pioneered many new technological advances and as Marussia Virgin Racing enters its second season of racing we hope that our own advances in technology provide the success that we aim for."