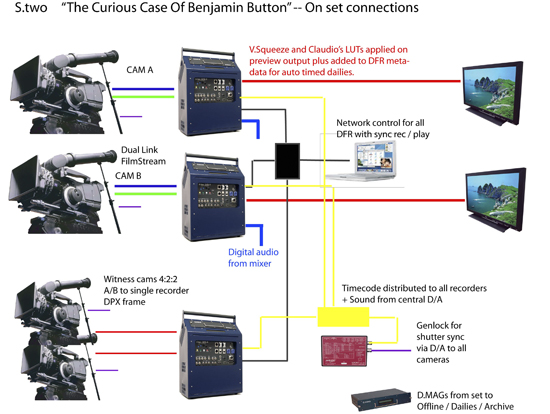 Pushing The Button
Posted on Apr 21, 2010 by Alex Fice
Frame Grab from The Curious Case Of Benjamin ButtonIf you have ever seen the movie Babel starring Brad Pitt and Cate Blanchett, you'll know it was an earnest attempt at illustrating the connections between lives and events throughout the world. You might not have known that Brad and Cate had already started camera testing for The Curious Case of Benjamin Button before Babel had even started shooting – such was the length of time that Benjamin Button had been in production – about five years.
But also you will then understand that at the time of the shooting tests there weren't many digital cameras that fitted the film's requirements except the Grass Valley Viper system – although they did test the Dalsa Origin, but it wasn't ready, in fact DoP Claudio Miranda commented: "It had a lot of issues". Of course Director David Fincher has used the Viper system a few times before in commercials and perhaps more notably in the film Zodiac, another lengthy but meticulously made movie.
As much as Fincher and his crew are proud of the films they make, they are also proud of the way they make them. Producer Ceán Chaffin has been shocked at the 'Best Cinematography' nominations the film has picked up especially on the West Coast of America: "I'm not sure how we got an ASC and an Oscar nomination for Cinematography, I'm so shocked in many ways. A BAFTA too but I think Britain and Europe are well ahead of the curve. LA is a film town, a company town and clearly it's film oriented. I hope this is a tipping point for digital but the old guard has to die before the new one comes in!"
Ceán had been involved more in costing this digital workflow out and had looked at introducing digital for a feature before Zodiac but found that it just wasn't cost efficient at that time: "At the moment of Zodiac storage was so cheap that we were able to push it, it was also about the savings at that point. The sticking point was really about storage for us up to Zodiac.
"There is a fear factor about change, budget wise but if I said to Fincher that it was going to cost $100,000 more to shoot digitally my guess is that he would still say, 'We're doing this.' Just because of the ease of workflow.
"But not only was it easier, it was cheaper too. You save in film stock and you apply it to different areas – basically equipment. This is something I don't know if I really want to say but we have a reduced crew, just the way David works he prefers a reduced crew. In our editorial crew the way he works is a little bit longer, we actually added some people in editorial but overall the crew was much less than any other film going through Warner Bros at the time."
As other data or tapeless shoots are finding, insurance companies like the way they work including the workflow on Benjamin Button, Ceán Chaffin. "We had insurance come in, the people who insure the movie. We walked them through everything and they actually reduced our insurance costs and that was about half way through the movie. Was it a lot? No. Did he count? Yes, we put every dime on that screen. That was pretty exciting for bean counters like myself!"
For insurance companies it must be a no brainer. You get cloning of your movie almost immediately, no film to send on an plane to the labs, much less risk of anything going wrong. "We had a copy of the movie at two different studios and I'm talking about just the original footage."
Here's the irony. You have a reduced risk statement from your insurers so you pay less, you have a reduced crew numbers, you have a faster workflow than a film shoot and you have a product that looks like film. So how many other producers and directors were hammering on Ceán's door asking for the secret of their work practices: "Very few producers call me, more directors will call and the ones who aren't so fearful will come by and see what we're doing. But there is misinformation out there, we read articles about the fears and problems shooting this way and those are inaccurate.
"There is also a movement by the Academy warning people of the perils of relying on different formats for archiving.  [www.oscars.org/science-technology/council/projects/digitaldilemma/]. They don't talk about migration to whatever the current format is, which we do every ten years, or so, it doesn't make any sense to fight that.
"Also not that many people care about the environmental side of the workflow in our business, but our workflow is also incredibly kind on the environment.  Between digital, capture and PIX – we create very little, if any, waste.
"We're very anti-tape and we're very pro hard drives. That is a conversation I can have with other producers. They might say 'You get a camera and you go to any source you want'. That's the mistake they make. We feel this way, our way, is the best for capture."
A lot has been said of David Fincher's way of on-set discipline – multiple takes and multiple deletion of takes for example, Ceán expands on this theme, "The first thing he likes about it is that you don't have a clapper in an actor's face. It 'jars' where they're going. He likes to be on a roll on the set so the 'not reloading' in front of an actor is great. He also likes having the high def monitor so he can show whoever what is going on. He hates surprises with next day dailies. David Fincher is technologically fearless."
MAKING BENJAMIN BUTTON
DoP Claudio MirandaClaudio Miranda was the main DP on Benjamin Button or 'Buttons' as he calls it. He was also a DP on Zodiac and shot some of David Fincher's commercials so was used to the Fincher way of working and the mantra of making things better, easier and hopefully cheaper. As mentioned before the Viper cameras were decided upon to shoot the movie in full Filmstream 2.37:1 Viper anamorphic mode after the Dalsa was eliminated from the equation. The Sony F23 was also used but only in a few scenes and not in any anamorphic way, as Post Supervisor Peter Mavromates explains. "We shot with the F23.  It was used in the modern day sequences of Daisy in her death bed as her daughter reads Benjamin's story. The F23 produced DPX frames like Viper, so the pipeline was identical. We still recorded on S-Two and backed up to LTO, etc. One difference is that the Viper has an anamorphic mode we used in which the 16×9 sensor captures a vertically stretched image that results in a flat 2:40 image. The F23 does not have an anamorphic mode, so we captured a 16×9 flat image from which we extract the 2:40 section of the middle.   One advantage this affords is that if David is unhappy with the head room in the framing, we can move the F23 image up or down because we have captured extra information there.  It is something like shooting Super35 in film."
Five years ago the only choice for such a movie as Benjamin Button with its amount of blue screen work was probably the Viper and Claudio admits they went with the cameras that were ready: "When we tested with the Viper we were getting results we hadn't seen before in a HD video camera, we also used film for some sequences and it was funny that some of those film shot were the ones people thought were HD."
VIPER TO STWO
On-set workflow for the movieThe workflow was to be very similar to the one they used on Zodiac, probably the first time they had duplicated a workflow. Basically it was Viper to STwo hard drives with back up to LTO3 tapes. Claudio found his own way to keep the look of the film consistent and it was inspired by some software from the digital stills market, Apple's Aperture. "I made this Look Up Table (LUT) just to take a little bit of the green out of the Viper and add a little bit of contrast. I didn't really made a big deal of the look and would go home with a thumb drive of all the DPX files and grade them myself. They were my dailies. I got very familiar with the Viper and it's range. There were no real dailies apart from something that was loaded on the PIX system (PIcture eXchange), based off of my 'not great' LUT that I made. I made a web site that represented the look of the movie which David and I could both look at.
"That was easier for me with the system I set-up and only took about an hour at the end of each day. I had a Photoshop script that I ran to get the files in to the real world and uploaded everything in Aperture. I did test all these other programs but it just took me so long to get through and post something on the web. In Aperture I could put four pictures up at the same time and apply a colour correction to one and then apply that to all. I had Shake and all the Iridas stuff and I just thought it was all too complicated. We both had the same computers and I did make a printed book at the end which I took to Digital Domain, David also had a copy. In a way, with computers changing and screens changing maybe print would be the most consistent thing you could have!
"Also I always knew that I would be at the DI so to do some sort of on-set colour correction that would be transferred later probably wouldn't work. It's a lot of work to do on-set and I find it never ends up being correct anyway. The Photoshop/Aperture route was graded and uploaded in an hour.
"Its great to take home the real negative and play with it and see if you've under or overexposed it. I would love to see it become truly accurate all the way across the board. Some people are claiming that but I haven't really seen it. Ironically David bought a new laptop and so my whole web site didn't matter anymore – so low tech for me worked in this instance up to a point."
SHOOTING WITH VIPER
Although Grass Valley aren't going to upgrade the Viper anytime soon, (especially as the company is now up for sale) it does have some serious credentials. Even the 'camera of the moment' RED One would have had a problem with this shoot. Claudio Miranda: "The RED has issues of its own, it has some highlight issues that would have been problematic on 'Buttons' like when we shot the Tent sequence where the Viper pretty much held all those bulbs pretty well. Also when Benjamin is sitting on the side of the bed there is that bulb that is kind of 'ripping' through. That's the one thing we were really impressed with when we tested the Viper with different light sources."
There was a thought to use colour to enhance the story as it unfolded and indeed there is a yellow to blue change as a history winds forward. Claudio was tempted to achieve this  through filtering: "We talked about filters on the camera but the problem was the amount of blue screen work – I just thought that adding a yellow filter on a blue screen could be problematic. David wanted me to test filters and I tested all these filters but I tried my own low tech grading solution via Aperture and replicated them pretty well so I thought if I'm getting close then we'll really get close later on in the DI. Also for VFX work they need all the information, as much as they can. Also I wanted the shots to get as much light as I could get from the street so I didn't need something else knocking my light levels down. We were shooting pretty much as minimal lighting as possible.
"Again for the tent sequence we had, believe it or not, vintage light bulbs which didn't really give off a lot of light. I was a little bit shocked when I ordered 60W light bulbs which normally would be overkill, 40 or 25 would be fine. We had to increase the voltage to 140W to try and bring it up.
"The camera for some reason seems to be more daylight sensitive than tungsten so I rated it anything between 400 or 500 ASA. I liked having it up so I could bring the noise floor down which left us watching clipping, so pretty much my meter was my scope. I got in the habit of knowing or not knowing that I'd got it from the scope and the image, it was pretty easy."
In 160 days of shooting Claudio couldn't think of when they had a corrupted frame, there were a couple of glitches when they upgraded the software on the STwo but they knew about those on-set. The only other problem was when a 50 calibre machine gun went off it would knock out the camera or the STwo! Some of those scenes then had to re-shot on film.
PRE AND POST PRODUCTION
Post production supervisor Peter Mavromates was on his fifth David Fincher movie and was involved from the camera tests all the way through to post. He explains the main workflow, "We always prefer to shoot without any compression so we shoot directly to hard drives. The majority of the Benjamin Button shoot was done in New Orleans, our editors stayed in LA the entire time even during the shoot so we built our digital lab in New Orleans. I sent one of our assistants down there and hired some local help and had two Final Cut Pro systems down there and all the back up stations that pulled the data off the DMags which were the hard drives that worked with the STwo equipment on set, they hold about 30 minutes of material.
"Those DMags would go from our set to the data lab, assistants would review the data before they did anything else to make sure all the scene and take numbers were labelled correctly. Then they would do several things, one being that they would back up the data to two LTO3 tapes so we would be able to geographically separate the back-ups. So we started with one negative on the set and now we have two new negatives with no generation loss. There's something new because before if you had a single negative – the only one you had.
"Those LTO3s would eventually migrate to here in LA, so I would have them send the first set and once that arrived they sent the second. We would do that generally about once a week. The other thing that would happen in that digital lab would be that they would create the edit media, DVCPRO HD files of what was shot that day. Those would get loaded on to hard drives and everyday a hard drive would be Fedex'd to LA. Then they would make QuickTimes that would be uploaded to PIX to distribute dailies so chosen people would be able to go online and watch dailies.
"The PIX system is also how David communicated with many departments like casting and location, and also the editorial department would send assembled scenes back to David for him to review. The system enables you to review and even draw on frames, for instance if he didn't like an actor in the background he could circle their face, that kind of thing. It was great and meant that you didn't have to have a meeting with David to get feedback from him.
"When the dailies are created we used the iDock from STwo which would create the dailies in real time, it was operated much like a VTR in that it would play real time in to the system and create the DVCPRO HD QuickTime. That would come with audio in sync. Right there is the key thing, which is different from when we shot Zodiac. On Zodiac we were still, for lack of a better term, on a more primitive level. What happened on Zodiac was that the media on the DMag would have to be ingested, the DVCPRO HD would have to be rendered overnight and then we would have to add audio back to it.
"So we've gone from rendering our edit media to one where we play it in real time, how do we improve that? Hopefully in the future we will be going back to that render pipeline but that render will be faster than real time. The render on Zodiac was multiples of real time, about five I think. It's possible that we maybe skip that step entirely and just edit with the full res media, which would be the ultimate. That's on David's wish list and he also wishes he could watch high definition VFX on the PIX system, full res no compression."
So for Fincher having editing on or near the set isn't on that wish list because of this great PIX system, of course if he wanted to see something put together an assistant in the New Orleans digital lab would do it on one of their Final Cut Pro editing systems.
STORAGE COSTS
The DMags cost about $10,000 each but they are re-cycled once everything is on LTOs. But as in anything in IT costs will come down, as Peter found out: "At the start of the project I was paying about $90 per LTO tape, at the end it was down to about half that. In terms of our edit room and as a Post Supervisor my dream is to capture all the data full resolution, back it up but then load it full resolution on to a server so I would only go back to my back-ups tape if anything went wrong. That scenario is still a little bit out of reach but to give you an idea, my edit room has about 60 Terabytes of storage, that's probably twice as much as I need for editorial but probably only an eighth of what I need to keep everything online!"
VFX SHOTS
Benjamin Button had nine VFX vendors including Digital Domain who handled the now famous face replacement FX for Brad Pitt, Peter's job included getting all the budgets from the various companies: "So it was our jobs to manage the shots that were being sent out to these houses, the end total was about 1300 plates, about 1200 of which survived in the movie. As far as Digital Domain was concerned their number of shots were huge because of the number of cameras. David usually shoots everything with two primary cameras but for the Digital Domain shots they would have additional 'witness' cameras."
The Digital Domain work was the most complicated of all nine vendors, in fact the first 52 minutes of the film nearly constantly has their face replacement technology in play. "We would shoot in New Orleans with an actor that wasn't Brad Pitt and we would have to cut that material and then later on we would bring Brad Pitt in then shoot him performing his facial expressions for Digital Domain to capture and replace the actor's face. I helped design the rig that Brad stood in to give his replacement performances. Brad would look at the cut scene, perform it for the cameras and the watch it play back. It was a very interesting process and in many regards seems very low tech but it worked. We actually used a piece of exercise gear for him to stand in and hold on to, usually used for leg lifts! That kept him approximately in the same place, we didn't have to be 'pixel anal' about the whole thing! We had four Viper cameras in a semi circle capturing it from different angles.
"The witness cameras are on set where you had the person who wasn't Brad with the blue sock on his head. You had your two primary cameras but you would also put cameras off on to the sides shooting at more of an angle. Those cameras might see Dolly tracks and crew but it didn't matter, the point was that by having the four feeds Digital Domain could triangulate the exact position of that head and the shape of that head in that particular scenario. So at the most we had about eight Vipers working at any one time."
This kind of workflow makes total sense when you compare it to maybe a film equivalent. Peter puts it in to perspective, "What's great about this is on the one hand there's this security advantage as the master doesn't go out to the world at large. But it also means that as soon as I have media in my edit room, if Digital Domain says 'Look we really want get that one shot that David did yesterday to do a test on' it they'll have it that day. I don't have to call a negative cutter, have them pull the negative, prep the negative, send it to a lab to get it spliced, send it to a scanning facility and then put it on a hard drive to be sent to the VFX house."