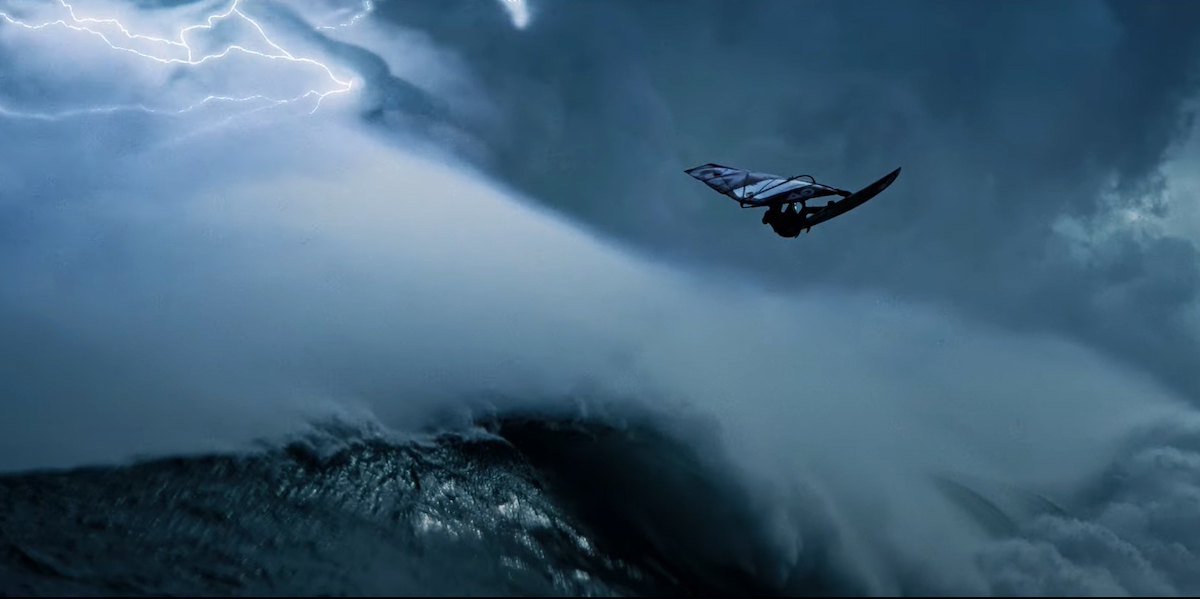 The eye of the storm
Posted on Sep 18, 2023
Nicola Foley meets the makers of The Storm Chaser, a critically acclaimed windsurfing film making waves on the festival circuit
A film about a big-wave windsurfer obsessed with violent storms doesn't sound like a relaxing watch – but director Jack Pirie has created something beautifully unexpected with his new short, The Storm Chaser. Blurring the lines between documentary and drama, it invites viewers into the world of Thomas Traversa, a champion windsurfer who spends his life seeking out and conquering the world's wildest waves.
However, for the most part, this isn't a white-knuckle, adrenaline-pumping ride. Thanks to Pirie's narrative shaping and Traversa's gentle, philosophical temperament, what's offered is an almost mystical exploration of encounters between man and nature (with some thrillingly visceral storm-surfing footage at the film's climax).
THE MAN AND THE SEA
Stumbling across him by chance online, Pirie was impressed by Traversa's sporting skill, but it was the French athlete's character which really drew him in. "I saw that he was this deep-thinking and meditative guy. Not a typical extreme sport, gung-ho type," he recalls. "And there was some lovely juxtaposition there – you're going out in the most chaotic environment possible, but actually, what you're finding within that is something quiet."
When it came to the look and feel for the film, a key reference point was Jonathan Glazer's iconic Surfer advert for Guinness, depicting a man calmly biding his time before charging his surfboard into a once-in-a-lifetime wave, flanked by spectral white horses.
"I love things that transcend the boundaries between fantasy and reality, and there's something so beautiful about that commercial. I wanted to try and do something that had a similar kind of merging of the real and the fantastical," explains Pirie.
"In that advert, he takes you inside the wave. Usually when you watch surfing, it's long-lens stuff from the shore. You're going for beautiful lines, to show the perfection of the athlete and the scene. But I didn't want that, I wanted to take people inside the storm, to show them what it feels like to do what Thomas does."
THE CREST OF THE WAVE
To capture the action, Pirie and DOP Will Billany opted for an ARRI ALEXA Mini with Meru Anamorphics (supplied by rental outfit One Stop Films in London), utilising a drone for aerial footage and Panasonic LUMIX GH5 for filming in water. "Kit-wise, it was minimal. We had a slider for a few shots, but mainly everything was shot handheld," notes Billany. "We knew we wanted this to feel like a documentary, but heightened, and anamorphics seemed the way to go.
"We landed on the Merus as they strike a nice balance between having plenty of character and remaining relatively sharp and contrasty wide open. Having the ability to shoot like that was essential, given we were filming a lot of this with available light – and we needed to be able to work fast."
Because of the reliance on natural light, the team put hours into scouting the right locations (mostly around northern Spain), and planning exactly what time they had to be there to capture what they were after. When they needed to supplement the lighting, they incorporated practicals into the frame – or a light that was unobtrusive enough that it could be taken for a practical.
"We used two-foot Astera Helios Tubes for much of the lighting, and I had some 3D-printed magnets made so that I could quickly rig these into tight spaces out of shot," comments Billany. "In addition, I employed a Hudson Spider Mozzie kit – which I love and use all the time – and an Aladdin Bi-Flex 4 for a couple of shots."
This article originally appears in the September 2023 issue of Definition. Read the full story here.