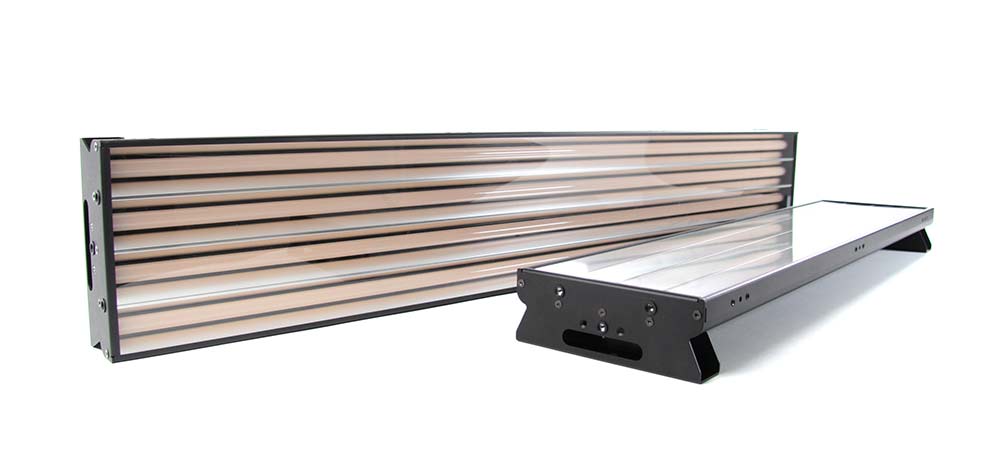 New Remote Phosphor Pipes in Banks from BBS Lighting
Posted on Mar 23, 2016 by Alex Fice
BBS Lighting have expanded their remote phosphor offerings with Multi-fixture Reflector banks and 4-way controller for their modular Pipeline system.
BBS' Pipeline system is an expandable array of customisable cylindrical fixtures that produce soft, projected fully dimmable, 100%-0% output, without colour shift. The 1-inch diameter LED Pipes are available in 1', 2', 3' and 4', lengths offering the benefits of remote phosphor's brighter, higher fidelity light emission of over 1000 lumens per foot with a 95+ TLCI. You can select from 3200°K, 4300°K or 5600°K Pipes to use individually or combined, along with the new 4-Way Controller.
Following the success of the Area 48 Soft, BBS offers a new version with ultra-precise dimming in the last 5% to 0%. The first of its kind, this feature is useful for sound stages, television studios, classic concert halls, theatres, and motion capture studios where extremely smooth dimming through the entire range, from 100% to zero is needed. The new 48V Area 48 Studio also operates silently due to the system's fan-less cooling.
A new Remote Dimmer for the Area 48 Soft LED light system is also new. Palm-sized, it provides single or multi-fixture 16-bit dimming of Area 48 Soft fixtures from 100% to blackout. The dimmer overrides on-fixture settings, and a numerical rotary knob allows precise dial-in while ON/OFF toggles between blackout and chosen setting.