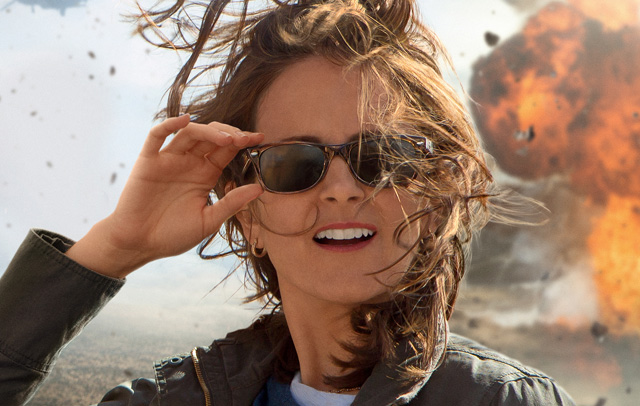 SHOOT STORY: 'Whiskey Tango Foxtrot'
Posted on Mar 18, 2016 by Julian Mitchell
DoP Xavier Grobet explains the shooting plans and the restrictions for the new Tina Fey movie Whiskey, Tango Foxtrot.
CAMERAS PLEASE XAVIER?
The main camera I used was an ARRI Alexa, and the main lenses were the Angenieux short lenses for the documentary type of shoot.
I also used the Blackmagic Design Pocket 16mm camera for mostly all of the interior vehicles shots. We never used a camera car – OK, maybe once.
For the night scenes with very low-light conditions or when shooting with a full moon, I used the Sony a7s with the Leica Leitz set of lenses and for Kim Barker's (Tina Fey) burka scene, I used a GoPro.
WHY THOSE CAMERAS?
I chose to shoot with the Alexa, but the nature of this project needed to be flexible. Unfortunately, when we started shooting, the Alexa Mini was not available and I was in the need of a small camera to do most of our car work because we didn't want to shoot on a process trailer. I found the Blackmagic Design Pocket camera for that and was really impressed with the results and what I could accomplish with that little camera.
LENSES?
The Angenieux short lenses were the main lenses I used. I also used the Leica Leitz set of lenses with the Sony a7s.
The whole look of the movie is dusty and smoky. It was our desire to have atmosphere inside and out. The weather got pretty nasty – we had snow, cold and warm weather, cloud and blue skies. Sometimes, we had to change the schedule to be able to shoot. But the gear we used was rugged and withstood it all (the weather), of course we protected as much as possible but it was never an issue.
SHOOTING PLAN?
This movie presented many different scenarios and it all had to be addressed – from a Drone POV to explosions, from Hummers to the streets of Kabul shot in New Mexico.
There was a lot of improvisation on this movie. The challenge for me was to hand-hold the camera for long periods of time.  This is the style Directors John and Glenn prefer in order to get the performances they are looking for.
We used the Ronin System for a few shots in the movie. The dancing scene was one of them. As part of the improvisation process, the dance went on for quite a while. The exhaustion of holding the camera for that amount of time made me collapse and hand it over to Zach, my focus puller, who continued with the shot until they called cut.
We also didn't have the money or permission by the studio to go to Morocco or any other country where we could re-create Afghanistan, which by itself was out of the question.  We had New Mexico's tax incentives and a pretty similar landscape to work with. The real task was to make it work in a believable way.
We hired DP Gelareh Kiazand abroad and instructed her on the plate shots we needed to compose certain scenes, or to shoot live street images to be cut into the film and blend our local sets into the real world.
WORKING WITH JOHN REQUA AND GLENN FICARRA AGAIN?
Every project has its own soul and requires different technology. In every movie where I've collaborated with John and Glenn, we always looked for new ways of accomplishing what's needed for the project. Bringing something new each time is kind of what we do. By experimenting with these small cameras, we found non-traditional ways of shooting, opening doors to new possibilities.
One of the main challenges was making New Mexico look like Afghanistan and applying all the different systems I used to create believable images. We were going for a documentary look as real as possible.
I was 'A' Camera Operator because this is a 90% hand-held project. I wanted to have the feel of the camera as it becomes an important tool in story telling. I brought along Stephen Buckingham whom I had worked with before as my 'B' Camera Operator and Zach Sieffert as my 'A' Camera Focus Puller.
I had previously worked with Zach on FOCUS and was really pleased with his work. I always ask assistants to pull focus on the knob. I don't believe in using the Preston Remote Focus Pulling System. To me, the communication between the operator and the focus puller has to be physical. We had Gabe Pfeiffer as our 'B' Camera Focus Puller who did a really great job next to Stephen. I've also had the luck to have Patrick Daily as my Key Grip, and Jim Tynes as my Gaffer who were two really experienced and talented collaborators.
While it was exhausting to have the camera on my shoulder the whole time. I had a lot of fun on this project. I always try to have fun, otherwise what's the point?