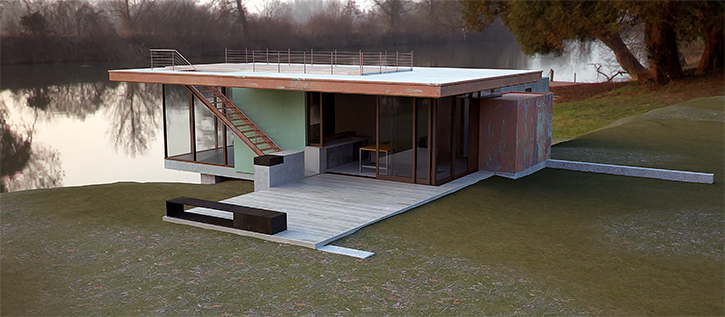 Lights Camera Assimilate Action
In some productions it's not acceptable just to shoot what you see, now you have to shoot all that's available to see
Words: James Digby Jones / Pictures: Saddington Baynes
Developments in VR and AR technology have pushed filmmaking outside of what's immediately visible in-camera. To maximise creative freedom, you need to capture the entire 360° environment when approaching a shoot, not just what lies in front of you. The key is to remember that content isn't just about communicating in a direct, rational way. With the appropriate use of atmosphere, lighting, cinematography and technology, creatives can deliver a compelling message.
Besides the wow-factor of creating a virtual replica of an entire environment, capturing useful data about the location affords more time for cinematic direction and experimentation. Filmmakers have a newfound flexibility to rebuild and optimise assets after a shoot, confident in the knowledge that the end results will marry up perfectly with the early stages of production.
How do you do this? LIDAR  and other 3D scanning techniques capture virtual surfaces to create a copy of real-life objects and spaces, enabling anything from full three-dimensional camera shifts around full digital environments to subtle 2.5D camera moves around a still scene.
To better understand these emerging techniques and the visually disruptive impact of 3D scanning, look no further than the photo-real brand video that's launching Gaggenau's Vario cooling 400 series. The full creative production by Saddington Baynes included pre-visualisation, LIDAR scanning and the fusion of live-action shots with 3D renders. (bit.ly/def2019 provides a link to the promo.)
 "In any story, the chosen perspective defines how viewers assess unfolding events"
IMAGES: Behind the scenes, the team works quickly to facilitate the creation of a perfectly rendered environment.
Digitising a Luxury Lifestyle
With every detail of the Gaggenau promotional film shot in 8K with Red cameras, an entire house was captured and converted into a fully virtual environment – reusable and ready to be rendered for future productions. Viewers are taken on a journey through a luxury, true-to-life home to get a taste of the Gaggenau brand lifestyle.
Expanding on an initial concept, Saddington Baynes crafted an original story using a visually-rich metaphor. The Vario cooling 400 series self-regulates its temperature, which in the film is represented as woodland microclimates that do much the same. Many specific product features are represented by drawing parallels to the Washington State forest environment, where we shot the perfect setting and later replicated it virtually via 3D scans.
And that's not solely a practical consideration. In any story, the chosen perspective defines how viewers assess unfolding events. This contributes to emotional reaction as much as the colour or texture of an object. Are you taking the viewer on a thrill-packed roller coaster ride… or gently guiding them from forest, to home, to appliance?
Seamlessly-connected CGI and live-action shots build momentum to reveal the cooling system in an immersive experience. Every detail of the promotional film contributes to tell a powerful story using photo-real, aspirational imagery. Gaggenau's brand audience comprises mainly high-net worth consumers who are discerning about technology and design. The film itself is a detailed sequence of macro imagery and textures, from the water droplets on leaves to concrete and wood grain. Abstract shots of food draw the eye to delicate skin surfaces, making the viewing experience as true to life as possible.
The Rise of Virtual Visualisation
Working to an extremely tight deadline to meet Gaggenau's product launch date, we streamlined our production approach by refining the storyboards at the shoot location using cutting-edge LIDAR scanning equipment. This allowed us to create a 3D point cloud of the whole environment, giving our team ultimate flexibility in pre-visualisation to identify overall shots.
On the consumer side, we know augmented reality (AR) as technology that can overlay digital content onto a real-world image, such as through a smartphone's screen and camera. But in shoot production, that capability is taken to a much grander level with the ability to see live-action and CG footage side by side in real time, right there on the set.
Being able to walk into the Washington woodland holding a consumer-grade tablet to map out elements quickly and accurately eliminated creative roadblocks before they even appeared. We completely deviated from the way production is traditionally carried out. If your shoot schedule doesn't allow the flexibility to return another day, then you can harness the power of CG to complete projects or tweak results. LIDAR scanning can be used to capture useful data about the location, in case you need to rebuild assets after the fact.
Considering that agencies and creative production studios alike are under ever-tighter turnarounds, and increasingly have less time to work things out on set, efficient pre-visualisation tools have proven invaluable. With your CG environments and backdrops ready and waiting, you can receive immediate feedback on camera measurements and positioning, ensuring that you can adjust shots as needed in the moment. That also lets you check that 3D assets line up correctly and that all the plates match.
What's next?
Assimilate and Shoot
If Gaggenau has taught us anything, it's that integrated production methods – blending the real and digital worlds – allow for much more flexibility than a strictly traditional pipeline. Of course, you always want to capture as much as possible on set, but it's reassuring to know that much can be addressed after the fact – and 3D scans will play a key role in this ongoing shift. Soon, the 'point and shoot' method will be obsolete. Productions will need to consider capturing the full 360° environment if they want to deliver immersive content to an audience seeking new experiences. 'Point and shoot' will become 'assimilate and shoot'.
"Soon, the point and shoot method will be obsolete. It will become assimilate and shoot."
James Digby Jones
Executive Creative Director, Saddington Baynes
James joined Saddington Baynes in 1998 as a junior re-toucher. Now, 20 years on, he is the driving force behind production as executive creative director. His role involves overseeing the studio's diverse creative team and developing the Engagement Insights® service.
This is a neuroscience-based tool created by Saddington Baynes to identify an audience's non-conscious reaction to images and video, helping brands to tell their stories in the most emotionally resonant way.