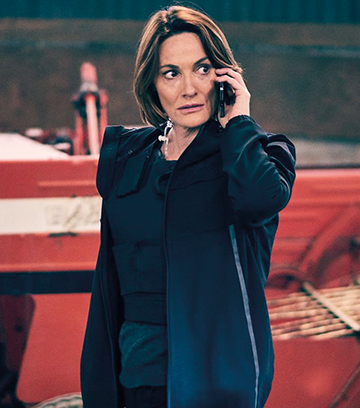 Embrace the Night
The second series of the police drama Bancroft is being mostly shot at night. But how is DOP Mattias Nyberg coping with a new camera for the new series?
Words: Phil Rhodes / Pictures ITV and Sony
Sarah Parish stars as Dectective Superintendent Elizabeth Bancroft in series two of ITV's "very night-based" Bancroft.
Creatives in the film and TV industry come from a wide variety of backgrounds, but Mattias Nyberg might well be the only ex-professional ice hockey player to have become a director of photography.
"For various reasons," Nyberg begins, "I decided to quit when I was 21 and moved to London. I was just intending to take a break then go back to Sweden and pick up ice hockey again. But I got stuck in London and I fell into a film course. This led to me shooting a graduation film that won – what was then – the Fujifilm scholarship."
Nyberg pursued the opportunity by "running, doing various assisting jobs and building up my reel by shooting stuff on the side. Then, ten-odd years ago, I went full-time DOP." Nyberg's credits include Pure, Catastrophe, Detectorists and additional photography on Doctor Foster and the acclaimed Peaky Blinders.
His involvement with the second series of ITV miniseries Bancroft came conventionally: "I'd just wrapped on Catastrophe, which is airing now. It was very late July and I was called for an interview with the director, Lawrence Gough, and they offered me the job the day after."
DOP Mattias Nyberg is using the Sony Venice for the new series of Bancroft.
Thrilling Procedural
While Bancroft has elements of a police procedural, it is perhaps better described as a thriller, and a dark one. Nyberg describes the title character, played by Sarah Parish, as a "very strong policewoman". He adds, "People took to that character. She's very ruthless, a slightly psychopathic streak. Bancroft will do what she needs to do, but she has a very complex loving relationship with her son. Sarah is an extraordinary actor and she can really inhabit the role of quite a dark character."
Principal photography on the second series began on 3 December 2018. "Because it was a hugely successful first series, there's a lot of pressure to make sure you don't drop the ball," explains Nyberg. "Both Lawrence and I wanted to crack on and take the things that we liked from the first series and make it our own – put our own style on it."
One key factor, Nyberg notes, is that "Bancroft scripts are very night-based. That was the thing that really kept me up, because I was wondering how we could do all this night work within the realities of a strict TV schedule."
Venice
"I then started looking into new cameras," Nyberg continues. "I'd been filming the last few dramas in a row on an Alexa Mini – a camera I know and like – but I wanted to see if there was something else I could use. I'd heard of the Sony Venice but never put my hands on it. There's the Panavision DXL2, which is also nice. I then spoke to Graham Hawkins at 24-7 Drama, who bought their camera from Visual Impact, and he said 'come in and have a test'. I put on Cooke S4 lenses, which I've shot with a lot."
The S4's 30mm coverage required roughly a Super 35mm sized sensor – possibly to the relief of focus puller, Kerry Arthur. This yields a 3.8K image, which Nyberg recorded in Sony's X-OCN format. "Even using the standard Rec. 709 LUTs I thought 'this looks really rich'. I put it through its paces in terms of underexposure and overexposure – quite extreme latitude tests. I looked at those results with my DIT, Simon Dinnigan, and we both thought 'wow, this is quite different'."
"Bancroft scripts are very night-based. That really kept me up, because I was wondering how we could do all this night work"
Light House
"How I got started as a cinematographer was my connection to the art installation scene," Nyberg recalls. "I shot with two Turner Prize nominees – Catherine Yass in 2001 and Runa Islam in 2008. We always shot on film, hundreds of thousands of feet – in 16mm and 35mm – and that gave me a deep love and appreciation for the look of film negative, which I still carry with me. The Venice is the closest I've seen to film negative out of the digital formats. By far."
Lighting the series' extensive night exteriors was complicated by the desire to work without restricting blocking or camera placement. One approach was quickly rejected: "the traditional 18k HMIs on various cranes and arms and stuff". Nyberg explains: "I knew full well that we wanted to look everywhere all the time, so I quite quickly dismissed that idea. I knew we wouldn't have the money to do it properly, with really big lights far away." Here, Nyberg mentions one principal location, a large house, which would set the tone for night exterior lighting. "I made the house a light source – because it's such a big house I reasoned they'd have ground and security lights at night. With my gaffer, Jon Best, we let the house light up the environment. The way the action is staged is that they're either backlit or side-lit by the house. My approach has been devised through knowing what's in the script," Nyberg says. "It may not work for the next thing I'm doing."
The Venice offers a base ISO of either 500 or 2500, maintaining 15 stops of dynamic range in both. "For night, I go to the 2500 ISO base and then rate the camera at 1600. That gains me an extra latitude stop in the blacks and makes the night stuff really rich. This is compared to pushing an Alexa, which is a native 800 ISO, up to 1600 ISO, where it gets very grainy but you're also losing a lot of latitude in the blacks."
The Venice offers a base ISO of 500 and 2500, with 15 stops of dynamic range in both.
 "There's so much to do, so many characters and so many eyelines. The scripts are full of stage directions."
B Camera Compromise
Nyberg monitored the production on his own TVLogic VFM-055A, also referring to stills prepared by Dinnigan on an iPad. "We took a version of one of the Rec. 709 LUTs and made it a little cooler in the blacks and added some skin tone changes. Nothing drastic. It's working really well. We're also shooting with filtration – I'm using a 1/8 Black Pro-Mist together with a 4mm Schneider True-Streak. It works particularly well when you've got soft light sources around for day exteriors and you get that classic torch thing in police shows. You do have to watch it though or it can become way too much. You have to either pull the filter or alter the action."
Grip choices included drones and Steadicam, operated by Henry Landgrebe. Nyberg avoided bringing in a crane for occasional days, fearing it would seem out of place in a production that did not routinely use one.
"For the opening scene of episode one, where Bancroft is arriving at the town hall when she's been promoted, we open with quite a similar shot to the bird's-eye view in Zodiac that follows the taxi." With a B camera always available, Nyberg says: "We've shot quite a lot of two camera stuff for some locations. There's so much to do, so many characters and so many eyelines. The scripts are full of details about stage directions and they all need to be covered."
Reaching for the B camera is, Nyberg says, a great way to remain on schedule. "It's all to do with the pressure to complete days, which is pretty constant. I don't really like cross-shooting, because you end up compromising both frames, but sometimes it's the only way to get through a day. We did figure out a way of using two cameras – we have two frames going the same way and the lighting works for that. You can frame it in a way that doesn't feel too vanilla."
At the time of writing, the production was four weeks into a five-week shoot. The production will grade over nine days at Encore in London, where Nyberg hopes to work with The League of Gentlemen alumnus, Chris Rodgers. Beyond that, Nyberg says: "Scripts are coming in. TV drama is very busy at the moment."
The second series of Bancroft is expected to air towards the end of 2019