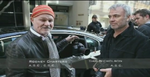 Hollywood Squeeze More Out Of Canon's 5D MkII
Posted on May 22, 2010 by Alex Fice
DP and Director Sam Nicholson is one of the people you mean when we say 'Hollywood people really like the Canon 5D MkII'. He likes it so much he has direct communication with the engineers in Tokyo and sends them his wish list – recently some of those wishes have come true.
"We do a lot of work with Canon, in fact I'm building a ten camera circle vision rig based on the 5Ds. We're pushing Canon to give us very high quality outputs out of the camera, wirelessly controlling the lenses and all sorts of cool stuff. We have some very interesting prototypes here that will be another step forward for HD cinematography using the Canon cameras.
"I've got ten of them on my desk and using these machine cages where one camera is the master and they all slave to one camera. So you can change the stop on one camera and then other cameras all do the same thing. We're going to show it at Canon's Expo and I think it's be a pretty hot item!
"We use Circle Vision for our Virtual Backlot and for driving plates. You can also configure them to a 'bullet time' kind of thing or you can configure them like I'm going to use them on The Walking Dead as witness cameras to do motion encoding with movimento software so we can process prosthetic appliances on actors.
"In that case you have a per unit of cost of everything including lenses of about $10,000 so if you're doing multiple cameras the Alexa and Sony F35 are too expensive as is the RED. The Canon camera becomes the best camera for that particular application.
"We are getting some remarkable results coming directly off the chip. We're bypassing the compression to a certain extent. It's not RAW but its not as compressed. Every cinematographer in the market is saying 'Give us HD SDI out of this camera!' and Canon is listening. There's going to be some really interesting developments over the next 12 months. We're working directly with the engineers in Tokyo.
"We're looking to put Bluetooth in the cameras and wirelessly controlling them so we can wirelessly control Canon lenses for follow focus. They have a wireless controller on a Canon camera that follow focuses using a Canon lens like a Preston. So without any external motor on the lens at all, you're using the internal motor and driving it wirelessly with a controller which is sitting in your hand.
"Canon is very interested because it wants people to use Canon glass on Canon cameras and the reason people are going to Zeiss or Angenieux is you can't track focus if the barrel of the lens isn't made for critical focus. All the autofocus lenses are made with the shortest throw possible. All the cinema lenses are made to have the longest!"