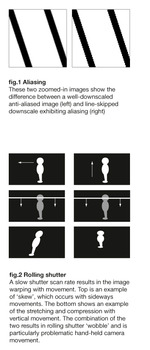 How Soho Deals With Canon EOS Footage
Posted on May 25, 2010 by Alex Fice
Officially MPC's Lab question the camera compression found in the 5D MkII, 7D and ID MkIV: "It cannot be pushed too far in the grade before it starts to break up". Warns people not to use it for green screen or 3D tracking and not to expect much image manipulation because of its 8-bit performance. They also don't pull any punches about the aliasing, rolling shutter and frames rates. But if people are going to shoot with it MPC have a solution.
Chris Vincze: "The two main problems with the Canon were that it had no metadata at all, no timecode, no reel IDs and initially there was a frame rate problem. We set about writing our own software to be able to embed the files with timecode, metadata, convert frame rates and design a way to work with the footage that would fit in to a traditional editorial workflow. So the EDLs at the editorial house actually made sense, because if you just pulled the footage straight in to an AVID and spit out an EDL, the EDL wouldn't make any sense. So we had to design a system to make those EDLs make perfect sense to anyone trying to conform footage.
"We wrote our own scripts which are designed for managing footage and writing metadata. We use basically a couple of commands that re-pitch stuff to the correct frame rate if needed, will embed the timecode, reel ID and simultaneously convert it to the formats needed. Most of our clients are working on AVIDs so we'll create AVID MXF files to the format they want whether that's PAL or DNxHD. They will have all of the clip metadata that we put in.
"We use the same scripts for whatever format we're transcoding whether its Phantom, RED, P2 footage. We extract all the metadata and convert it all to the required format and write that Metadata back in to the AVID projects."
"With the Canon footage we've had two huge jobs through. One was for Unicef where they had 21 hours of footage and another one for Canon themselves and that was 35 hours of footage. They were dumping the footage on set to a hard drive and bringing us the drive. We took the hard drive in, the Unicef job we processed in about eight hours and the Canon one was processed in under 12 hours. So there are a huge amount of savings to be made, in fact the Canon footage started somewhere else and it had taken them three days and they still hadn't got any footage!"
Part of a larger article in HD Magazine issue 41