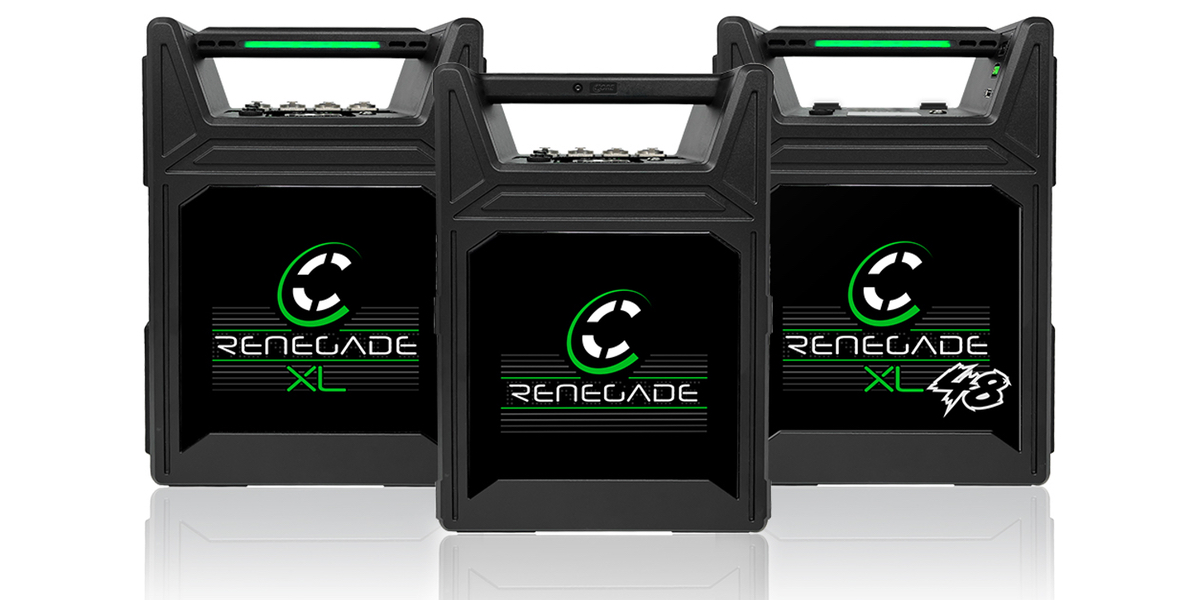 Core SWX: Powering up production
Posted on Jun 29, 2023
Core SWX's Renegade series delivers powerful, high-capacity lithium-based solutions
Advertisement feature
THE RENEGADE SERIES of power stations by Core SWX are the culmination of years of research and development. The series puts out high-capacity, high-current output and exceptional-quality lithium power units with incredible versatility for the cinema and lighting industries.
The Renegade is a 777Wh, lithium iron phosphate (LIFEPO4) power station encased in a polycarbonate housing – offering a lighter option to the Maverick and new Renegade XL. It can deliver 14v, 28v and 48v simultaneously with up to a 1200W output. From a fully discharged state, the included PFQ8 external charger repowers it in less than 3.5 hours. A run-time LCD similar to the Maverick power station provides up-to-the-minute run-time and charge times, percentage capacity, and an approximate run-time in standby.
Renegade XL is offered in two different variants, both lithium-ion (li-ion) power stations encased in a cast aluminium housing, with a capacity of 1376Wh. The Renegade XL's ability to deliver 14v, 28v or 48v makes it a versatile power source for cinema equipment, including cameras, lighting and other accessories. With its high capacity and multiple output options, it can power a variety of devices simultaneously, providing a reliable power source for your production needs. Lighting-focused option, the Renegade XL 48, has got you covered with its dual 48v, 15A outputs capable of powering an Aputure 1200D at full output.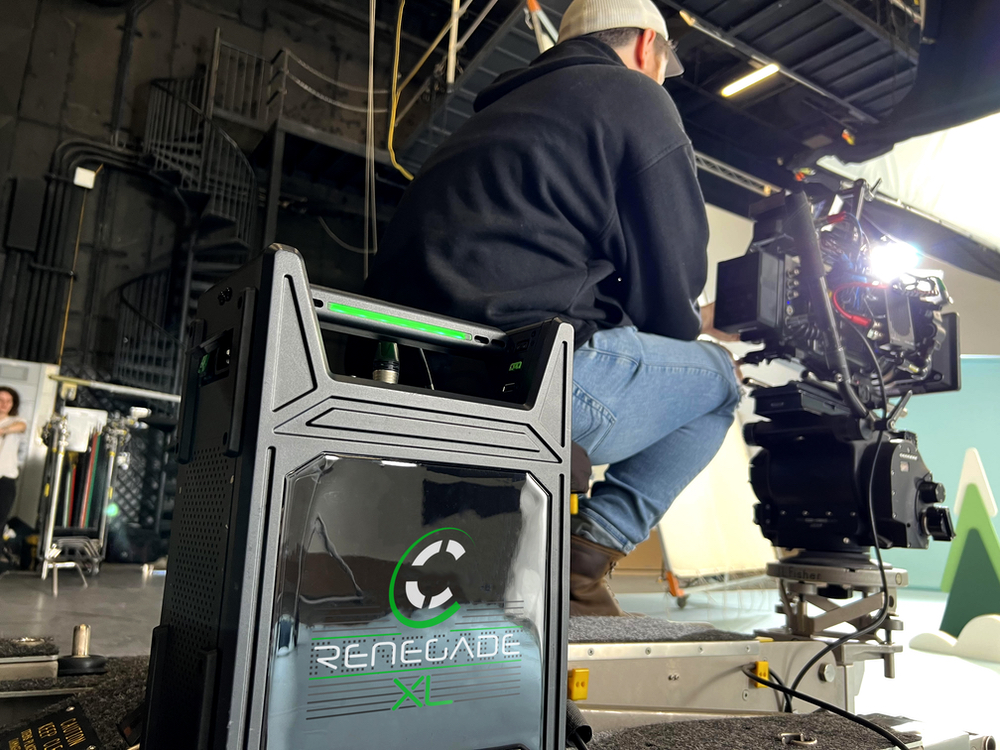 The Renegade XL's groundbreaking built-in charging system – which can recharge its massive 1376Wh capacity in just five hours – was first introduced on its nickel metal hydride cousin, the Maverick. This feature has been instrumental in revolutionising battery management, minimising failure points and eliminating the need for external cabling, except for a standard IEC mains cable. Moreover, the Renegade XL provides unparalleled flexibility and efficiency with the optional SFQ40 rapid charger, which can charge one Renegade XL in an astonishing 2.5 hours – a new industry benchmark.
The Renegade XL's new dynamic colour OLED display provides the same run-time LCD as the Renegade and Maverick with additional functions and battery status. As aux outputs are always a welcomed inclusion, the Renegade XL is complemented by two P-Tap ports and a USB 5v which can power mobile devices and double as a firmware update port. One P-Tap port supports Voltbridge Mesh for cloud fleet battery management.
All three models are the same size and footprint as their nickel metal hydride cousin, the Maverick, fitting in most dolly compartments and legacy shipping cases. Just like with the Maverick, units are highly serviceable to boost up-time and minimise downtime for maximum ROI.
Learn more at Core SWX's website.
This article appears in the July 2023 issue of Definition. Read the full magazine here.