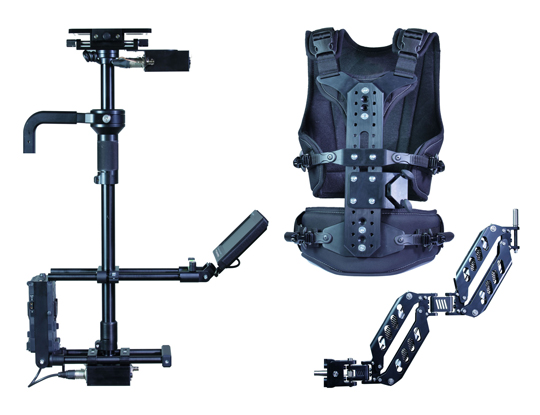 Easy Steady Now In UK
Posted on May 21, 2010 by Alex Fice
Lite & Go vest, sled FREE & stabilisation arm Easy Steady is a new line of professional body stabilisation systems for DSLR, video and broadcast cameras. There are three versatile systems as part of the Lite & Go range from which to choose; the ONE, TOO and FREE.  Each system is designed for cameras ranging from up to 4.5Kg and 8.5Kg in weight.
Each individual component is engineered, machined and assembled in Italy to extremely precise standards.  The Lite & Go kits come equipped with a lightweight body vest as standard.  The vest is made from Cordura fabric to increase durability and comfort and is intelligently designed to distribute weight evenly throughout the operator's lower body and waist.  Because of this, the vest shoulder straps can be released to ease tension while the system remains fully operational.  The vest utilises a robust buckle system for easy tightening and quick release and is available in a range of sizes to suit every individual's needs.  The aluminium chest plate, when connecting the arm to the vest, can be configured to a right or left handed position depending on the preference of the operator.
The stabilisation arm is constructed from aluminium alloy and is standard across the range, using heavy or light tension springs depending on the weight of the camera in use on the system.  The Lite & Go ONE kit is supplied with a light spring set for payload capacity up to 4.5Kg, while the TOO and FREE systems are supplied with a heavy spring set to increase the capacity range up to 8.5Kg of camera weight.  The spring sets can be changed quickly and easily by the operator, while more precise tension adjustments can be made on location using an Allen key set which is provided with each kit.
The Lite & Go sled boasts a telescopic centre post that extends between 650mm and 1350mm, allowing the sled to be used in high or low position shooting applications.  The gimbal has no friction whatsoever to allow smooth and stable rotation in any direction.  A 7" LCD monitor is supplied as standard on all three kits, with a single V-Mount battery plate for sled ONE or a double V-Mount battery plate for sled TOO and FREE.  With V-Mount batteries connected, power can be provided to cameras with a suitable input terminal or third party video monitors.  The monitor and battery mounts are adjustable to fine tune balance.  Each Lite & Go sled carries a universal plate for camera attachment and is HD-SDI video compatible.
All three Lite & Go Kits are delivered in a rugged transport case including wheels together with C-Stand to allow stable docking and balancing of the sled when loaded with camera and accessories.  Easy Steady is supported by a dedicated line of accessories including a tripod adaptor for fast camera mount-dismount to tripod, D-Bracket for extreme low mode shooting, carbon fibre low mode cage, precision balancing donut weights and camera plates with 15mm rods for attaching third party accessories.