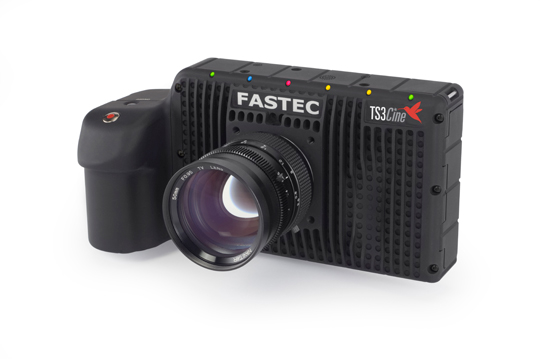 FASTEC TS3Cine High Speed Camera Sold Through RULE
Posted on May 12, 2011 by Alex Fice
FASTEC'S TS3CINE HIGH SPEED CAMERARule Boston Camera and Fastec Imaging unveiled the TS3Cine high-speed camera at the annual NAB conference.
Built by Fastec, the TS3Cine is offered exclusively through dealer Rule Boston Camera.  This portable, battery-operated, high-speed digital camera with a 7" built-in LCD screen records 720p images at 720 frames per second and promises to provide ultra-sharp, high-resolution images.
It also has the ability to record 1280 x 1024 at 500 fps – or up to 20,000 frames per second at reduced resolutions.
This self-contained, handheld camera also has a menu system that can be operated over Gigabit Ethernet (as an option) using either a PC or Mac with standard web browser for long-distance control.
Multiple storage options allow users to easily download images to thumb drives, SD cards or portable hard drives.  The TS3Cine's built-in solid-state drive provides up to 256GB of internal storage.
Fastec's industrial line of point-and-shoot digital video cameras provides motion analysis in Plant Maintenance and Field Service Troubleshooting; Research, Military Test and Instrumentation; and Sports Training. The TS3Cine is Fastec's first digital high-speed camera built for cinema and broadcast applications.