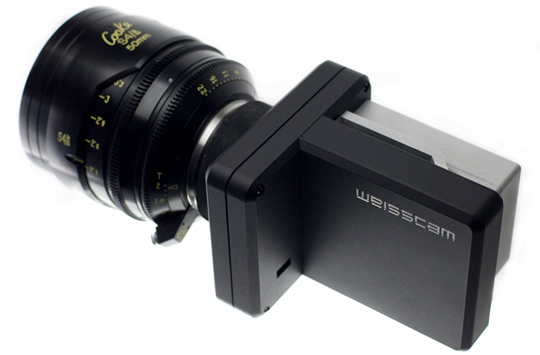 Weisscam T-Project
Posted on May 12, 2011 by Alex Fice
A new camera project from Weisscam and one that isn't a high speed modelThis new development from Weisscam features a camera head, separate recorder with touchscreen monitor and a datapack and docking station.
The T-Project features three compact and interchangeable head units with different sensors enabling you to choose your preference or easily adapt the system to various production requirements. Head units will consist of: 2/3" @ 2K, 35mm @ 2K, 35mm @ 4K
The T-System head units are extremely compact, making them ideal for situations where larger, traditional camera systems are either too large or too heavy, and for 3D where they can be mounted in an ideal position without great complexity. (In other words, significantly reduced costs over more complex systems) Each head unit features the same flexible Lens-Mount system accommodating common manufacturer's mounts.
The T-Project's touch screen monitor
The T-Concept's recorder units will feature a removable SSD Data Pack capable of recording up to 4 TBs of uncompressed RAW (cinema .dng), or uncompressed HD (dpx) data. The units will also feature an integrated, touch-screen monitor for both preview and immediate review of recorded footage. In addition to direct support of the T-Concept head units, the recorder units will feature connectivity and support for 3D and standard SMPTE recording from camera systems of other manufacturers. Connection between the recorder unit and the head unit is through an Interchangeable Bridge approach – again enabling increased adaptability and flexibility for individual production requirements.
Based upon SSD technology (Solid State Memory), the T-Concept Data Pack provides fast, rugged and secure storage – currently up to 4 TBs of data. Utilizing an SATA interface, the T-Concept Data Pack and Docking Station ensure extremely fast transfers between camera and editing systems as well as smooth adoption of future high-speed connectivity.