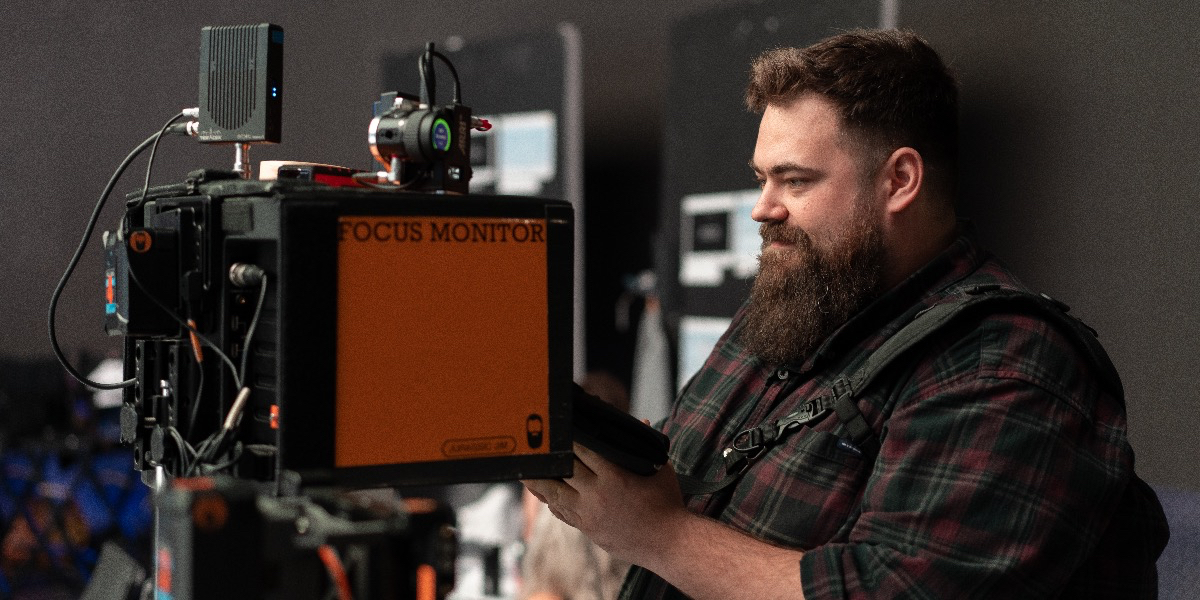 Tech support: CVP and virtual production
Posted on Sep 26, 2022
In the era of virtual production, the role of first AC has changed, says Jim McLean. He recounts the exciting challenge of a recent shoot – and the invaluable support of CVP
Advertisement feature
"I've been working on Arri's volume stage a lot, which is very different to what's come before from a technical standpoint," begins Jim McLean, first AC. "My most recent project was for a leading car manufacturer, and we were really trying to push the integration between the real world and our virtual one.
"The main creative direction was a presenter talking about new features. They were walking around the stage, interacting with cars and additional digital elements. Utilising a Technodolly to record camera moves and repeat them over and over again, we could overlay content in the foreground, midground and background: all monitored live on-set."
If the complex scene wasn't challenging enough, McLean was in a tiny camera crew. Though surrounded by volume creatives, the first AC's team comprised just four.
"The DOP was outright directing, since a lot of the action came down to a question of visual integration. We did a few long days of prep to get the sequence working – and there was an awful lot of gaffer tape used!" he laughs.
Through the years – especially of late – McLean's role has changed significantly. Keeping moving subjects pin-sharp in shallow depth-of-field was as challenging as it was essential. Now, it's the simplest part of the job.
"I've moved from film, through this digital revolution into virtual production. Now, it's less about just keeping an image in focus and more about being a technical guardian," McLean muses. "You're the last set of eyes on a shot, to make sure it's working on a technical level. On a virtual production, that's amped up, as you're looking at not only what you're doing (and maybe set dressing), but also how a whole other world of technology is integrating.
"In many ways, you're there to help join the two sides of production together. All the crew who work with the LED walls come from a totally different world. You're kind of a translator. Talking to people who have spent their lives in game design, for example, you have to explain what you want without using industry terms. While doing all that, you are also keeping everything in focus during takes.
"I feel totally lucky to be of the generation that started on film, then had to transition to digital," he continues. "Through that early period, the way you got all your gigs was by knowing what was going to be a problem – because all technology is a problem – ahead of time. I've kept that going forward. My mentality is to keep on top of current tech."
Surprisingly, either inside the volume or on a more tangible location, McLean's modern tools remain the same.
"I use the Arri Hi-5 system, which I've been developing with Arri since the release. I pair that with a Focusbug Cine RT, which is an ultrasonic distance measurer, so I can get live focus readouts from set. Then I use a good-quality monitor. I've got SmallHD 17in for studio work – that's important for viewing any issue as it's popping up.
"Through development with Arri, I can stay even slightly further ahead of the curve, seeing where those inevitable problems are going to be. Having CVP in the UK to back them up is even better. If something really does blow up, there's likely a spare sitting somewhere in London, which can be anywhere in a few hours. It's an incredible support network."
Much of McLean's everyday kit came directly from CVP, but his vision was even grander on this particular shoot. With a second handset generously provided by CVP, McLean was able to collect data with a potentially significant impact.
"We were using that second device for testing, to get data out of it and into Unreal Engine, which I could then feed back to Arri. CVP opened up an opportunity for us to try something new. Hopefully, all the logs and information generated from that handset – all those real-world test results – will translate into a future update for every virtual production to benefit from.
"This is not an unusual level of service for CVP. On every shoot I've done, whenever I've needed kit the next day, I call them up and it'll be in a van in an hour. You can't knock that," McLean adds.
Coming full circle – back to the unparalleled value a first AC places in knowing their technology – McLean has saved his fondest CVP service for last.
"For me, I view the added support CVP provides as even more important than the tools themselves. You can buy most kit from anyone, but afterwards, are you going to get looked after if there's a problem? With CVP, I know if something goes wrong, someone will either be able to help me or tell me exactly how long I've got to wait. And it's truthful.
"If I'm doing prep for a job, knowing that I can call up the tech team and get a question answered is the most useful tool I have. I've been doing this for a long time and I know my stuff, but there's always something that will catch you out. Thankfully, I'm always sure one of CVP's technical wizards can get me an answer to anything. If they don't have it themselves, they'll get in touch with the manufacturer to find information for you. There's nowhere else you can get that kind of access to information and expertise."
Appears in the October 2022 issue of Definition. Read the full magazine here.