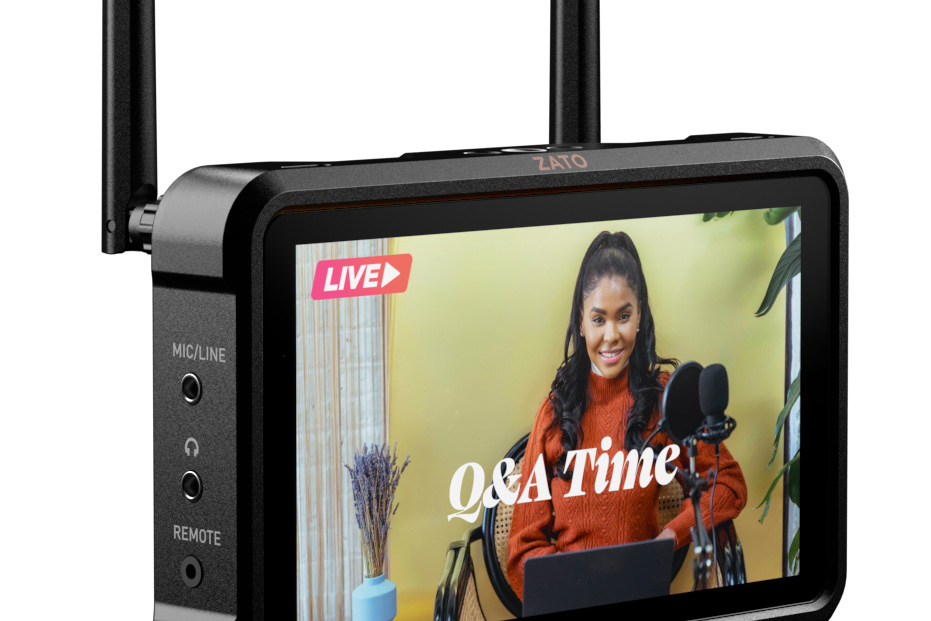 Access livestreaming and video conferencing with ZATO CONNECT
Posted on Jun 14, 2022 by Samara Husbands
The ZATO CONNECT marks the beginning of a new direction for ATOMOS, making livestreaming and high-quality video conferencing accessible to the masses
ATOMOS has yet again set the benchmark for digital innovation, and the release of the ZATO CONNECT is no exception. It supports nearly all HDMI and USB UVC sources and features Wi-Fi 5 and Gigabit Ethernet (via USB-C) to ensure maximum network compatibility. This effectively enhances web conferencing and streaming on video platforms like Facebook Live, Twitch, YouTube and other social sites. ZATO CONNECT uses AtomOS Lite software, which contains all the essential tools to combine sources, records streams, and overlay graphics, making it extremely easy to setup and operate. The new CONNECT easily converts HDMI sources to webcam signals, so they can be used with Microsoft Teams, Slack, Zoom and other conferencing software.
The ZATO CONNECT features input and output ports for both HDMI and USB UVC, the device can transform the output from a wide array of video equipment into a livestream or webcam source. A SuperAtom IPS 5-inch (1000nit) display boasts Wi-Fi 5, USB-C and Ethernet (via USB-C adapter) connectivity, as well as NP-F battery or USB-C PD power options. This makes the CONNECT incredibly versatile. With the 3.5mm jack, you can add microphone or line sources, and can be used to mix them with embedded audio from HDMI or USB UVC. Have a DSLR or mirrorless camera rig? Well, the travel-friendly device can mount comfortably on either, feeling equally at home next to a PC, Mac or gaming console.
As we've discovered, it has been designed to be compact, but it also acts as an easy-to-use gateway to ATOMOS Cloud Studio. The ZATO CONNECT makes livestreaming and high-quality video conferencing easy and accessible. With support for HDMI and USB UVC cameras or video sources, it is fully equipped with Wi-Fi 5, Gigabit Ethernet (via an included USB-C adapter), and the ability to join cellular hotspots, so everyone can stream to social sites including Facebook Live, Twitch and YouTube, or create quality video for conferencing software such as Microsoft Teams, Slack and Zoom. The ZATO CONNECT also boasts built-in features such as overlay effects, image zoom, frame guides, and a great audio mixer. The audio mixer adjusts and combines audio signals from the 3.5mm analogue input with embedded audio from HDMI and USB UVC sources.
A quick word on ATOMOS Stream, which is an all-in-one solution that enables any ATOMOS network-enabled device to deliver a live-stream. Whether you are using the ZATO CONNECT, ATOMOS CONNECT for NINJA V and NINJA V+ or the SHOGUN CONNECT, connecting the device to the destination platform and configuring a stream has never been easier. Later this year, ATOMOS aims to release a premium "restreaming" service, via ATOMOS Cloud Studio to support the delivery to multiple platforms simultaneously. The integrated system supports an unprecedented range of cameras that sets a new benchmark for flexibility and reduces barriers to entry. Work with high-end digital cinema cameras, mirrorless or DSLR cameras, or iOS devices and be confident in the quality and consistency of your live stream.  ATOMOS has also partnered with NDI® to support high-efficiency transfer of video between devices using NDI®|HX.
Pre-order ZATO CONNECT today and receive an additional 3 months ATOMOS Cloud Studio subscription and NDI®|HX activation for free (worth $99). Find your local reseller here.
For more information, see the ATOMOS website.