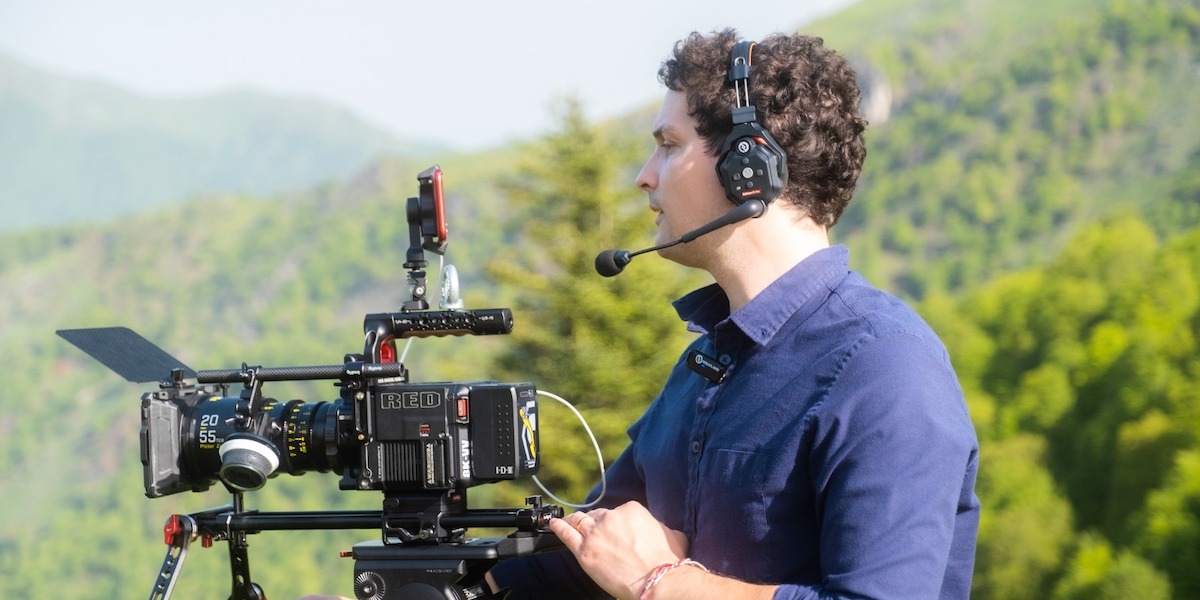 Hollyland: A game-changing intercom system
Posted on Jun 23, 2023
In today's highly demanding production environments, it is crucial to have comms that deliver authentic and clear sound regardless of the challenges
Advertisement feature
THE SOLIDCOM C1 Pro from Hollyland is a wireless dual-mic ENC intercom system, with an exceptional earpiece and high-end technology that make it unparalleled and a new benchmark in the wireless intercom system category.
The core technology of Solidcom C1 Pro is dual-mic Environmental Noise Cancellation (ENC). Challenging outdoor production environments can pose unique and unprecedented challenges, with wind noise a significant issue. The Solidcom C1 Pro boasts premium Acoustic Echo Cancellation (AEC) functionality, that can effectively reduce environmental noise within the 150Hz to 7kHz frequency response range, providing supreme sound clarity and fidelity. This cutting-edge feature enables more efficient teamwork, minimising communication errors and promoting harmony and unity.
What's more, the push to talk (PTT) function means the user can long-press the button to talk and release the button to mute like a walkie-talkie.
It's perfect for noisy production teams and communication-heavy groups, and Ideal for use across a range of different disciplines: like churches, sailing, music festivals, sports events, drone work and TV & film production, where crystal-clear communication is a must.
Moreover, the transmission distance is 350m LOS range and a hub version is expandable for comms teams up to nine members, cascaded to accommodate more people. The Solidcom C1 Pro has adopted the latest DECT 6.0 technology, 1.9GHz wireless frequency band with automatic frequency hopping. It is available in a variety of non-hub packages for accommodating team sizes ranging from two to eight members. If A & B grouping and the Announce function are desired, a hub (including wired headset) can be easily incorporated into many headsets – even up to 27 with the support of three hub stations.
AWAKEN CHURCH
Awaken Church in the US was looking for a solution to overcome challenges in high-noise environments. It has a congregation of 13,000 across eight campuses, including San Diego, Salt Lake City and Boise. Hollyland invited the production team to test the Solidcom C1 Pro with cutting-edge ENC technology. After several tests, the Awaken Church's production team "fell in love" with it and began using the technology for daily communication. "The price point is ideal and the mobility of the system makes it a no-brainer for us," it says.
The headset and battery (170g), ergonomic design and comfort mean the user can work with ease. The former uses a detachable lithium-ion battery – the battery life of the master headset can reach five hours and the headset about ten hours. The batteries are replaceable and each headset comes with two batteries.
The Solidcom C1 Pro is a game changer when it comes to user-friendliness. Its out-of-the-box readiness and intuitive operations make it a must-have for any team. Simply switch the headset on, place it on your head and begin talking with your team in a matter of seconds, freeing you up to focus more on efficient, hands-free team collaboration, without any fuss or hassle.
It's designed using PC-ABS materials, making it incredibly lightweight at a mere 170g (6oz) with the battery included, and it's easy to wear for extended periods without any discomfort. In addition, the compact form-factor design makes it ideal for challenging work environments and its over-ear leather cushion better fits the human ear structure for added stability and comfort. The on-ear foam cushions are perfect for individual preferences and come in durable form to provide an enjoyable experience of incredible portability, comfort and quality without compromise.
A must-have for any team looking for reliability, this high-end communication system can handle any challenge, be it rigorous production environments or outdoor events where wind noise is a significant problem. Its superior technology and design provide unmatched sound quality, comfort and stability that make this intercom system a step above the rest. So why not let the Solidcom C1 Pro elevate your team communication and take it to the next level?
Learn more at hollyland.com.
This feature appears in the July 2023 issue of Definition. Read the full magazine here.