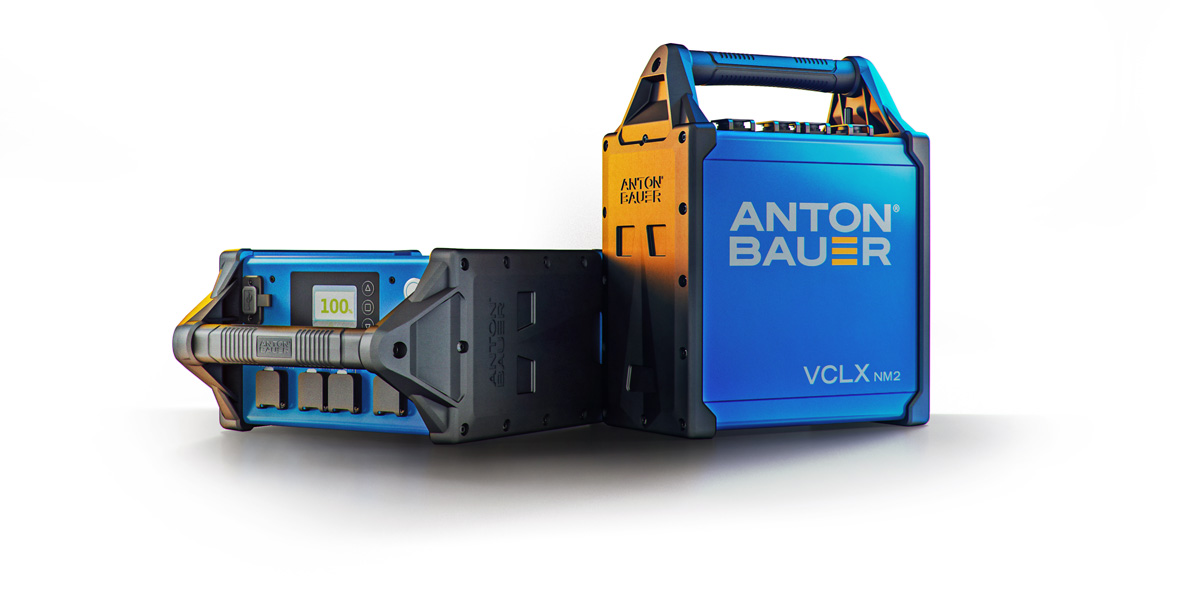 Power production with VCLX NM2
Posted on Jun 14, 2022 by Samara Husbands
Anton/Bauer's freestanding VCLX NM2 battery is the natural progression of Academy Award-winning original. Made for cinematographers
At first glance, the VCLX is something special. The striking blue casing attracts the eye, while smooth lines complete the aesthetic. A versatile powerhouse with 14.4V, 28V and 48V output, it is the perfect all-in-one battery solution for power hungry cameras, monitors, lights and other equipment. You can power a Sony Venice 2 for up to 8 hours or a Litepanels Gemini 1X1 panel for up to 3 hours with complete ease. One XLR3 and two XLR4 connectors provide dual simultaneous high current output delivering consistent 24A current at 14.4V, 16A at 28V or 12A at 48V from the 600Wh NiMH battery.
"Understanding the unique needs of cinema production, we have evolved the VCLX NM2 battery system to provide ultimate power performance and flexibility" says David Pasko, engineering manager at Anton/Bauer. "Thanks to the safety and high-power-draw performance of Anton/Bauer's premium cell chemistry technology, combined with over 50 years of industry-leading engineering and testing, this one solution can handle the specific needs of high-power digital cinema equipment, plus all accessories."
Rugged and reliable, the VCLX is designed to withstand the rigors of set life, grip trucks and shipping cases. Weighing in at 29.35lbs (13.3kg), the new lighter battery is built to withstand the rigors of set life, grip trucks and grip trucks and shipping cases. The VCLX NM2 is engineered from tough anodized aluminium with over-moulded end caps and handle grip. Passive cooling means no fan noise on set, and a sealed case (which is waterproof up to 21.6cm) guarantees true power wherever you roam.
Real-time onboard diagnostics via the 2.4" colour LCD screen means the battery and equipment can be monitored to ensure peak performance. You can track remaining runtime, charge time or active power draw immediately with the 2.4" color LCD screen. Internal "smart logging" of over 40 potential errors delivers real-time onboard diagnostics to keep your battery and equipment performing perfectly. VCLX smart technology calculates everything being powered via XLR3, XLR4 or USB for maximum power efficiency. This means your entire focus can be always on the set.
Now you can be in full command of your battery fleet. Save time that is usually spent manually testing batteries for healthy inventory with the VCLX NM2. It sends status information including capacity, cycle count, temperature, and time-stamped reports directly from the battery via built-in Wi-Fi or information can be downloaded to USB storage. This battery pack really drives high-power draw equipment at peak performance on cinematic productions.
VCLX NM2 is available to order now priced from $4,200 at Anton/Bauer dealers.
For more information about Anton/Bauer and the new VCLX, head to their website.