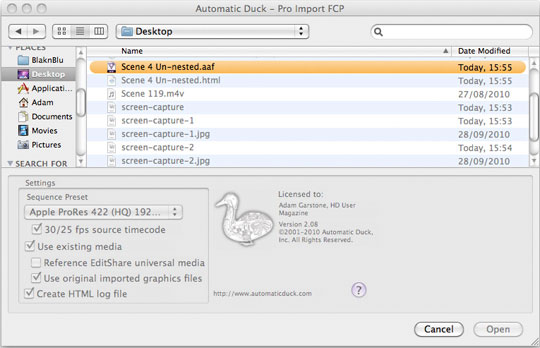 REVIEW: Automatic Duck Pro Import and Export
Posted on Oct 19, 2010 by Alex Fice
Automatic Duck's Pro Export FCP to AVIDFormula One racing cars are very exciting. They go very fast and, occasionally, fly through the air, flip backwards and land upside-down in a determined attempt to kill the highly skilled, highly paid (Australian) driver. Very exciting. But for all their homicidal, anti-Antipodean behaviour, they are still held together with nuts and bolts (albeit titanium, micro-tolerance, state-of-the-art, uber-expensive nuts and bolts).
I can't remember the last time Final Cut tried to kill me (it happens, though – I'm sure) but there are still times when you need some nuts and bolts. Probably the single, most F1 style workflow fasteners available are Automatic Duck's Pro Import and Export. These two, fantastic plug-ins give you fully featured OMF and AAF translation in and out of FCP. That means you can transfer an FCP project to or from Avid, ProTools or Quantel (plus loads of others) with a whole load of transitions and effects (even some text generation) carried between the various systems. You can either link the translations to exiting media files, or the plug-ins can translate media to MXFs, interface to EditShare's Flow media server and so on.
Automatic Duck Pro Exporting an aaf fileIt all sounds complex, but the implementation is as simple as steering. To import, just select the plug-in, decide on a sequence preset and whether you are referencing existing media or importing it, and the plug-in handles the rest. You can get a nice HTML log file as an option. There are a few more options you need to set for export – whether you want AAF or OMF, whether the media should be referenced or translated (and what it should be translated to) and so on. Once again, you get an HTML log, which (handily) includes information on filters and transitions which couldn't be translated.
I tried sending a reasonably complex feature film edit from FCP to Avid – the timeline and its associated transitions arrived totally in tact. I used AAF to export the same edit to DaVinci's Resolve grading software – again the transfer was flawless (something that I struggled with using conventional EDLs). I imported a simple ProTools session to FCP using OMF (to be honest, you are only likely to be exporting from FCP to ProTools, but that was too easy). Within the limits of FCP's audio handling the result was perfect – OMF is notorious for being a difficult 'standard' to implement.
Automatic Duck Pro Import screenMost of my FCP work ends up with the audio being finished in ProTools. The same edits usually end up with the picture being finished on a DaVinci or Quantel. The Automatic Duck plug-ins are pretty vital for these workflows, they work well and, through the HTML logs, give good feedback on what may have gone wrong if they don't work. Like titanium bolts, they aren't cheap – Import and Export are available at $495 each (ouch!) or as a bundle for $795 directly from www.automaticduck.com
(or check out the resellers listed on their site), but you wouldn't want your engine to fall off in a fast bend would you?