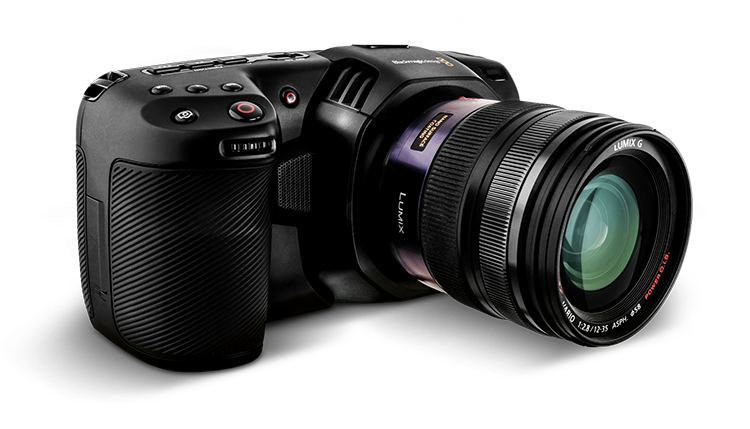 Blackmagic Pocket Cinema Camera 4K
Posted on Feb 19, 2019 by Alex Fice
The first Blackmagic pocket camera appealed to lovers of 16mm film. The new one could be for everyone else.
Words: Kyle Harper & Donovan Jones from Ember / Pictures: Adam Duckworth, Ember
The first 'pocket camera' from Blackmagic delighted its intended audience, the indie filmmaker. It was very small and very cheap and with it you could learn all about the basics of filmmaking and also digital wrangling, with its ability to record DNG Raw. But the camera initially had problems like the 'black sun' anomaly and sensor bloom on different overexposure levels which a firmware update quickly solved. The audio wasn't great and the SD card media was too basic to handle all the Raw the camera encouraged you to use. But it was the battery life which disappointed the most; you would have to arm yourself with many to attempt long location shoots.
But shooting with that camera could yield fantastic results. The footage was outstandingly sharp even with cheaper MFT lenses on-board. Even movie productions saw a role for the camera as a crash cam or even a remote camera that could cut in to the final edit. It also gave productions an option for GoPro footage; you could mount the pocket in the same places and get a much better look. Fast forward five years and you have the same camera name but with the 4K nomenclature added. But this new camera is much more than a slight change of name.
Run & Gun
The new Pocket Camera is much bigger than the original, but that's a good thing. The new size makes it easier to use handheld which you could never do with the old one, it was too light and you had to mount it on something. The new size is bigger and it shoots off-speed so you can get away with some movement, it still looks quite natural. The new size also balances out the lens.
The screen is much brighter,  we had to turn it down when shooting for our bonfire night test film.
The on-board microphones are much better as well but bring their own issues. With their position – either side of the lens – you have to be careful where you put your hands and fingers so the movement isn't picked up by the mics. Obviously with a rig with a top handle you possibly wouldn't have those problems.
This handheld use points to the camera's great potential as a documentary camera. All you need is a small camera bag with a few batteries and an SSD drive which you can connect up to the new USB-C drive (you can buy a 500GB Samsung T5 portable drive for around £120). You can also use the other drives as possible backups with the SDHC and CFast slots (you can't use them simultaneously). You then choose your settings as in which CODEC you want at what compression ratio. There are plenty of options there so you can scale up or down depending what your production is. If you only want to shoot in HD, for instance, you can just take SD cards.
Ember's test film shot fire and fireworks. All the fire shots used a Helios 44 lens captured at 400 ISO. The fireworks were captured on the Olympus 12-40 2.8 and at the dual native ISO of 3200. See the test film here .
Shooting
Shooting .DNG Raw is very data heavy and for the old pocket camera you probably wouldn't use it. Now with the SSD option you can quite easily cope with it. We graded our film in Resolve and used proxies to edit it in Premiere which we use for most of our editing. It all then flowed back in to Resolve to finish. That flexibility in a camera so small and cheap is great and unheard of.
Everything is helped by the intuitive menu system which is a pleasure to use. We shoot with ARRIs and REDs and I think the Pocket's menu system is better. The new screen is also much better than the old which was hugely reflective. You have in-built LUTs which are very helpful for monitoring with presets like 'Log to video' and 'Log to film'. You can also upload your own. You also have a good choice of frame rates with a 50P option for 4K and a 120fps high speed for a cropped HD shot. For a small production company this is a great option.
Battery use is better with the new camera but there is still isn't enough notification of the state of charge. If you're concentrating on getting your shots you could be in a situation where the level would go to red and then just drop out. You could always put a VLock mount on it if you were doing something more demanding, because that is what you can do with the new pocket with all of the pro inputs on it: full size HDMI, USB-C expansion, mini XLR, headphone jack, 12V power, audio mini jack. You can even take stills but this is more of a reference than for anything photographic.
"The new pocket camera is much bigger, but that's a good thing"
Four Thirds
The new pocket camera has a slightly wider effective sensor size at 18.96mm x 10mm so is classed as Four Thirds so slightly less crop than before. If you're used to shooting S35mm or full frame you do have to get used to it and especially when you want a more cinematic image with faster lenses. It's hard to get shallow depth-of-field and we were shooting with at least F2 lenses or faster to try.
What we did find was with the mixture of the camera and some vintage glass, the classic glass took the sharpness off the image which resulted in some nice organic shots. In some of the shots we were using an old Helios lens with an adapter on it. The camera just produces a nice, crisp clean image, the Helios 44mm softened up the image which looked really nice and using old glass is definitely an option with the camera.
You're also getting really nice highlight roll-off with the camera which is usually a sign of how cinematic a camera is; how much it emulates a film stock, for instance. We were shooting fireworks and even if there was some small amount of clipping there was no banding around the image or circling of the highlight, it did roll-off really nicely.
The Pocket Camera's intuitive menu system makes it a pleasure to use.
Resolve Partner
Shooting Raw on the new pocket camera has a safety net with a full version of DaVinci Resolve Studio which comes with the camera. In software you can adjust all the ISO and take it quite far, we shot mostly at 800 and 400 and you can take it up and down without too much resulting noise.
You do however have the dual-native ISO circuitry to shoot natively at 400 and 3200. We were shooting at night and the camera was seeing a dog that we couldn't see until we brought it back in to Resolve, it was clean at 3200, there wasn't much grain or noise in the blacks which again is pretty good for that documentary market where people will be shooting with limited lighting. It's easy to swap between the two but there isn't any indication which one you are shooting with. From test the ISO was very usable up to about 6000 and from the 400 ISO up to the mid 1000s is again usable.
END OF THE HYBRID?
If you had this camera in a simple Ronin S type of gimbal you could do wonders with it. Also if you invested in an SSD and a small cage or rig where you could grip your SSD, you have a camera package that can go anywhere without the need to worry about running out of storage. For sure there are a few setbacks with the sensor size but given you have 4K and some off-speed options, it's pretty impressive.
This camera kind of kills the hybrid camera market. You can buy a Sony A7S, Panasonic GH5s and the like but do you really need the same camera to shoot stills and vice versa? This camera is cheaper than those and shoots Raw and off-speed without an outboard recorder and has dedicated shooting assistance with professional inputs and the USB-C recording option.
The camera is perfect for small space shooting and run and gun. Also for travelling abroad you would only need a backpack to take everything you need with you. You would probably get a cage for it with a handle so it's a bit more top heavy. Also you might want a small monitor for those tight angles so you don't have to hug it so much and risk scratching the on-board mics although you can easily put a mic on if you want to.
Once Blackmagic squeeze some more power out of the camera to be able to deal with the new BRaw, the camera will have serious potential for filmmakers or as a 'C' camera.
In the fire images, the main thing is the dynamic range and lack of clipping. There is still detail in the shadows. In the fireworks and fire, the highlight rolloff is also quite notable. In the image of the young boy although the skin tones aren't too natural, they're still really beautifully soft.