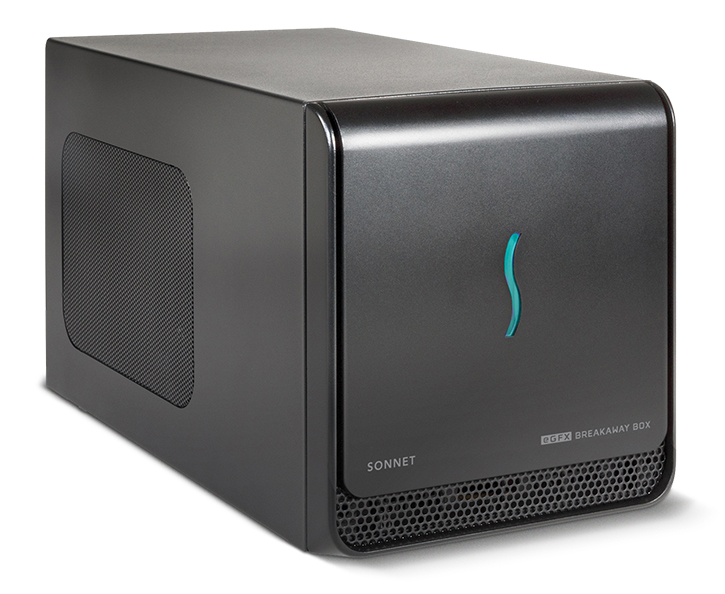 Outsource Your Power
Posted on Mar 18, 2019 by Alex Fice
Attaching external GPUs to Thunderbolt 3-laden computers is exciting the big renderers – and for good reason.
Words: Julian Mitchell
ver since we can remember, post houses wanted to present to their clients a kind of 'thin client' arrangement where the workstations were minimised and all that could be seen was a screen and a keyboard. The cloud has seduced many into thinking that rendering in the cloud is the answer, but it's not for all jobs. You can even get workstations in the cloud, but many believe rendering on the premises is just as important. Imagine grading a 4K HDR job relying on cloud access – you'd be waiting a while for your media to appear.
Recently, Apple confirmed that its macOS 10.13.4 beta now supports a hot plug-in of eGPUs. This means no more difficulties in attaching hugely efficient GPUs to its computers – even the correct model name of the external GPU will be recognised.
That announcement set companies, such as Sonnet, on to developing breakaway or breakout cages that would use Thunderbolt 3 to feed Macs and Windows machines with a huge leap in GPU power – post's vision of a smaller computer footprint looked nearer than before.
"Working with the eGFX 650 is easier still if your AMD card has been pre-installed"
Sonnet eGFX 650
Sonnet's Thunderbolt 3 to PCIe expansion chassis can host some mighty powerful cards in its PCIe full-length card slot. AMD cards, such as the latest 9100, but also more specific cards for pro video and audio, such as Red's Rocket-X and Avid's Pro Tools | HDX, the breakaway box's single Thunderbolt 3 connection gives you a huge 2750 MB/s of available bandwidth to
work with.
Depending on the model of your Mac, you can have more than one breakaway model connected to your system. For instance, the new iMac Pro has four Thunderbolt 3 ports and is already configurable to host AMD's Radeon Pro Vega 64.
In fact, Sonnet was showing on its stand at last year's NAB that two of its eGFX 650s, both with AMD WX9100s on board, were accelerating the iMac by a factor of three times. A similar eGFX 650, again with the AMD 9100, was accelerating a normal MacBook Pro computer by a factor of seven times.
Pick Your Card
Working with the eGFX 650 is quite easy, and easier still if your AMD card has been pre-installed. The enclosure will power your card, and with its 87W of power will more than power your laptop. There is a huge and very silent fan to cool your power-hungry card, as well.
As usual, Sonnet is very quick to respond to this growing outsource GPU market. You may have to source your card yourself as there are fluctuations in the GPU card market, so look around for your favourite. The eGFX enclosure itself is £380 and also around $380, and it works superbly well. Just make sure you have the correct OS version loaded on your device.
For more information visit their website.