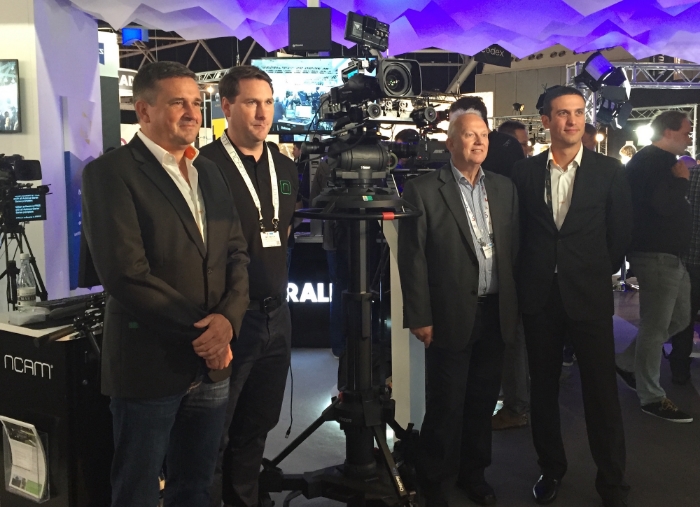 VITEC VIDEOCOM, VIZRT AND NCAM AGREE PARTNERSHIP
Posted on Sep 22, 2015 by Alex Fice
The NCAM deal was announced at the recent IBC 2015 show in Amsterdam.
Vitec Videocom, the Broadcast Division of the Vitec Group, has partnered with Vizrt to bolster the global reach of Ncam's real-time virtual camera tracking technology. The agreement is effective immediately.
Ncam Live is a camera tracking solution that offers broadcast productions virtual and augmented graphic technology without limits. The device uses a lightweight sensor bar attached to a camera to track natural markers in the environment, allowing the camera to move freely in all locations while generating a continuous stream of precise positional information that can feed all industry standard graphics engines.
Ncam's virtual tracking technology is claimed to be the only one of its kind that has been proven in the broadcast industry with major broadcasters around the world such as the Weather Channel, ESPN, AMP Visual TV, FOX, TV Globo and the NFL having recently implemented the solution.
"We have worked with Ncam for more than two years since they were the first company on the market with unrestricted augmented reality capabilities," said Francois Laborie, Vizrt CCO.  "When doing outdoor augmented reality, no other system has proven to be as stable and robust, making Ncam an obvious choice as a preferred partner for real-time virtual tracking technology. Together we have taken part in the world's most high-profile events and I look forward to bringing more integrated solutions to the market that will benefit our customers in the future."
"Vizrt's global reach and premium market position in live graphics are a perfect match for Ncam," said Nic Hatch, CEO of Ncam. "They are in a fantastic position to sell and support the growth of our technology in the broadcast industry. We are confident this end-to-end graphics workflow solution will thrive with broadcasters.
Vizrt will sell, service and support Ncam products worldwide as part of the agreement.
"Ncam offers broadcasters truly ground breaking products," said Matt Danilowicz, CEO of Vitec Videocom. "This new partnership will bring broadcasters from all around the world into the future."