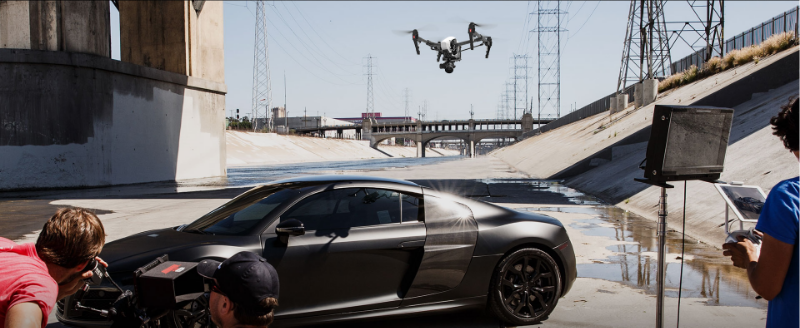 DJI Drones Now Have The Choice Of A Cinematic Quality And Workflow
Posted on Sep 22, 2015 by Alex Fice
DJI's Inspire 1 Drone with the new X5 camera on-board
Meet the Zenmuse X5, DJI's first mirrorless, compact Micro Four Thirds camera made specifically for aerial photography and cinematography. Designed to work with the DJI Inspire 1 ready-to-fly platform, the Zenmuse X5's new sensor is capable of recording 4K videos at up to 30 fps and capturing still images at 16MP.
Equipped with the standard MFT interchangeable lens mount and allowing full wireless remote control over focus and aperture.
The Zenmuse X5 sensor is eight times the size of that in the previous X3 camera included with the Inspire 1, this new MFT sensor enables high sensitivity image recording at an ISO range of 100-25600.
DJI's Zenmuse X5R with the MFT sensor exposed.
Zenmuse X5 is capable of recording 4K (3840 x 2160) at up to 30 fps, 2.7K (2704×1520) at up to 30 fps, and Full HD (1920 x 1080) at up to 60 fps in MP4/MOV format.
DJI claim that a higher speed signal readout suppresses the rolling shutter effect when recording, resulting in useable footage even when flying at high speeds. The Zenmuse X5 also comes equipped with features such as Zebra Pattern and Focus Peaking.
Zenmuse X5 is also has a 3-axis gimbal. With a precision accuracy of 0.02°, sub-pixel stabilisation is occuring and as a result, the Zenmuse X5 produces silky smooth footage and sharp photos even with long exposures.
• Zenmuse X5R is the world's first Micro Four Thirds aerial camera capable of recording lossless 4K videos in RAW. With a framerate of up to 30fps and 1.7Gbps average bitrate.
Sensor size comparison.
The Zenmuse X5R gets you a RAW mode and potentially a more cinematic workflow.