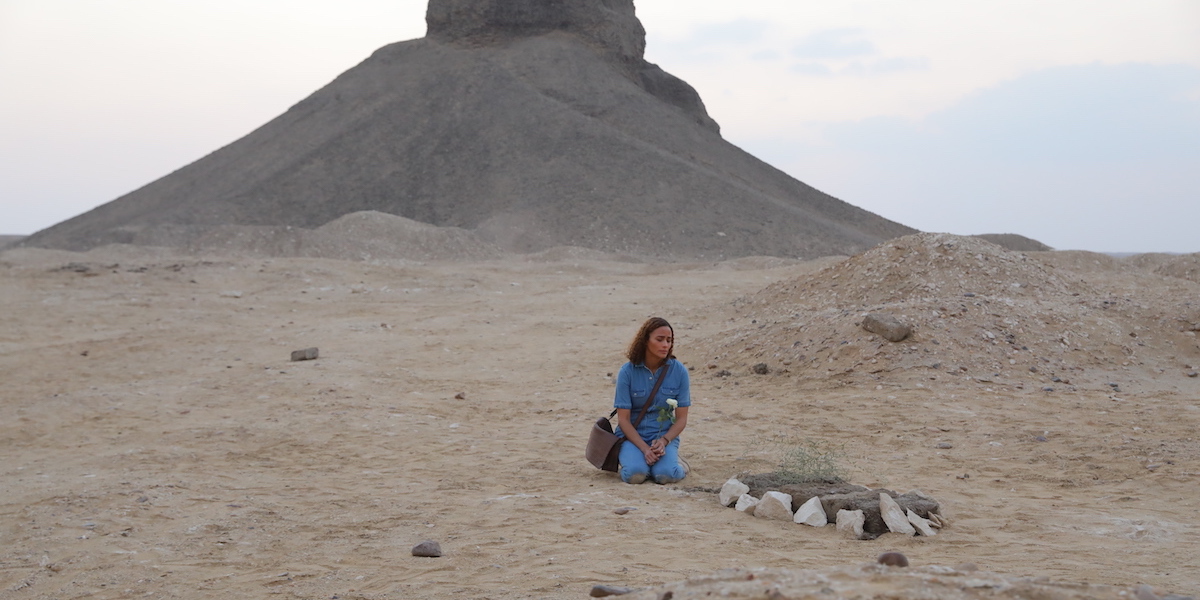 Working with the devil
Posted on Dec 19, 2022
The Devil's Promise director Colin Teague explains how you make a blockbuster with poor internet connectivity – and an FX company hit by war
WORDS Robert Shepherd | IMAGES Mahmoud Youssef & MBC
Colin Teague is one of the most sought-after directors in the biz, with a slate of large-scale series, miniseries, indie films and dramas to his name.
The first director for the Russell T Davies Doctor Who, plus episodes of spin-off Torchwood and the pilot episode of The Sarah Jane Adventures, he was also Bafta-nominated for Being Human and directed The White Queen for BBC/Starz, which secured three Golden Globe nominations.
His most recent project saw him fly out to north-east Africa in order to make something quite different to his output over the past 20 years.
The Devil's Promise, set and shot in Egypt, is a six-part fantasy thriller written by Tony Jordan (Hustle, Life on Mars) along with Anji Loman Field (EastEnders).
Teague and Jordan had worked together on Saudi thriller series Rashash, so this was their second time collaborating against an Arabian backdrop.
Produced by MBC Studios – the Egypt-based subsidiary of Saudi Arabian broadcaster MBC Group – The Devil's Promise concerns a man called Ibrahim who sells his soul to Iblis (the Devil) in a desperate attempt to save his wife when she is diagnosed with a rare, incurable brain tumour.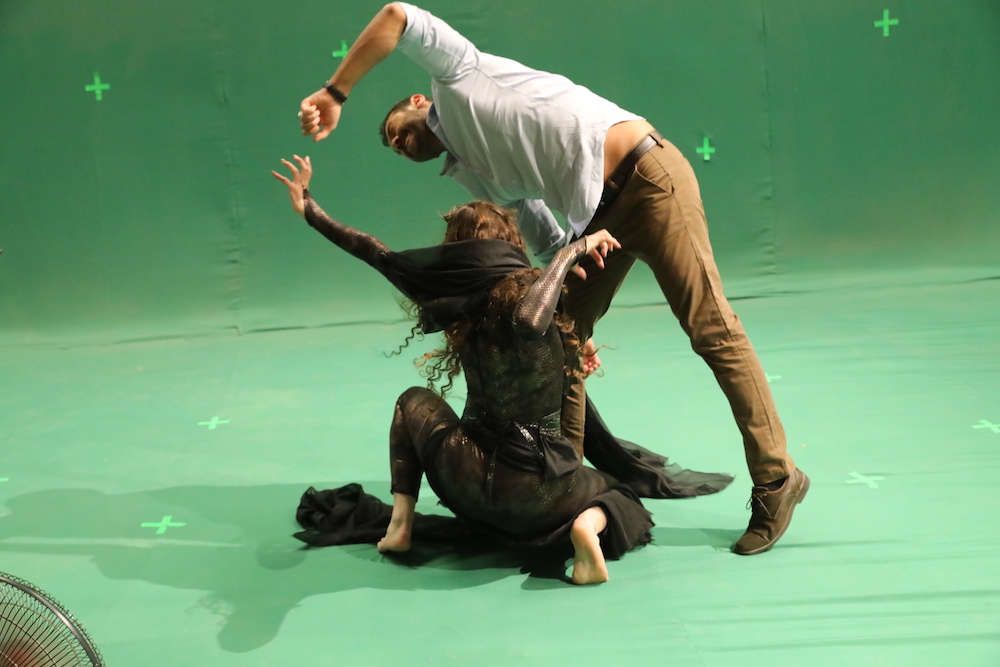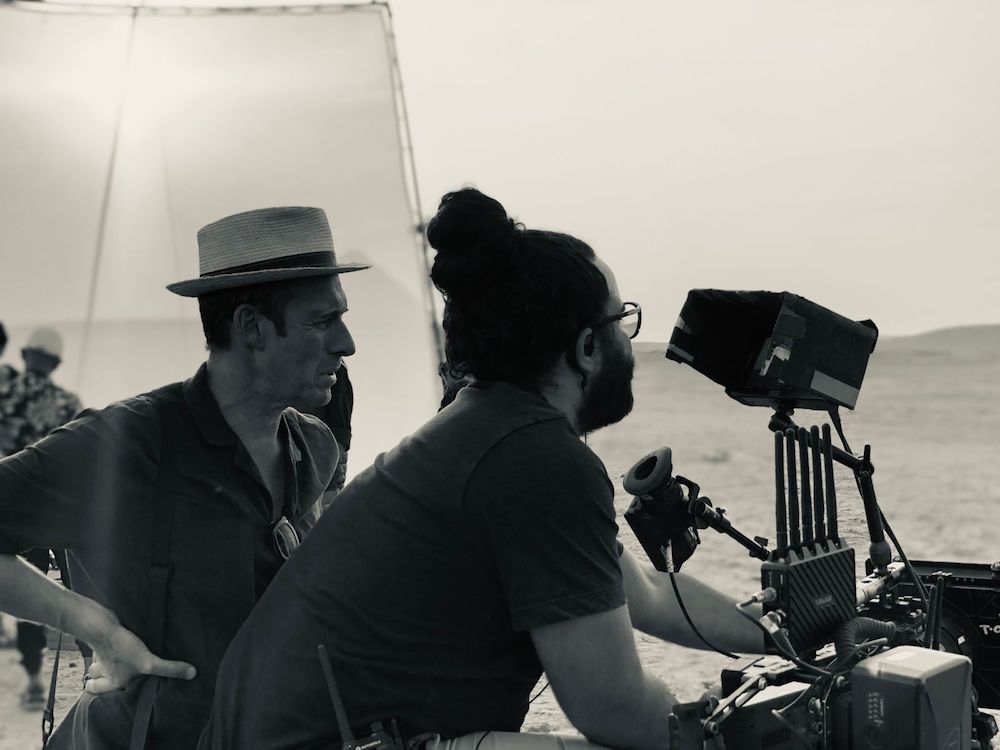 JUST DESERTS | The crew shot lots of plates and a large action sequence on location in the desert, with the Pyramid of Amenemhat III comprising the backdrop
HELLISH TIMES
For those not au fait with Islamic mythology and theology, invisible creatures called jinn — spirits that can take the form of people and animals — appear often. To make things even more interesting, these demons continue to play a role in modern Arabian life.
"Jinn are very real in Middle Eastern culture – even today – so there was a lot of conversation and research into their history to make it feel authentic and sympathetic to the region," says Teague.
Ukrainian company Terminal FX was commissioned to create Iblis using CGI, as well as a jinn world made of sand. However, serendipity played a major role when it came to finding the ideal backdrop for some of the biggest scenes. Just over an hour's drive from the capital is the Pyramid of Amenemhat III (better known as the Black Pyramid), which Teague says was the perfect setting.
"The locals from Cairo had never heard of this landmark," says Teague. "It looks like there's a devil's face on it. This pyramid was one of the first to be built from clay, as opposed to stone. Over the centuries, rain and degradation mean it is collapsing on itself. There's a skull-like face and we thought that would be good with our story. We used a lot of plates around it and had it as our backdrop for a big fighting sequence, with jinns flying around on harnesses. We then manipulated the plates to make them look like burning sand."
Loman Field explains how the introduction of these techniques means writers can approach projects differently to the past. "Colin gave me carte blanche to plunge into the wildest depths of my imaginings," she says. "Not all my ideas ended up in the shooting scripts, though many did – these techniques enable us to visualise totally freely."
Teague and his team took the decision to use green screen, as the material was easier to source. The set had a huge 270° of on-camera angles, which was used to shoot all the scenes and sequences.
However, VFX deployment wasn't without its problems. The invasion of Ukraine meant there were complications ahead after the series had wrapped.
"You can imagine the issues we had in post after the war began – the whole team was dispersed into Poland, Norway and various countries," Teague says. "The managing director went to Canada, while several artists stayed in Kyiv. Some were even enlisted to fight for the Ukrainian army. The team did an incredible job in very tough conditions – sometimes it was particularly hard emotionally for everyone involved."
It was obvious that Terminal was going to need some help, so some of the VFX work was passed to another company.
"The problem was, Terminal couldn't even use its own server, so they had to access one in the cloud and that reduces capacity. Plus there's a cost involved," explains Teague. "So, we all did what we could to help them out because we could see it was going to be tough. We took all the clean-up work and gave it to Hula Hoop in India. Lots of productions have clean-up work now – like adding more blood in a sequence. The move meant Terminal could focus on the big 3D models and animation."
Several months were spent on perfecting the look of the jinn and the Iblis world, and Teague knew he had a big project on his hands.
"The war coming along just meant there was a race to the finish line," he says. "It created more pressure at the back end because of the CGI-heavy effects in later episodes. So, as we built up to the climax, it was all hands on deck as we tried to negotiate the number of shots. When you consider 200-250 shots, with over 1200 visual effects within the series, it's not a small job."
Still, Teague says there were no issues with delivery and that the post house unit 'did an amazing job'.
What's more, the series was wrapped up to hit the autumn delivery for MBC's streaming service, Shahid VIP. "This was a fantastic effort by everyone involved from CGI, grade, sound and deliverables teams when you consider the scale of this project," insists Teague.
WORK LIKE AN EGYPTIAN
Egypt isn't synonymous with TV and film, but Teague points out that its industry is on par with most others.
"Don't forget, the Egyptian film industry is older than the UK's," he says. "Egyptian cinema has been going as long as ours; it's very established. Their crews have excellent technical capabilities – in design, working with cameras and all departments on the floor."
Cinematographer Mahmoud Youssef made use of two Alexa Mini LFs with large format Arri Signature Prime lenses and a 2:1 aspect ratio. It was Teague's first time with the glass, but instantly he knew he'd made the right choice.
"I'd used the camera before on many occasions, but not these Signature lenses," he says. "We did a camera test for a day to try out three sets of optics. I've shot anamorphic before many times on a feature and really enjoyed that."
In Teague's opinion, 2:1 is the perfect aspect ratio for high-end television, because it gives the viewer the sense of film. "You want the audience to concentrate within that frame," he adds. "I think it's the closest to a cinematic experience you can get on a small screen. Those Signature lenses give just another level of richness and width – they are simply that bit more expansive. I adored them; wider and with a more anamorphic feel."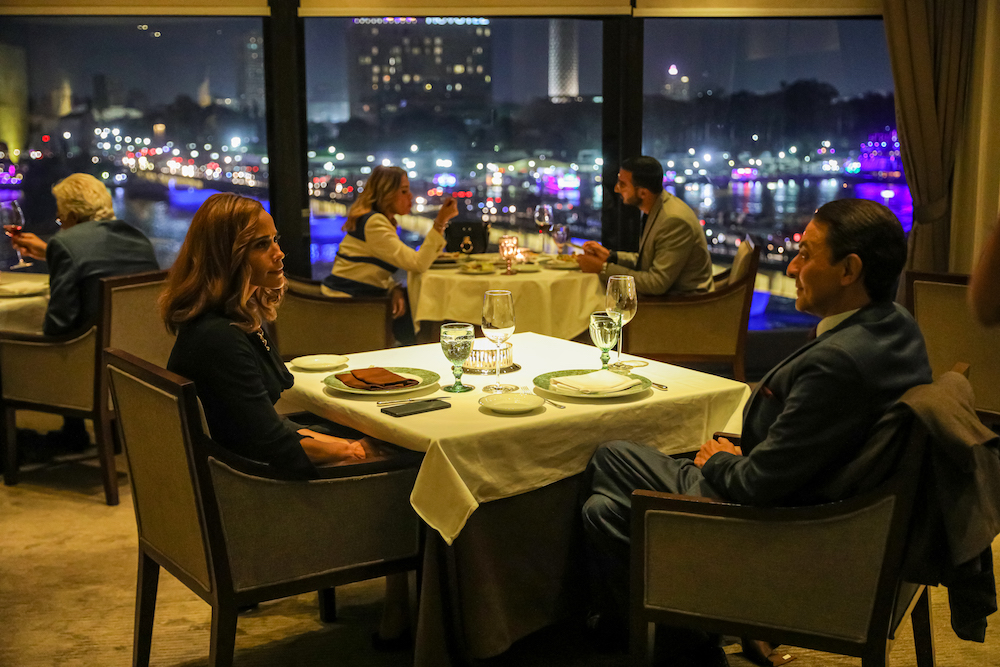 ROOM WITH A VIEW | A commitment to Arri Signature Prime lenses gave this television series a beautifully filmic and anamorphic aesthetic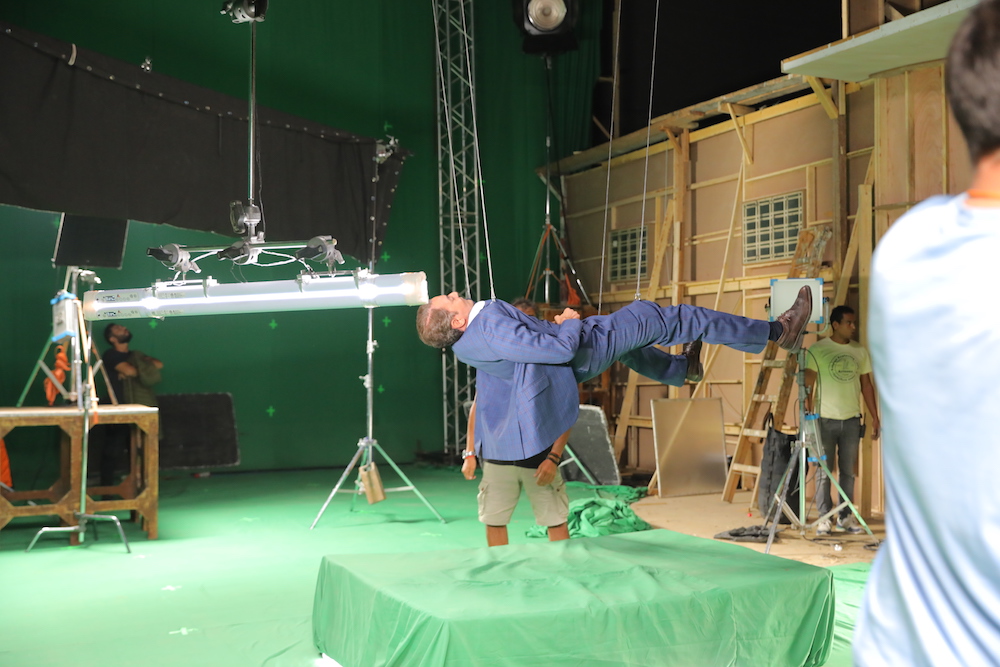 GO LOCAL | Teague had no problems finding talented industry professionals in Cairo to help run a slick operation. As he points out, the Egyptian film industry is older than the UK's, so there's a rich heritage and plenty of talent to be found
LOCATION, LOCATION, LOCATION
Based on the banks of the Nile, Cairo has a vast array of edifices that have been touched by different periods of history. Teague says this only adds to the charm of the Egyptian capital as a filming location.
"The city has so many layers – there's centuries-old architecture, yet you can see every decade from the 20th century on every building," he says. "They don't take anything off or knock anything down – things are stuck on top of each other – in this wonderful metropolis with a timeless, fascinating feel."
While the location and production crews were the best Teague and his team could ask for, ancient Cairo – indeed Egypt in general – lacks some of the infrastructure required by a high-end, big-budget production.
"Unfortunately for them [the Egyptians], connectivity is a real issue," explains Teague. "The infrastructure isn't quite there yet. If you think a Zoom call from London to Cairo can be problematic, imagine uploading and downloading in Egypt.
"The edit team back in the UK was consistently several filming days behind everyone else – but thankfully we had a strong post-production team and house unit to iron out the issues as they cropped up. Improved bandwidth is the next step for the Egyptians."
Watch The Devil's Promise on Shahid VIP
This article appears in the January 2023 issue of Definition.