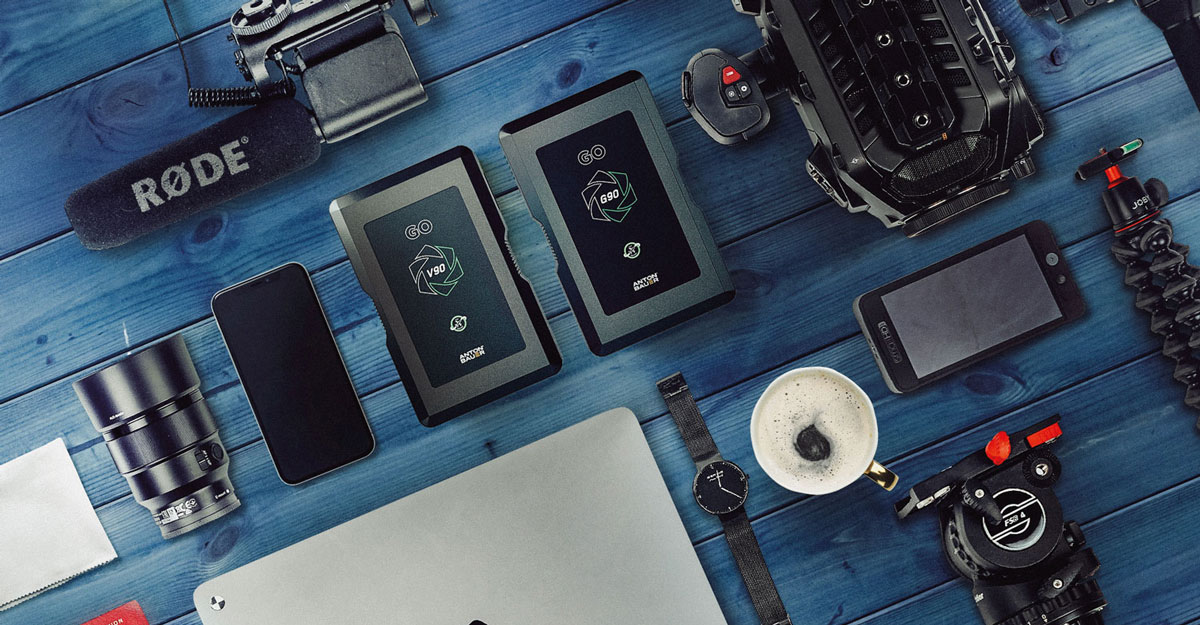 Terminal velocity
Posted on May 19, 2022 by Samara Husbands
Words Phil Rhodes
Sexy? No. But crucial? Absolutely! With thirsty devices needing sustenance, battery tech is moving at serious speed to keep apace. We look at key offerings from the power players
The battery world's biggest idea in on-camera power is the B-Mount, developed to supply higher voltages to the heaviest loads. Hawk-Woods addresses the demand with its BL range, including the gargantuan 350Wh BL-350 battery, one of the most capable in its class. Each has two auxiliary power outputs, usually a D-Tap and USB-C. If more is needed, the company's X-Boxx series of floor batteries have long provided huge capacities up to 1000Wh. Even the compact new Mini X-Boxx packs 880Wh of capacity into its diminutive profile. With 14.4v and regulated 28v outputs, it'll run even the least frugal cameras for hours.
All the while, smaller members of Hawk-Woods' selection take on the reality that many modern gadgets – monitors, recorders, transmitters, even remote focus devices – frequently use systems designed by Sony in the nineties, for its consumer and prosumer camcorder ranges. Whether or not it was Sony's intention that the system would become so widely used, improvements in technology have made it steadily more effective, and Hawk-Woods has options compatible with both the NP-F series and slightly more upscale BP-U battery series.
The mighty B-Mount itself was developed as a collaboration between Arri and German power specialist Bebob, based on the idea that more volts can push more watts for fewer amps (see 'Pipe dreams' boxout). Bebob has B-Mount batteries with capacities up to 290Wh in the B290Cine model. There's a full range of accessories, including hot-swap adapter and adapter plates for common mounts; the ability to supply both 12v and 24v devices means one case full of batteries could supply everything on-set.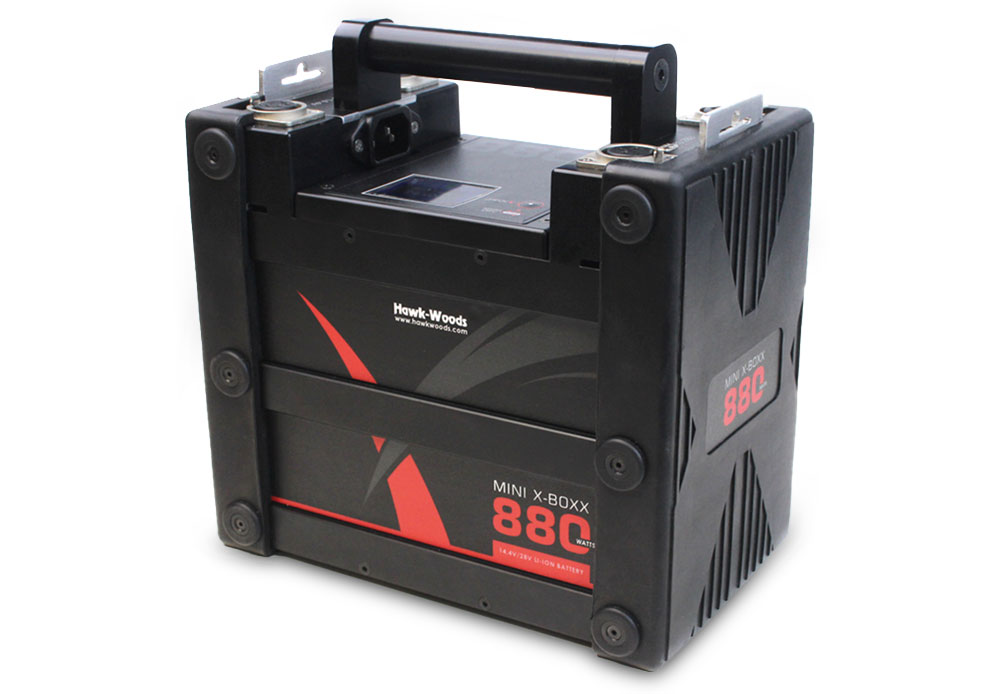 Core blimey
Core SWX's pre-NAB Show announcements also included devices at both ends of the scale: the Nano-F is a 45Wh option, compatible with Sony L-Series batteries, that's considerably smaller than many devices of similar capacity. As the name suggests, the Nano Micro brings compactness to V- and Gold Mount batteries up to 147Wh. It works nicely for situations that require
the capacity of a full-size battery, but not the bulk.
Anyone who doesn't need full-size will find manufacturers competing on sheer feature set: a market Core SWX focuses on, with its hugely flexible Powerbase series. The full Powerbase Edge operates either as a V-Mount, or via 1/4in threaded attachment, perhaps riding on a 15mm rod system with a suitable clamp. There are 14.8v and 7.2v outputs to suit both professional and video-capable stills cameras that expect 7.2v lithium-ion batteries. There's also 5v output for USB devices, an increasingly common load. People who don't need the V-Mount and runtime LCD can choose the Powerbase Lite version.
Not to neglect the high-end market, Core SWX offers B-Mount compatibility in the Helix Max range, with similar features to its Hypercore Neo range, but with 26v output. Meanwhile, the Voltbridge system, which the company refers to as a battery management platform, allows anyone with the appropriate mobile app to monitor the overall health of chargers and batteries – potentially hundreds of them – from anywhere. It's not the first time that's been done, but Core SWX seems keen to cover all bases.
Anton/Bauer has long been similarly comprehensive, with alternatives for everyone – from lone-wolf YouTubers to the most rarefied regions of high-end cinema. The popular Dionic has expanded to include a 26v series on the company's Gold Mount Plus. Available in capacities up to 240Wh, there's a compact 99Wh version for air travel, a dual-mount bracket to take two batteries and, with the bigger packs, run for hour after hour. The company has stand-mounting dual plates for high-power loads, particularly big LED lights, with the Dionic 26v LP4 four-way charger available to handle Gold Mount Plus units.
At a smaller scale, Anton/Bauer's 68Wh Titon Base system is festooned with D-Tap and 5v, 2A USB output options. There are 1/4in fasteners on both faces, such that it will operate quite literally as a baseplate between camera and tripod. It's an option that keeps batteries out the way of rear-mounted displays and controls, yet still handles 8A loads, with the same convenient runtime displays as Anton/Bauer's largest units. The Go 90 range also addresses the needs of people who could do with a full-size Titon or Dionic, but for whom the balance of size and capacity bends firmly towards compactness.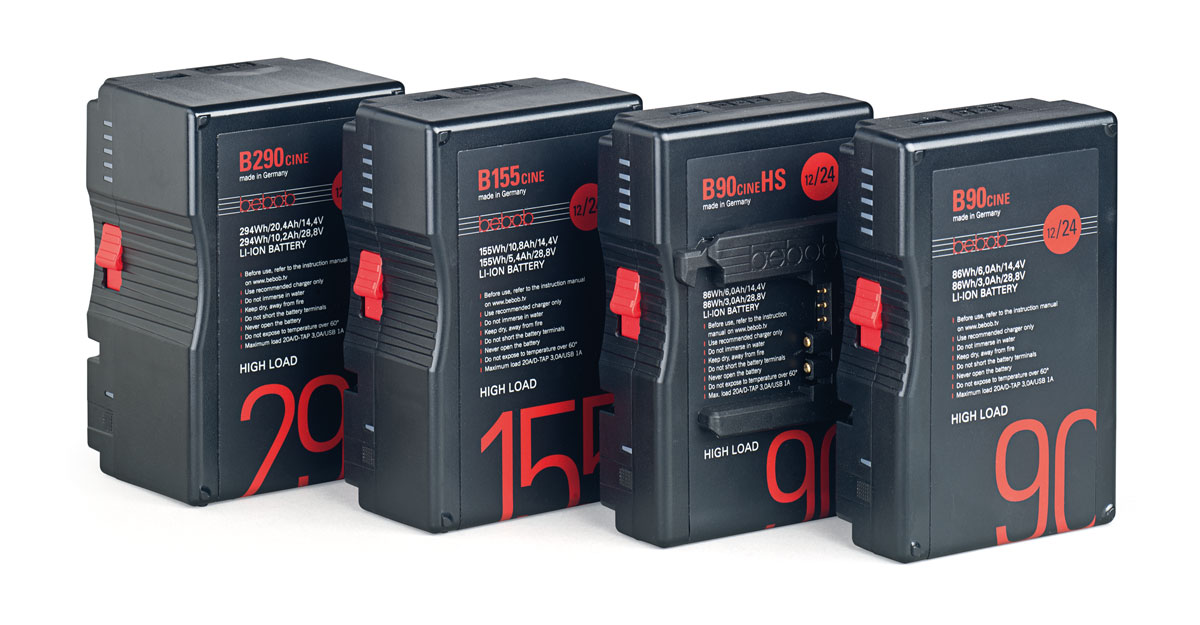 The environmental question
As anyone who has made a battery out of a lemon and two coins knows, those coins must be made of different metals. That's why battery chemistries are called things like 'nickel-cadmium' (now long abandoned, since cadmium is so toxic). Most li-ion batteries use cells based on lithium and cobalt. Both are hard to get; lithium extraction uses a lot of water, often where it's in short supply.
Li-ion batteries can be recycled to recover copper, nickel and cobalt, although only advanced techniques recover the lithium. As manufacturers become more aware of the need to build cells that are easy to recycle, things should improve, although reliance on lithium and cobalt is harder to avoid.
Right on Cue
IDX has a comprehensive range of power, all the way from the pocket-sized BP-U series, right up to the Cue-D300 with 286Wh at hand. In the mid range, the company describes its Imicro-98 battery as the smallest available anywhere at 97Wh. At that capacity, the battery is easy to fly, although the more capable Imicro-150 still manages to be impressively sized. A twin mounting plate, the A-Vmicro2, will discharge the two connected batteries sequentially to allow for hot-swapping, with USB-C power built-in. Despite their diminutive dimensions, the Imicro batteries pack in two D-Tap connectors and a light – as well as SMBus communications.
More recently, IDX updated its Duo range, that currently comprises three versions. The 97Wh Duo-C98P stakes a claim at being (deep breath) 'the world's most compact high-capacity IATA-friendly (<100Wh) li-ion professional battery with multiple power outputs'. Ideal for gimbal and aerial set-ups, it features two D-Taps and a single USB-C. The 14A 145Wh Duo-C150P can also fly, but the 193Wh Duo-C198P must stay on terra firma.
PAG's approach to smart communication – its PAGlink system – is unusual, since it lets its batteries talk among themselves. Common to its V- and Gold Mount options, PAGlink allows batteries to be stacked one on top of the next, and then cooperate to determine an overall runtime, given total available charge. The range is therefore suitable for a wide variety of tasks, with Mini PAGlink batteries available in 50Wh or 99Wh editions, and the full-size version up to 150Wh – but with the ability to stack more than one, without need for additional accessories.
Many batteries now offer D-Tap and USB, but PAG addresses the need for arbitrary power connectors with its PowerHub discharge plate. Sitting between camera and battery, it takes interchangeable connector modules. D-Tap, Lemo, Hirose and 2.1mm coaxial DC power connectors are all available, allowing for a tidy, adapter-free set-up for various configurations of on-camera devices.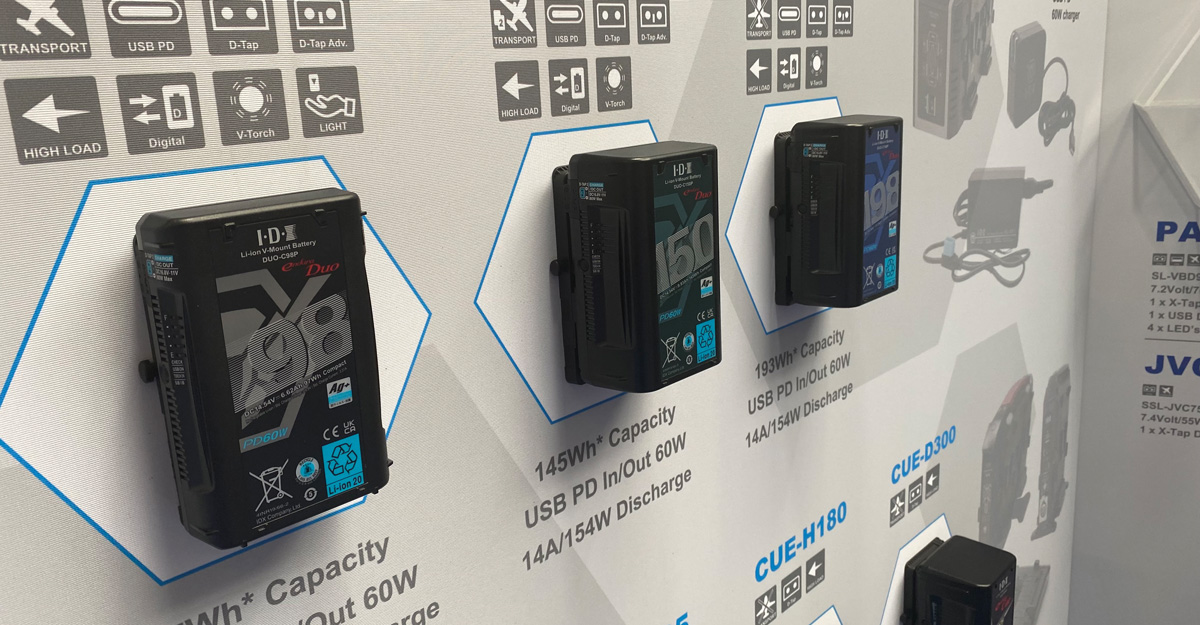 Swit swoo
Let's round off with Swit, which offers a range of power solutions for V-Mount, Gold Mount, B-Lock and BP-U fitments. The company's line-up includes the PB-C420S, which currently wears the crown for the world's largest-capacity handheld V-Mount battery, with 420Wh for potential day-long usage on power-hungry devices.
Also worthy of note is the PB-H290S, a bi-voltage pack that automatically switches between 14.4v and 28.8v. A replacement for the H260S, the newer model has 290Wh capacity, supports up to 250W of power and allows fast charging – from 0 to 80% in two and a half hours. Auto-switching tech can be used on normal V-Lock plates with the addition of Swit's Magic Sticker, which recognises and auto-switches when voltage changes are required.
There's huge variety and sophistication in modern batteries, and increasing recognition of both the high-end, high-consumption market and owner-operator with a modest rig. Devices like Voltstack's big, towable battery power supplies are quiet, fume-free, and will inevitably benefit from the same huge R&D effort as electric cars. That's currently a massive effort, far bigger than the film industry would warrant alone. It also creates a new dilemma: not so much where we charge the battery, but where we park it.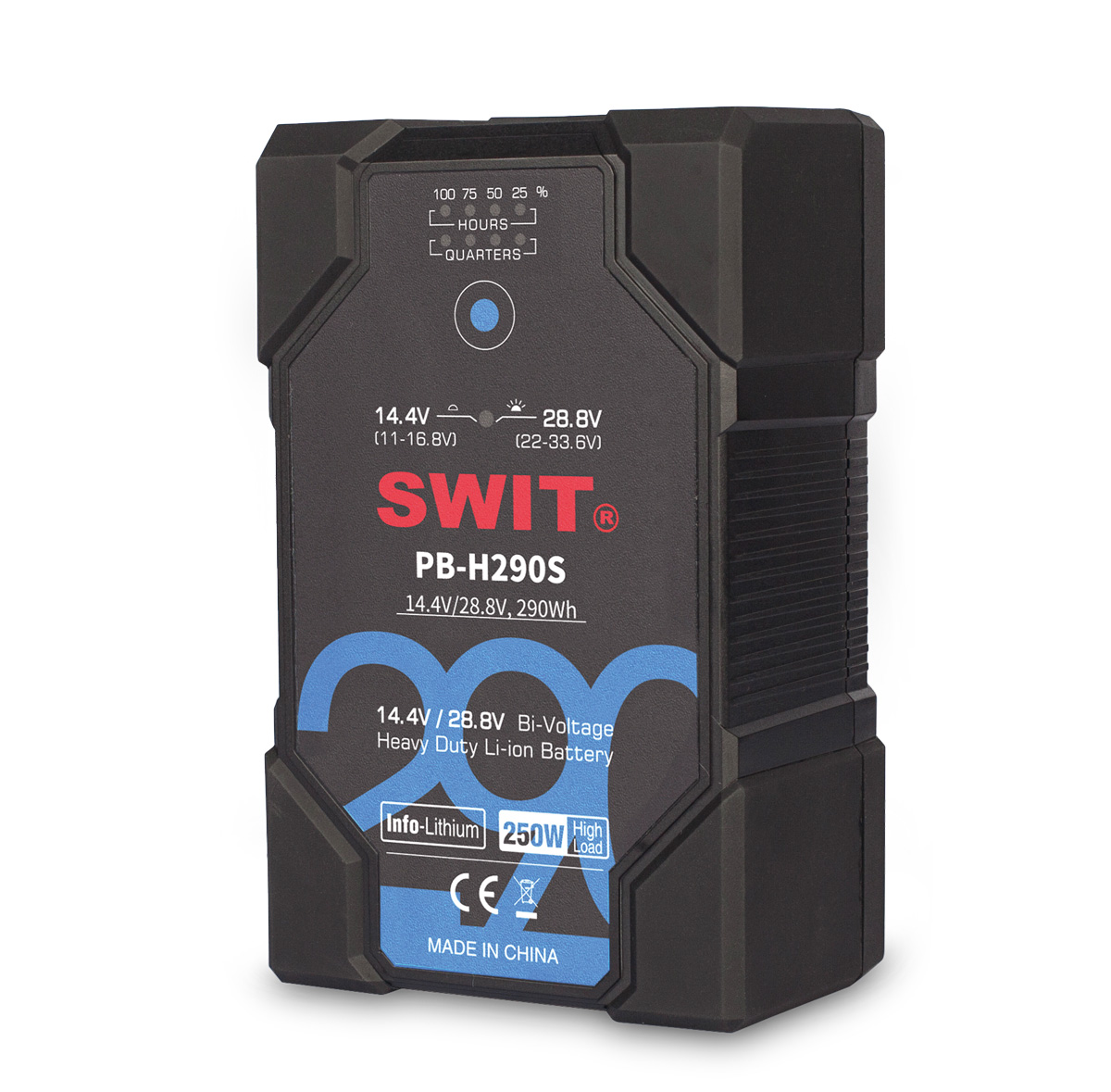 Originally published in the June 2022 issue of Definition Magazine.