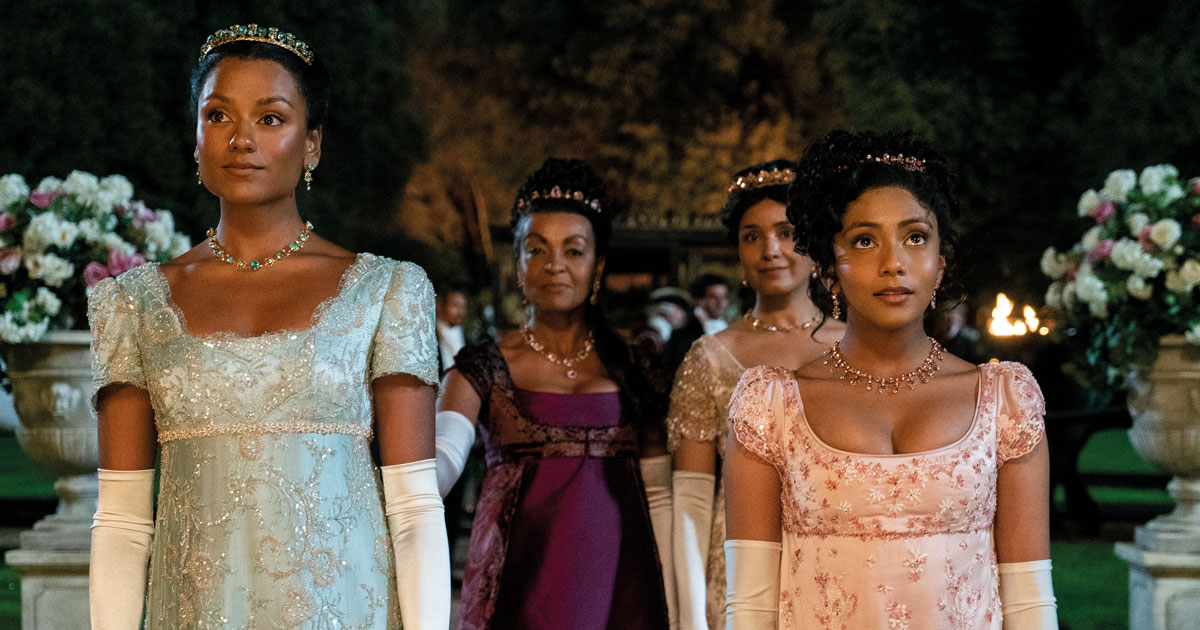 Talk of the ton
Posted on Feb 4, 2022 by Alex Fice
DOP Philipp Blaubach reveals everything you need to know about the cinematography on Netflix's most salacious regency drama, Bridgerton
Words Chelsea Fearnley
While Regé-Jean Page's departure crushed the hearts of fans who fell for his charming portrayal of Simon Basset, Duke of Hastings, it fits the structure of Julia Quinn's Bridgerton book series. However, in Season 2 we still follow the gossip-ridden world of upper-echelon London that viewers came to love – all with the added intrigue created by the anonymous author (for the ton at least), Lady Whistledown. 
Each of Quinn's instalments focuses on one of the eight Bridgerton children, creating an anthology that will, in turn, fundamentally change each season. Therefore, it's important not to get too attached to the good-looking leads (although they often appear as secondary characters, so we hope Page will return).
For Season 2, our eyes turn to Viscount Anthony Bridgerton and his quest for love – introducing a new family to this reimagined regency. "In the book, they're the Sheffields – but, continuing the show's diverse and inclusive portrayal of 19th-century Britain, they're called the Sharmas and are of British-Indian heritage," explains Philipp Blaubach, who co-shoots with DOP Jeffrey Jur. 
Since the writers' room is stacked with a diverse team, including executive producer Shonda Rhimes, there have been fewer barriers in adding a more complex and interesting spin on Quinn's literature. And while this colour-conscious casting was ultimately a creative decision, it no doubt stems from Netflix's pledge to support diverse showrunners on its original series, with Mindy Kaling for Never Have I Ever; and Justin Simien and Yvette Lee Bowser for Dear White People.
"It's exciting and contemporary," says Blaubach. "Yet, the setting, costumes and language still appear as if lifted from a Jane Austen novel. It's just the attitudes that have changed, which I think is why the show is so popular; because more people can relate to it."
Departing from the homogeneous casting of most period dramas, Bridgerton also portrays the strength of women at a time that bolstered male ambition. The female characters are outspoken and feminist. In Season 1, Eloise Bridgerton regularly denounces the patriarchy and institution of marriage – and her sister Daphne even sucker-punched an unwanted suitor. Season 2 promises more of this. 
"One of my favourite scenes comes when we see Kate Sharma question Anthony's rebuttal to her accompanying him on a hunt. She asks if it's because she's a woman, and he responds curtly: 'Women don't hunt.' I like it, since it shows how things were in that era, but with women able to stand their ground."
Shooting the steamy
Bridgerton doesn't just have a contemporary take on dialogue. Blaubach uses Arri Signature Primes to create a wide, but intimate window into the lives of London's Mayfair elite. He explains: "It's a modern way of shooting – the images are sharp, clean and vibrant. I also try to be closer in on wider lenses, especially in the full-frame format. But it's not always easy, especially when you are dealing with multiple cameras and a big cast. It was important that we created this intimacy for Bridgerton, though, because it's quite steamy."
Alongside the Signature Primes, Blaubach also used Fujinon Premistas, which cut well with Arri's glass. This season, tilt-shift lenses were also added, to create what the director Alex Pillai termed a 'hot cam' for the show's raunchier sequences. Blaubach explains: "By tilting the focal plane with a tilt-shift lens, you can get an extreme close-up that focuses on the actors' eyes and falls off around the mouth and eyebrows. It's very magical, and has a dreamlike quality. We even added a flame bar under the lens for one scene, so you could literally see waves of heat ripple across the frame."
The sex scenes between Daphne and the Duke in Season 1 caused quite the splash – fans will be able to recall that infamous library sequence. It's certainly a step up from the PG thrill of Mr Darcy emerging wet-shirted from a lake in the BBC's 1995 adaptation of Pride and Prejudice. Yet, there's a delicacy in portraying 19th-century sex for modern viewers – from the modest clothing to the choreography, the exact mechanics of how it works need to be figured out.
"The scenes are still very much driven by the director and DOP – and by what the actors feel comfortable doing on-set. But there's a lot more prep involved. We now have intimacy coordinators, who are central to the rehearsal process. They help create more of a dialogue between cast and crew. This role didn't exist a few years ago," explains Blaubach. "Actors would express what they felt comfortable doing on the day, which – in the moment and under the pressure of the director's vision – wasn't always how they really felt. Actors need time to think."
He continues: "The sets are closed, and the monitors get flagged off. The dailies are also separated as sensitive material, meaning only certain heads of departments get to see them. And they're censored, to avoid the potential for misuse."
Bridgerton's sex scenes were shot single camera and with minimal relighting between different angles – as Blaubach was conscious about the actors having to work for long periods. But, in instances where there was dialogue, they naturally took longer. "Daphne losing her virginity to the Duke in Season 1, for example, included discussions about what she liked and didn't like, and was an emotional part of the storytelling – so director Sheree Folkson wanted me to shoot it from various angles and in different ways. But as a rule of thumb, I shoot intimacy scenes single camera to minimise the crew, and because there is often only one angle that doesn't compromise the actors' modesty."
He continues: "And, of course, these scenes often take place in a bed – not easy to shoot when you're trying to capture the visual brief of the show, which is to be intimate. It would be the two actors lying down – with me and my camera on top of them – which is difficult to operate. Still, I wanted to have the flexibility of handheld, but not make it a handheld scene, with me leaning over their shoulders or crouching on the mattress with them. So, I found a 25ft crane with an underslung slider that allowed me to respond to their movements, without interrupting them. The camera became almost zero gravity, floating up and down, from left to right, in an effortless motion."
Style for substance
In Season 1, there are two clear-cut families, both alike in dignity, but different in their costume and makeup design. The Bridgertons' style revolves around an elegant colour palette of pastels and neutrals, to feel romantic and refined. The Featheringtons, on the other hand, mix garish canary yellows with neon pinks and greens, to evoke a Versace-esque feeling. It's entertaining, much as they are. The addition of the Sharmas in Season 2 brings fresh tones to Bridgerton's painting palette, with the family awash in blues, purples and stunning, traditional South Asian jewellery. 
"I love the storyline of this show, but what I enjoy most is the spectacle of the costumes – and trying to honour the detail of it on camera," says Blaubach. "We were already confident in the look of our lenses, filtration and camera workflow after Season 1, but we did test some new looks for Anthony's flashback scene to his mother, Violet. The memory is happy and sad at the same time, so we wanted two different looks; one that is lower in contrast and warm, and another cooler and harsher. We also used diffusion, and tested lots of options for this before landing on the Pro-Mist diffusion filter, which is a bit crude and old-school, but gave a softness to the scene that couldn't have been introduced in the grading stage. It worked really beautifully, actually."
Anthony spent much of Season 1 shying away from the ton's social engagements, to enjoy his doomed relationship with opera singer Siena, realising only in the finale that their social standings precluded any long-term romance. He is Viscount Bridgerton and must marry well, to the ideal wife – and where better to look than the marriage mart that is a high society ball?  
"The balls are the biggest challenge to shoot. They involve a big cast, with extras, dancers and musicians, who all need to go through costume and makeup. By the time everyone is decorated, we're already a few hours into the working day."
Interestingly, and resourcefully, the set used for the final scene between Daphne and the Duke in Season 1 was repurposed for two balls this season; the Queen's Ball and the Hearts and Flowers Ball at the Bridgerton country estate. For those that haven't seen the show, the set represented the pastels and neutrals the Bridgertons have become known for, and featured a hollowed ceiling and drainage built into its flooring for the magical rain dance between the young couple. "It's now wood-panelled, darker in tone and indoors!" says Blaubach. "I prefer this, because the light absorbs into the walls and doesn't bounce off them so much."
The balls are lit with chandeliers and candelabras, as you'd expect, but budgets meant there was a limit on how many Blaubach could use. For Hearts and Flowers, there is a chandelier over the central orchestra, with two at the north side and two at the south. They were all placed on motorised pulleys, to be lowered into shot. Our gaffer also fitted helium balloons above, to give the room more ambience. Considering the large ensemble, Blaubach also used directional backlighting, which could be dialled in from an iPad, to focus on different faces. 
"There is a lovely moment when Anthony dances with Kate. Sparks are flying between them, and it becomes increasingly romantic. We wanted to draw the viewers' focus onto them, but make it more personal – as if you're living the intensity and emotion of their experience. So, while there are probably 100 dancers around them, they're brought into the spotlight through the use of a Hudson Spider LED with a skirt. All the background lights, apart from the candelabras, were turned off and the whole atmosphere becomes a lot moodier, with Anthony and Kate left in a pool of soft top light. It was quite surreal and expressionist, but in a fun way – and then we ramped the dance into slow motion, as though they had forgotten about everybody else watching. It was just the two of them," explains Blaubach. "We tried using a completely black background, but it became too theatrical. Like something out of La La Land, which wasn't the right tone for Bridgerton. Still, it was fun to play around with."
Fun seems to be the theme for the Bridgerton cast and crew. "There's a great atmosphere on-set; we have a giggle and there's chemistry between all of us," says Blaubach. "There were a few changes from the first season, with different gaffers and operators – because of availability. It's the age of content, and there are so many films and TV shows being created right now – plus, there's the backlog of productions that Covid-19 created. But, despite some of the losses, we're a well-oiled team. Having different people contribute to the story is good in some ways, since each season will cover new characters and – while still respecting the style of the first season – can bring fresh ideas to the show." 
He concludes: "It's so fun to work with Netflix, because my background is in British independent cinema and the budgets are a lot lower. This is, without doubt, the biggest job I've ever worked on. There's no need to compromise. I can have all the equipment I need to make better images – but it also means there's no excuses left. It has to be perfect." And to us, at least, it is. 
This feature originally appeared in the February 2022 issue of Definition magazine.