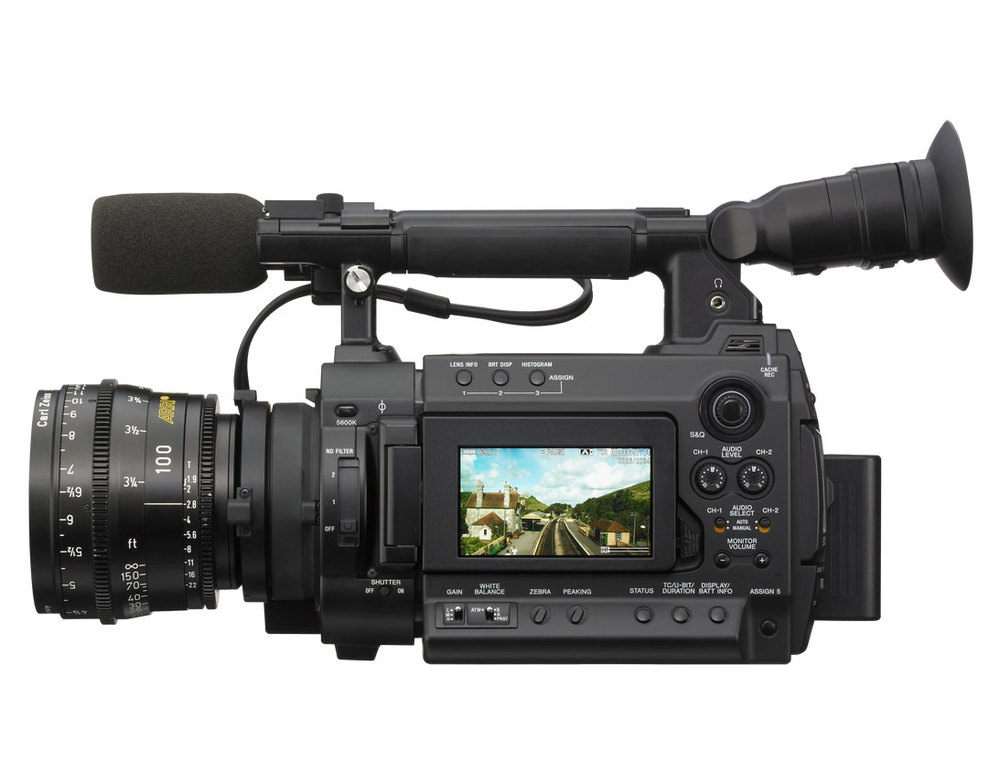 Sony's New PMW-F3k Digital Motion Picture Camera
Posted on Nov 8, 2010 by Alex Fice
New images of the recently announced Sony PMW-F3 35mm sized camcorder
SONY's new PMW-F3 camcorder with 35mm sized sensor – click pic for image gallery
Sony Professional is adding to its line-up of Super 35mm digital motion picture camera technologies. The family, which includes the F35 and the recently announced SRW-9000PL, is now joined by the all new
PMW-F3
camcorder.
The new
PMW-F3
camcorder is based on Sony's XDCAM EX workflow (codec is MPEG-2 Long GOP 4:2:0 8bit, 35 Mbps), and uses Sony's SxS Express Card-based recording media format. Its Super 35mm CMOS imager delivers shallow depth of field, with high sensitivity and low noise levels (ISO 800, F11; and S/N ratio of 63dB in 1920×1080/59.94i mode), as well as wide dynamic range. The camcorder use CMOS, so there is no global shutter, the rolling shutter is vastly reduced due to the fast refresh time of the CMOS sensor.
Bill Drummond on a Facebook forum today commented: "The sensor size is Super 35mm, the standard size for motion picture films and the same size as the F35. The camcorder takes 12V DC input on a 4 pin XLR plus uses standard BP-U60 batteries.
 There is a tentative Euro List Price. There are two models, one
PMW-F3K
with three lenses (35, 50, 85mm – F2.0 to close
- Manual Focus
- 95mm filter diameter) – Euros 20,700.
PMW-F3L
body only model – Euros 14500. Availability is January 2011. 
With regards to details on the zoom lens, Sony will be producing specific zoom lenses for this camcorder, which we intend to show a prototype at NAB 2011.
"We will offer from 1 to 30 fps at 1920×1080 (17 to 30 fps in dual-link mode) and 1 to 60 fps at 1280×720 (17 to 60 fps in dual-link mode). The Dual-Link Mode is an option available around April 2011.
 Weight is an incredibly light 2.4Kg.
 4:4:4 is available via dual link again in April 2011 (price tbc). 
Camcorder records all current XDCAM EX formats, plus has 10-bit 4:2:2 output as standard. 
ISO equivalent in standard mode is ISO 800. 
Mount at the bottom of camcorder is the standard screw-thread type seen on EX1R.
There are no optional viewfinders available."
The camcorder offers a wide range of image creation options, as well as the ability to inter-cut
PMW-F3
footage with content shot on Sony's F35 or SRW-9000PL cameras –  through the use of an HD-SDI dual-link output for external recording (4:2:2 1080 50/59.94P as standard; and RGB 1080 23.98/25/29.97PsF as an option).
Additionally, "S-LOG" and "Hyper Gamma" can be selected. This can allow users to take full advantage of the CMOS imager's wide dynamic range, giving them the ability to tailor their images during post-production in the same way they would in a film based workflow. Recording formats include 1920×1080, 1440×1080, and 1280×720 at 23.98/25/29.97p, 50/59.94i and, in DVCAM mode, 25/29.97PsF and 50/59.94i.
Filmmakers can also take advantage of "slow" and "quick" recording, also known as "overcranking" and "undercranking" from 1 to 30 fps at 1920×1080 (17 to 30 fps in dual-link mode) and 1 to 60 fps at 1280×720 (17 to 60 fps in dual-link mode).
The
PMW-F3
PL mount adapter can accommodate both PL and zoom lenses, and will offer compatibility with a variety of cine lenses such as Cooke, Arri, Fujinon and Zeiss.
Sony is also announcing its plan to introduce a compatible SR Memory Portable Recorder for the PMW-F3 camcorder. This will add a high-end workflow option as well as full RGB capability providing native recoding in HDCAM SR codec. The dual-link HD-SDI option offers the ultimate picture quality of 4:4:4 recording onto this SR Memory.
On 17th Sony will show the product at Interbee in Japan.
 They are closely working with some DoPs and their ICE team (Independant Certified Experts) to produce some demo footage, this will be posted online in due course on www.pro.sony.eu/35mm.