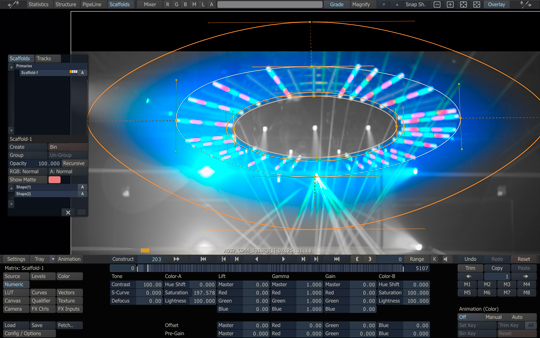 SCRATCH Price Drops Dramatically To Reflect New Economy
Posted on May 12, 2011 by Alex Fice
SCRATCH 6 – New multiple shapes per scaffoldDo you remember when the RED camera was first launched and nobody knew what to do with the .r3d files emanating from it? Nobody except Apple with Final Cut Pro and of course Assimilate with their Scratch product. Well now Scratch evolves in to two products, there is Scratch 6 and a new product called ScratchLab.
Back then Scratch would read RED files in full resolution and used their powerful data management engine to handle files based workflows and so a natural fit for RED. It was the first tool to take the files all the way to the DI and mastering with unlimited non-destructive versioning anywhere in the process working in real time and in full resolution.
The big news at NAB 2011 wasn't just that there is a new version it's that the new version is much, much cheaper than before. Scratch used to be around $60,000 and is now just under $18,000. Steve Bannerman Assimilate VP of marketing relates these price changes to how the industry has risen from the huge changes that the world recession brought to the post production world. Post is looking for cheaper solutions and post is also changing its service base with more boutique houses coming on stream from consolidation in larger houses.
Scratch v6 is also now available on Mac OS X and Windows 7. This new generation version includes a number of significant updates, including a multilayer timeline for tighter integration with editorial systems, advanced tracking and keying technology for colour grading and VFX workflows, enhanced 3D stereo capabilities, and support for the widest range of input/output formats in the industry.
"Now available on both Windows and Mac at the same price, SCRATCH delivers the industry's most comprehensive DI toolset for data-centric digital cinema and broadcast productions," said Steve Bannerman,. Version 6 ushers in the next generation of SCRATCH, featuring state-of-the-art tracking and keying, a multilayer timeline, and support for the widest range of camera formats in the industry. SCRATCH 6 delivers the tools that raise the creative bar for filmmakers and editors, but at a price tag that lowers the barrier to entry."
But there's more from Assimilate in the form of Scratch Lab.
Available on Mac OS X and Windows 7, SCRATCH Lab is an end-to-end digital solution for the review, versioning, colour correction, conform and deliverables in on-set and VFX dailies pipelines all for only $4,995 USD.

Steve Bannerman again. "First and foremost, SCRATCH Lab is fast. Featuring real-time playback and review of 2K, 4K and 5K media, instant conform and highly interactive colour grading, Lab delivers industry-leading tools within a powerful and consistent user interface. It unifies a broad range of native camera and other input formats, such as Red Epic 5K, ALEXA ARRIRAW and DSLR, and outputs to any popular deliverable format – including DPX, DNxHD MFX and ProRes. SCRATCH Lab also offers full 3D stereo support, controls for image and convergence adjustments, plus full dual stream playback."
SCRATCH Lab's toolset and functionality includes:
• Broad range of input/output formats for 2D/3D stereo (native REDCODE RAW.R3D, ARRI RAW, Phantom, Panasonic P2, DSLRs, plus MXF, AVCHD, DPX, MXF and QT ProRes)
• Real-time playback at up to 5K and beyond
• Audio synch
• Unlimited, non-destructive versioning
• Fast, accurate and flexible conform with Dual-View, Half-Mix and Side-by-Side comparisons, plus Quick Keys for moving through timelines and Edit tools for shot manipulation
• Sophisticated, interactive colour grading tools
• Support for Avid Artist Series and Tangent Wave and CP 200 panels
• Automated deliverable templates to simultaneous outputs based on format, metatdata, and LUTs/grades.