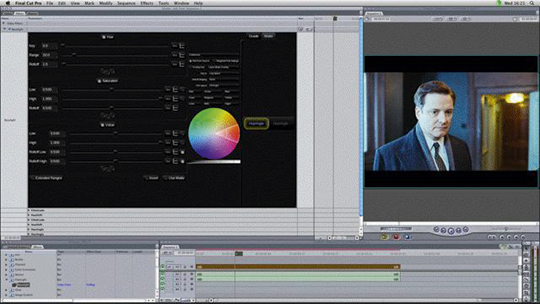 BaseLight For Apple Final Cut Pro
Posted on May 12, 2011 by Alex Fice
BASELIGHT FOR FINAL CUT PRO – LESS THAN $1,000!At NAB 2011, FilmLight was previewing a new Baselight colour grading plug-in for Apple Final Cut Pro. The plug-in is aimed primarily at smaller editorial and post-production facilities, and indie filmmakers, providing them with sophisticated colour grading functionality from one of the industry's leading systems.
Baselight for Final Cut Pro is not merely a port that uses the Final Cut Pro interface. Rather, it provides editors with access to Baselight functionality directly within the application. Editors can grade projects and then either render within the host application, or export the grade as an XML list— with all metadata preserved — to a full Baselight system for final adjustments and rendering. Similarly, grades prepared in a Baselight suite can be exported seamlessly to Final Cut Pro for conform and final editing.
Baselight for Final Cut Pro can serve as a low-cost prep station for larger facilities with full Baselight systems. In such cases, it could be a huge improvement over current methods that rely on colour decision lists (CDLs) to exchange grade data between editorial and grading suites. The system can also serve as a training tool for colourists and assistants.
In future, the technology behind Baselight for Final Cut Pro could be applied to other editing systems, as well as to visual effects and compositing systems.
FilmLight expects to release Baselight for Final Cut Pro this fall. Pricing has not been set but will be less than $1,000.