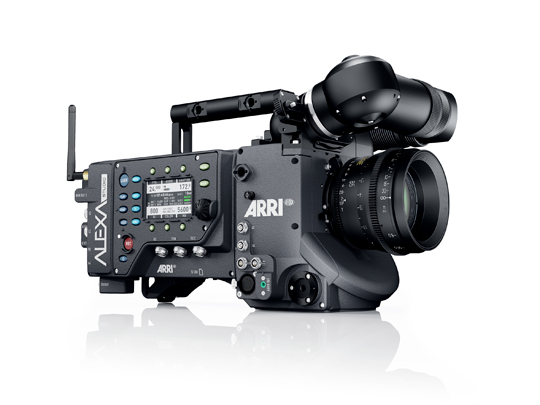 Why Arri Are Delivering a Film-Like Camera Family
Posted on May 12, 2011 by Alex Fice
Arri's new Studo camera completing the original ALEXA trilogy roll outAt NAB 2011 Arri completed the programme of three ALEXA cameras, the brave proposal that they announced back in 2009. That was the original ALEXA followed by the ALEXA Plus and now ALEXA Studio. ALEXA Plus was announced at last year's IBC in Amsterdam. The Plus is a 'back to Arri dealership' mod to the ALEXA and Arri have reported that 70% of Alexa owners have chosen to upgrade.
Now there is a new ALEXA, the Studio. (Differentiated in a similar way that the ArriCAM and ArriCAM Studio are). Arri are quick to underline that ALEXA is their platform (no more girls names), one that will be improved upon as and when the technology allows. The new family member is the one that many have been waiting for, the one with the optical viewfinder. The Studio's optical viewfinder system, Arri say, will pass the performance of the ArriCAM and in fact any that Arri has made up to now. The complexity of producing a rotating mirror shutter system in a digital environment is why there aren't many around, the only other is on the Arri's own D21 system.
With ALEXA Arri are trying to mirror their film camera logistics. You have ArriCAM Studio, ArriCAM Light, 435, and 235. All these cameras work on a typical feature film but do different things. They are used differently but produce inter-cuttable images. With the three ALEXAs Arri want a similar situation. Products differentiated on functionality not so much on basic performance. The picture quality remains the same. Of course on the Studio camera you can do anamorphic but with 16:9 you may have a Studio for a well controlled environment, a Plus on the shoulder and grab shots with the ALEXA.
The Studio then will have the new optical viewfinder and a 4:3 sensor with the total pixel count is 3392 x 2200 (27.98 mm x 18.15 mm). The active pixel count is 2880 x 2160 (23.76 mm x 17.82 mm).
The sensor is the same as the previous ALEXA cameras but in that camera the signal processing only deals with the 3-perf part, 16:9 area, the top and bottom of that area are not used and not powered. The Studio's signal processing goes beyond that to include the rest of the sensor and so the camera will be more power thirsty.
ALEXA Studio will have the same recording capabilities with the SxS the same as with the other two models, also for RAW and uncompressed.
Arri hope that there will be a working prototype of ALEXA Studio in the autumn of this year, perhaps IBC. The price of the Studio will be more than the Plus in the region of EURO90,000 which is less than the proposed price back in 2009 which was around EURO130,000.
The processing of the Studio with the ALEXA's original dual path approach and full sensor path mixed with the 21st Century answer to optical viewfinders is at the heart of this new camera design.
Arri has been true to their word as far as schedules are concerned and now we just have to wait and see how good Studio is.
SOFTWARE PLANS FOR ALEXA CAMERAS v4.0
ALEXA High Speed – A much needed feature currently in development is the new ALEXA High Speed mode. When switched to High Speed mode, ALEXA and ALEXA Plus cameras can run from 60 to 120 fps. This does not involve windowing, but instead uses the full size of ALEXA's 35 mm format sensor. Depth of field and angle of view are therefore exactly the same for Regular and High Speed modes. High speed mode will be a feature that can be purchased with a license in the fourth quarter of this year.
Regular Speed mode – ProRes 422 (HQ) and lesser codecs: 0.75 to 60 fps – ProRes 4444 from 0.75 to 40 fps
High Speed mode – ProRes 422 (HQ) and lesser codecs: 60 to 120 fps. – ProRes 4444 is not available in High Speed mode.
High Speed recording options for ALEXA Studio has not yet been decided on
ALEXA Anamorphic De-squeeze – In order to properly view the image when shooting with 2x or 1.3x anamorphic lenses, the second pay-per-feature function being introduced is an anamorphic de-squeeze for the ALEXA viewfinder and the MON OUT output. It is now possible for the operator to independently switch between four different modes for the viewfinder and MON OUT when shooting with anamorphic lenses:
Anamorphic de-squeeze off (in record and playback modes)
Anamorphic de-squeeze 2x (in record and playback modes)
Anamorphic de-squeeze 2x & magnify (in record mode only)
Anamorphic de-squeeze 1.3x (in record and playback modes).
All four modes are of course available with or without surround view.
ALEXA Software v4.0 – Some major updates and a large number of improvements are part of version 4.0 which is scheduled to be available in June and is, as all Software Update Packages have been, free of charge. Here are the most important features:
Audio Playback – Playback of audio (in addition to images) from SxS PRO cards through the headphones jack and embedded in the HD-SDI stream for HD-SDI and ARRIRAW T-link output
Auto White Balance – In addition to the wide range of white balance options already available, the new 'Auto White Balance' can automatically determine the red/blue white balance and green/magenta CC values when the camera is pointed at a white surface.
Fan Low Mode – When this mode is on, the fan will run slower during recording, to reduce the noise in hot environments.
Test Signals – SMPTE colour bars and a number of other test signals will be available, including 1 KHz audio tone, directly from ALEXA outputs.