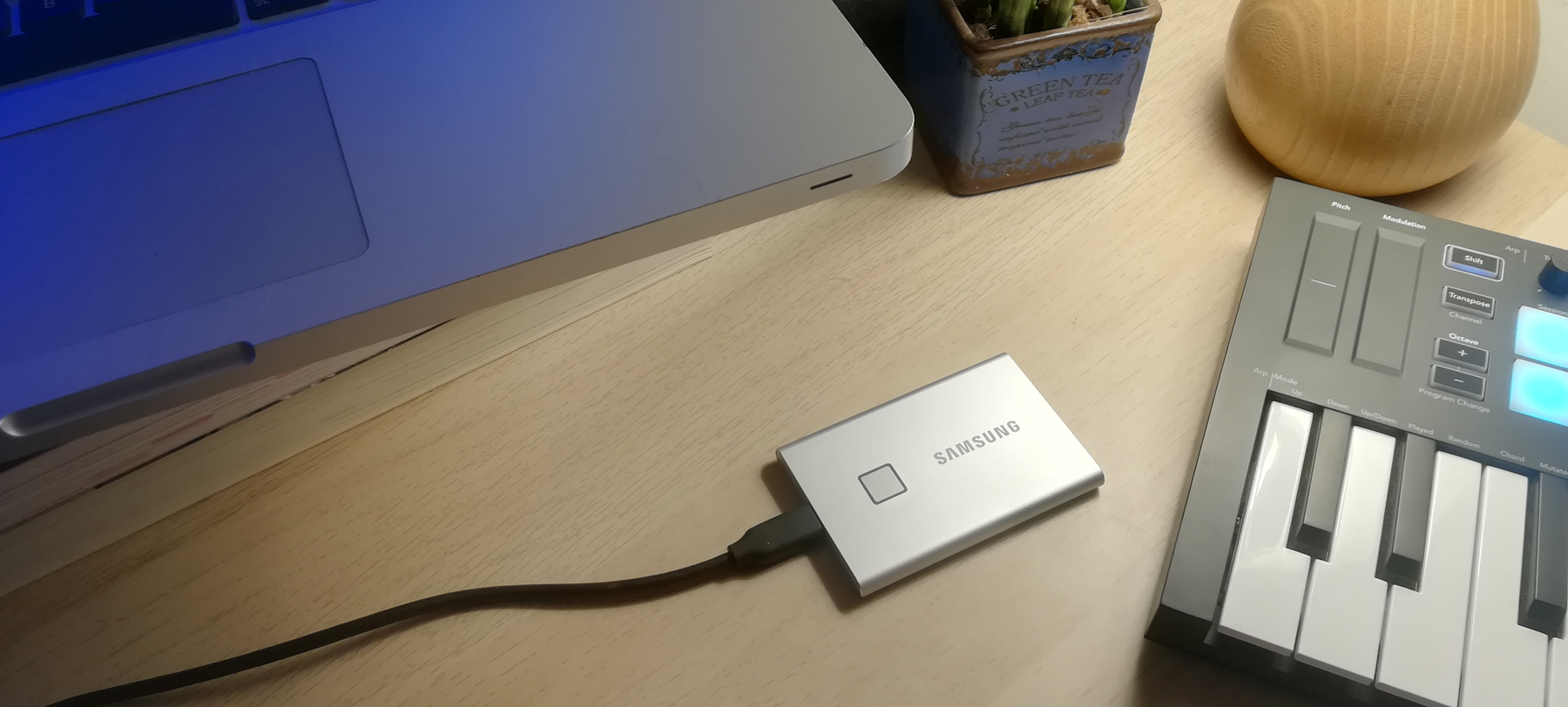 Samsung: Post perfection
Posted on Feb 26, 2021
Filmmaker Greg King possesses a varied post-production skill set, but can the Samsung Portable SSD T7 Touch take his work to the next level?
Advertisement feature
Never having settled for just one speciality, Greg King is happy doing a bit of everything visual. "Videography, editing, motion graphics," he reels off.
"I tend to work alone, so I handle each stage of the projects I'm involved in, including each step of production."
On a recent project, King made use of the Samsung Portable SSD T7 Touch. "It was my primary storage device and a scratch disk to work from. The project itself was a mix of editing and animating. In more typical times, I'd be very keen to use the drive with a monitor/recorder to capture data to as well, but I was limited to post-production for now."
A versatile workflow requires storage that's quick enough to keep up. But what did King think on that front?
"Straight out of the box, the speed of the portable drive was very noticeable," he says. "In the past, I've been stuck using HDD storage, but with this, simply having an immediately workable environment as soon as I opened my project and programs was a novelty."
Typically, the very basic animation of shapes or text may not be too demanding on storage, but for King's project, the Samsung Portable SSD T7 Touch's great read/write speeds proved attractive.
He was faced with more advanced video, image and textural elements as part of the project, which could all prove significant challenges for some portable drives. However, King felt the Samsung portable drive passed each test with flying colours.
"I was pulling a lot of data through the drive. Usually in cases like this, a lot of time is wasted, and this has an effect on your creative flow. With the Samsung Portable SSD T7 Touch, there were no such delays," he reports.
And delays needn't be a worry with the Samsung Portable SSD T7 Touch. Through a combination of USB 3.2 Gen 2 connectivity and the portable drive's powerful embedded technology, read speeds of up to 1050MB/s and write speeds of up to 1000MB/s are well within reach. Compared to an external HDD, it achieves almost 10x the speed.
Speaking of connectivity, the portable drive comes with USB Type-C to C and Type-C to A cables that aid its multi-device compatibility, with PC, Mac, Android devices, games consoles and more all supported.
Of course, the editing side of King's projects is just as important, and that comes with its own set of demands.
"I used a mixture of footage on this project, including ProRes Raw files," says King. "Even with these, the portable drive performs expertly. The delays I'd experienced with other drives were now a distant memory."
And King's glowing assessment doesn't end there. "There was no falling asleep or buffering; it was smooth when scrubbing through the timeline, and that is great creatively, because there's the chance to test different ideas. That's how I'd surmise the whole editing workflow using the Samsung Portable SSD T7 Touch – it's as smooth as butter."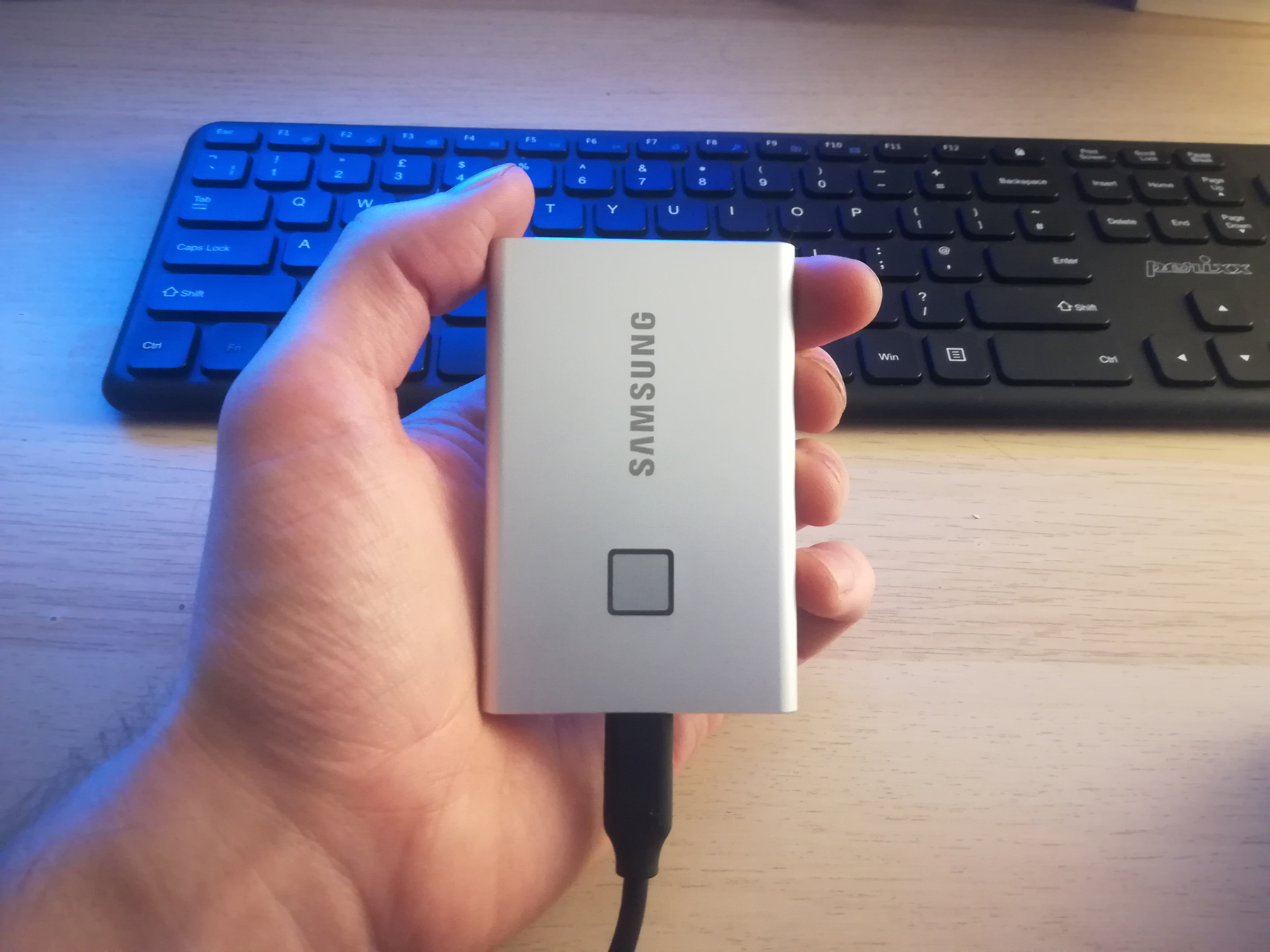 Even with excellent technology, the physicality of a portable SSD is vital for users who want a fast, sturdy and reliable product that enables remote work. Thankfully, there's no compromise with this portable drive: its tiny yet robust body and forward-thinking features are sure to please any content creator.
"In terms of the portable drive's physical features, the fingerprint scanner is a brilliant idea, especially for someone who may be working professionally on more confidential projects, but also just for personal peace of mind. If you lose the drive, you know someone isn't going to be digging through your files– it even registers the fingerprints of up to four colleagues, ensuring the whole team can access its contents securely.
"I'd anticipate it's a feature that's going to become more common, because it's so useful. This level of security isn't something I've experienced before on a portable drive," says King.
The portable SSD's fingerprint scanner isn't only convenient, it's supremely secure, too, boasting AES 256-bit encryption. In addition to access that's quicker than ever before, the scanner's LED square informs the user of the portable drive's status at a glance. For those wishing to do things the old-fashioned way, securing with a password is also a possibility.
One may expect a drive so small – and it really is small, at 85mm in length, 8mm in depth and weighing 58g – to be a delicate device, but the Samsung Portable SSD T7 Touch is tough. Since an SSD has no moving parts, it can take a fall of up to 2m and still keep data safe, and Samsung is so confident in its product that it's backed with a three-year warranty.
"It's great to know the Samsung Portable SSD T7 Touch is durable," enthuses King. I used to do a lot of videography on building sites and other locations where damage to kit was a possibility. It's also reassuring to know your device is safe during transportation, particularly if you're travelling to a shoot."
What's more, King found the size to be somewhat of a safety feature. "You don't have this huge block of a drive sitting there that's liable to take your machine with it if it gets knocked off the desk. It also saves space when working from home as many of us are these days."
Having thoroughly enjoyed his time with the Samsung Portable SSD T7 Touch, King concludes: "My finals thoughts on the drive are very positive. Speed is the key factor for me, whether you're actively working on projects or transferring data. On that front alone, it's a great asset, and a very pleasing and durable product."
Visit the Samsung website for more information.