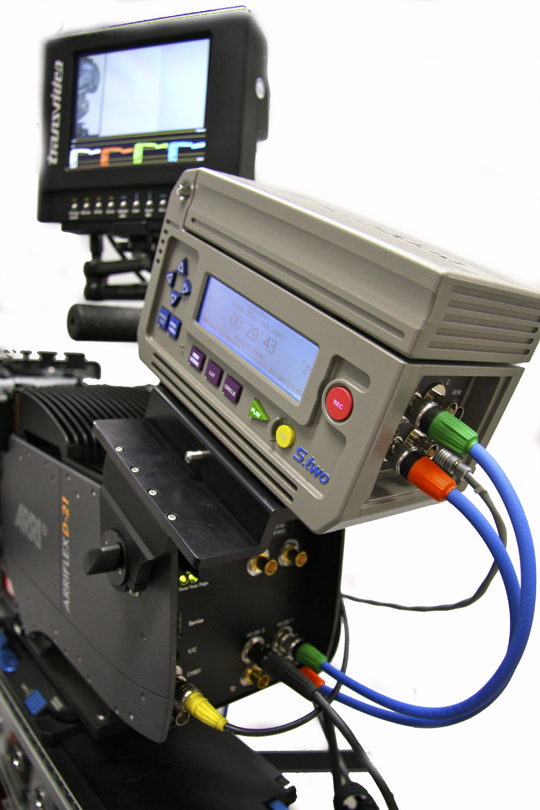 S.TWO's 3D Recording Solution
Posted on Jun 1, 2010 by Alex Fice
S.TWO announce their uncompressed 3D recording solutionS.TWO has announced their 3D capture and workflow support with the latest version of their OB-1 on-board recorder for digital cinematography.  The new release has full 3D recording capability for 2 x digital cinematography cameras at 444 or ARRIRAW T-Link 3K.
The new system uses 'quad link' HD-SDI for two streams of uncompressed 444 recording and playback, combined with on-board monitoring, external timecode and remote start/stop capabilities.
Also announced is full portable 3D workflow with the latest version of S.two's FlashDock transfer station.  Featuring automated real time editorial dailies, databased redundant archive to optional built-in LTO drives, RS422 controlled dual link HD-SDI output, and lay-off to e-SATA hard drives.
"With the growing popularity of 3D productions, we have introduced quad link support for dual 444 cameras as a free upgrade for all OB-1 users," states Steve Roach, Vice President of S.two. "Quad link also turns on 444 to 60P and vari-frame recording for ARRI D-21 cameras as well as 50FPS ARRIRAW, and positions OB-1 for full Alexa support."