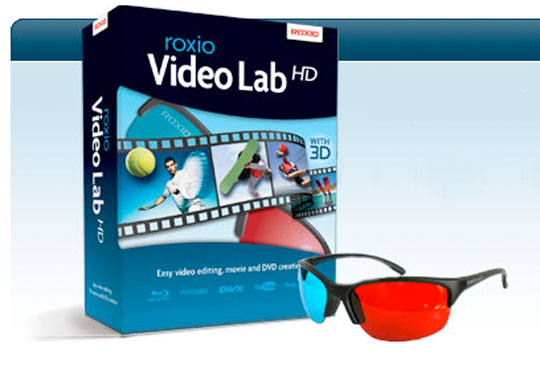 ROXIO Follow Prosumer Interest in Shooting 3D
Posted on Jan 14, 2011 by Alex Fice
Roxio follow the prosumer 3D trend with a new version of their Video LabRoxio has launched their Video Lab HD video editing suite for capturing, editing, and sharing personal home movies but also movies that will probably turn up on sharing sites like Vimeo. The new version offers something for shooters who are tempted with new prosumer 3D cameras.
The software can also automatically converts standard 2D content into 3D with the results exported in a range of formats, including RealD. You can also send video directly to YouTube in 3D.
New Features
3D capture from stereoscopic cameras (such as the Fuji W1)
Import 3D files in common 3D formats, including side-by-side, over-under, anaglyph, and dual stream. In addition, Roxio Video Lab HD supports all standard 2D photo and video file formats.
Simplified Storyline, as well as advanced 32-track Timeline editing views
Full range of editing options including trimming, title creation, narration, music tracks, and video correction features
3D transitions and special effects
2D to 3D real-time conversion
Fully Windows 7 compatible, Roxio Video Lab HD with 3D is available today via www.roxio.com and is priced at $69.99.