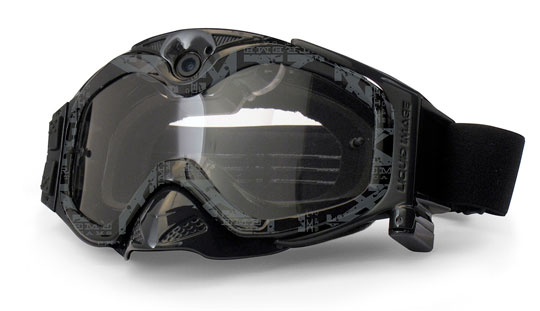 Goggle-Based Video Cameras Offer HD Specs
Posted on Jan 14, 2011 by Alex Fice
Lightimage has embedded HD cameras in some high end sports gogglesThe Liquid Image Company has followed GoPro with some very mobile video products that just happen to be embedded in high end sports goggles. Looking like something Jim Jannard might have designed if RED hadn't happened these products feature 1080p/30 and 720p but at 60fps.
The Off-road goggle (pictured above) contains a 136 degree (full field of view) wide angle lens with what Light Image are calling 'Line of Sight' video capture to record all the action while riding motocross, ATV, or downhill biking.
The hands free unit has a 12.0 MP interpolated (4000 x 3000) camera mode and a video mode that records HD 1080P video at a rate up to 30 frames per second with audio and an additional High Action mode that features HD 720P video at 60 frames per second for half speed slow-mo.
The Impact Series HD1080P can hold a Micro SD/SDHC Card up to 32 GB. Product includes a 4GB Micro SDHC card. With the use of a micro SD/SDHC card, the camera is capable of recording thousands of photos or hours of HD video. Files may be downloaded to a computer through the High Speed USB cable provided, or through a Micro SD/SDHC card.
Liquid Image also have some clues as to where they will go from here with products for shooting on and in-car and also for surfers.
The cameras look like they originate in Honk Kong but are sold by Californian Liquid Image Company.
More at www.liquidimageco.com/