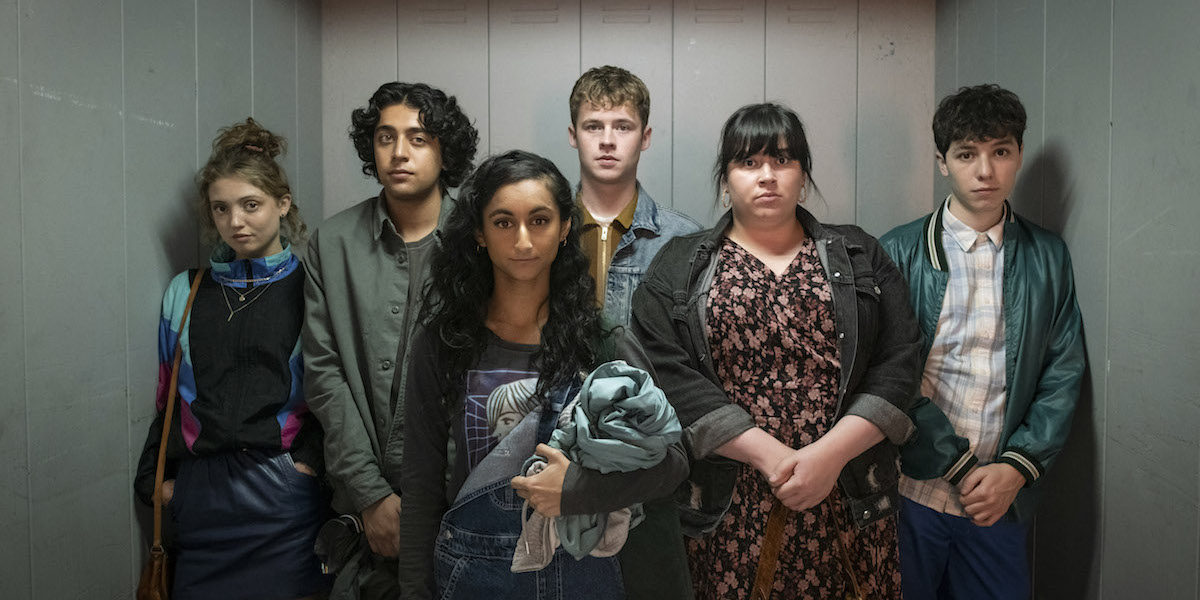 Phone chiller
Posted on Dec 21, 2022
Ricardo de Gracia, DOP on critically acclaimed Netflix Spanish teen drama Élite, explains how he brought horror to the north-west of England in Red Rose
WORDS Robert Shepherd | IMAGES BBC
Bolton isn't the obvious destination for your first foray outside of Spain, but that's exactly what happened to director Ramón Salazar. Having completed the widely praised Spanish teen drama Élite for Netflix, his next project took him to Greater Manchester for a new teen horror series.
A co-production between Eleven and Entertainment One (eOne) for BBC Three and Netflix, Red Rose is the brainchild of the Boltonian Clarkson twins, Michael and Paul (Apple TV+'s See, Netflix's The Haunting of Bly Manor and HBO's His Dark Materials). The eight-part thriller starring a raft of newcomers, plus Adam Nagaitis (Chernobyl), is about a haunted app that plunges a group of Bolton teenagers to the darkest depths of social media.
From that description alone, you'd be forgiven for thinking it's just another example of a series wanting to profit from the Stranger Things blueprint.
The difference here is that Red Rose comes from the same stable as The Enfield Haunting, the drama series starring Timothy Spall, Juliet Stevenson and Matthew Macfadyen; and paranormal docuseries True Horror for Channel 4. In other words, production company Eleven (fans of Stranger Things will get the link) knows how to do horror.
Salazar called on the help of his long-time collaborator and cinematographer Ricardo de Gracia, who needed very little convincing to get on a plane to England.
"The minute I read episode 1, I was thrilled to be part of this project. It featured many of the things that I love most about movies: soul and different layers all open to interpretation," de Gracia explains.
His brief was to make certain scenes as unnerving as possible, so he had to think about the best kit for the job. He chose the Sony Venice and EZ series of Angénieux zoom lenses, which de Gracia used with some aplomb on Élite with Salazar.
"That's because I wanted to make it look like we were using zoom as a kind of language, trying to create a layer of depth in the picture," he insists. "Zoom gives the audience an eerie feeling that something is going on under the surface. What I like about the Angénieux EZ series is that they're fast, lightweight and relatively cheap."
VFX plays an integral role in the series, and the show's producers called on the services of Space in Manchester and Dazzle in Prague. According to de Gracia, he met with VFX experts several times to develop the main lines for the project.
"We needed to meet them in order to discuss ideas," he says. "Organicity, simplicity and a vintage look were what the team was after across the series, for VFX and everything else.
"We weren't looking to show off, but use simple and imperceptible effects. We used green screen mainly and wanted the eighties look. Although VFX was involved throughout the series, I wanted it to appear 'old school' so as not to create a techno series, but a human-hearted one."
For that reason, Smithills Hall, a Grade I listed manor house on the slopes of the West Pennine Moors, was chosen for its eerie and 'very real' charm.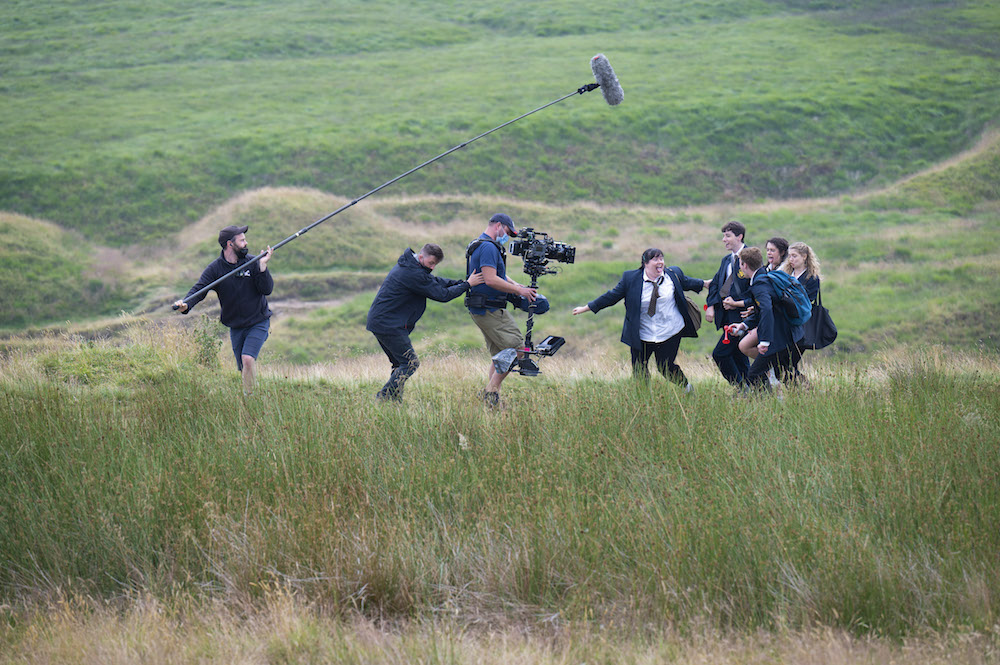 AMIGOS | Director and cinematographer Ramón Salazar and Ricardo de Gracia previously collaborated on Spanish teen drama Élite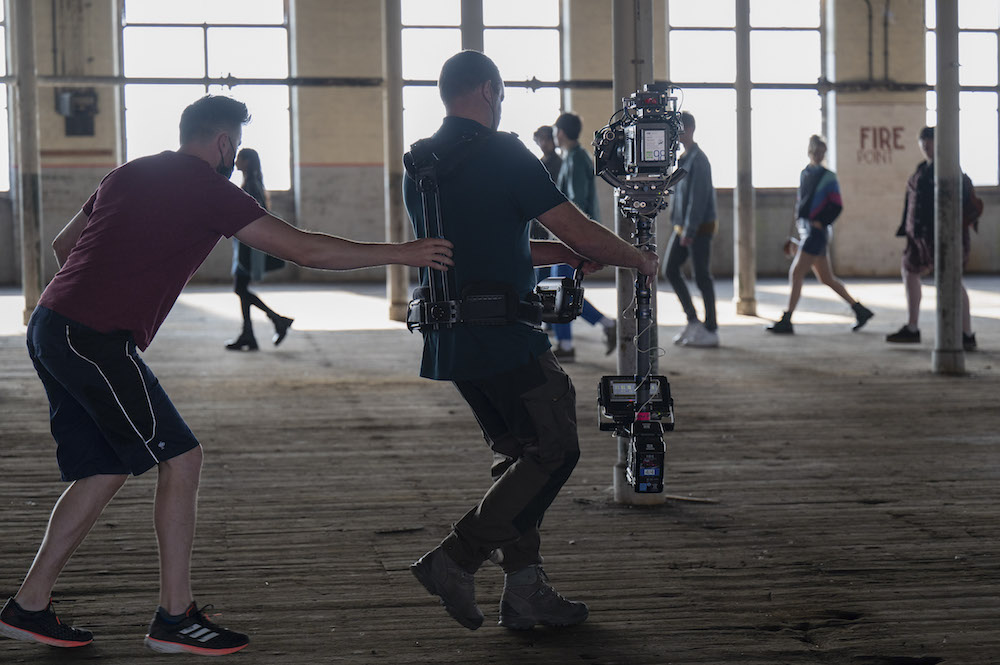 IN TOO DEEP | The series was filmed on a Sony Venice cine camera with Angénieux zoom lenses, adding richness to shots
However, despite having the luxury of two VFX houses, de Gracia explains that there were a number of technological challenges that had to be overcome. The biggest one, he says, was creating backdrops for the houses on stage.
"Something like that requires a lot of deep thinking when it comes to the design process – for every show you work on," he says. "You have in mind the budget, measurements of the stage, special shots imagined by directors, lighting rig, etc. Sometimes it's better to use a green screen, on other occasions LED screens. When you don't have a big budget, you really have to nail it."
While both options pose difficulties with regards to lighting, authenticity and size on stage, de Gracia claims the latter solution worked best for the backgrounds and windows as it was easier to change picture and brightness.
He adds that if he was hired to work on a second series of Red Rose, he would like to keep the human, organic touch that makes the show stand out. "I would also try to avoid super techy solutions that, in my opinion, distract audiences from empathy with the characters," he says. "I would love to film with just one camera in order to have even more solid and clear writing with cinema language."
It's yet to be confirmed if Red Rose is set for a Series 2. But one thing that's for certain is that Bolton has been thoroughly put on the map.
Red Rose is available on BBC iPlayer and will be coming to Netflix
This article appears in the January 2023 issue of Definition.