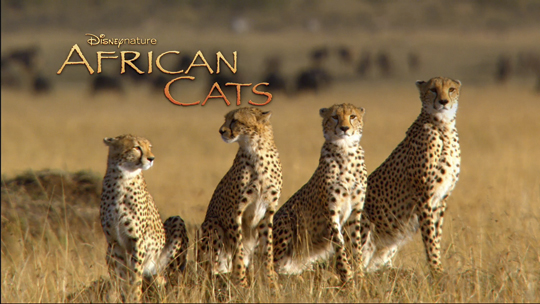 Putting a CineFlex On a Tracking Vehicle
Posted on Jul 20, 2010 by Alex Fice
Disney will release one of their super cute reality wildlife movies called African Cats. This is the story of a family of Lions and a family of Cheetahs and how they live day to day on the Masai Mara, the story focusing on the conflict between the two families. The shooting has been busy for a couple of years and Aerial Camera Systems' Simon Werry has brought his huge aerial experience to bear to give it that 'Hollywood Touch'. "I was the aerial cameraman on it and the second unit cameraman, We've done lots of aerials which set the cats in their environment and we've done lots of tracking shots in a Landrover over rough ground using the Cineflex on a crane, it makes it looks like it's on camera rails giving it that Hollywood look. We also get great close-ups from Lions who are four feet from the vehicle. Once you spend some time with them they accept you as part of the scenery, including this little black ball hanging off the end of the crane.
"The shots worked out very well and have that Disney feel about them. You look at any feature film and every shot moves. We started playing around with putting Cineflex on a crane when I shot Life for the BBC. You have to be careful about the ground you are tracking on, if it's too rough the shots won't work but you can go a decent speed and still get results, just don't expect to shoot a Cheetah running with it as even helicopters have trouble with them.
"I had to build some more interfaces between the crane and the Cineflex to takes all the movement out. We were then able to extend the time we could use it to give the producers a better deal. We ended up in the helicopter in the morning and were doing the tracking stuff in the afternoons.
"Using the Cineflex in this way has really broken some ground I think especially for shooting wild animals with some really long lenses like the Canon 42X, stabilized on a moving vehicle. There's also a wide angle option which is a Fujinon 13X and I use that quite a lot. It's a really nice crisp lens and with it you kind of go back to the old adage 'fly close, film wide angle'. I go back to old school which is have a stabilized shot but have a wide angle lens and fly close to your subject, not so much for animals though as they'll hear you.
"We found with the tracking vehicle we could go really low level with the shots, about six inches off the ground looking up. It's really only Hyenas who are scared of the noise of the head, the cats take no notice and will even pee on it if you're not careful or smudge their nose on it and then you have to choose who is going to get out and clean the lens!"
African Cats was also shot over 2 years by Simon Werry, Owen Newman and Simon King and is a 90 minute film from Disney Nature.