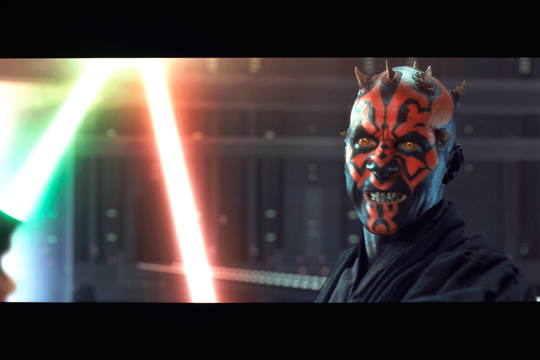 Prime Focus Turn Only Phantom Menace in to 3D – For Now
Posted on Mar 31, 2011 by Alex Fice
Only Phantom Menace is booked in for conversion at Prime Focus at the momentJust over three years ago Star Wars producer Rick McCallum called 2D to 3D conversions a 'gimmick'. What has changed to make Lucas Film now give a green light to potentially converting all of their Star Wars films to 3D?
In 2007 Lucas Film made no apologies for saying how bad they thought the cinema experience had got. They moaned about how much it cost to distribute their films around the world only for bad cinemas to show them with their bad technology. The result was that they basically gave up making movies for producing high production value television that looked like cinema. But what they really wanted was for cinemas to mass adopt digital projection to attain the quality that Lucas Film needed to start making movies again.
Back then Producer Rick McCallum was asked about 3D conversion for Star Wars and was it on the cards for Lucas Film. He said he thought the process was a gimmick but if it was the only way to persuade cinemas to adopt digital projection they would do it.
Well now they have. Fast forward to last year when it seems that they decided that the time was right to start converting, maybe to do with the number of digital projectors that had been shipped. While there are other techniques for converting 2D to 3D, (companies like In-Three for instance who converted Alice In Wonderland for release last year), worldwide post facility Prime Focus were chosen as the primary and only conversion vendor. Prime Focus has a proprietary technique called View-D that is cloaked in some mystery but is essentially based on rotoscoping the main elements and then replacement of the different layers.
Matt Bristowe from Prime Focus explains how Lucas Film finally succumbed to a conversion solution. "The testing process for Star Wars has been fairly exhaustive, we got on-board some time ago, we had to prove to Lucas Film and ILM that our pipeline was proven and our skillset was up to the task. There was a lot of in-house testing and over time the development of the toolset improved. Conversion from 2D to 3D is a relatively young process in visual effects terms and so it is continually changing and evolving."
Lucas Film has been quoted as wanting a 'subtle' approach to the conversion. This may mean a 3D depth that most people could live with but also might mean a respect of what has gone before. Matt talked about iconic Star Wars moments like Light Saber fights. "There's a lot of work throughout the process that as we create the 3D version we maintain that softness and subtlety to the say the Light Saber 'glow' which is quite a technical challenge."
So how does View-D work for this kind of title? "There is very sophisticated rotoscoping, I wouldn't want to go too much in to the techniques as it is proprietary. Rotoscoping is the foundation but on top of that there are many techniques that we have developed to extract and extrapolate 3D from 2D. We are sculpting characters and giving genuine volume and spatial interactions to those characters – this is where the subtlety comes in that they're looking for."
Prime Focus are also promising that the conversion will lose nothing from the high quality viewing experience of the 2D movies and will be 'pixel perfect' to the original 2D plates, Matt Bristowe. "Sometimes in 3D they are changes that need to be made in terms of paint techniques but the quality demanded of Star Wars is so high we need to be pixel perfect to the original. We have been able to achieve that already."
ILM veteran John Knoll is the creative supervisor for the new films. Prime Focus are currently working on Phantom Menace but don't know yet whether they will convert the rest of the series. But one thing that they have in their favour is their huge resource in terms of facilities and man power. At any one time they can call on about 1,000 rotoscopers across the world. They have the experience of working on around 200 shot for Avatar and have completed Clash Of The Titans and recently Narnia, Voyage of the Dawn Treader conversions amongst others.
Whether Rick McCallum still thinks that 2D to 3D conversions are a gimmick is unknown but for the Star Wars films to receive this kind of re-invention must mean it's attained a level that Lucas Film can back. Prime Focus say they've come a long way since their first big conversion film Clash Of The Titans, which for some people will be a relief after it's critical mauling. Lets hope for the hordes of Star Wars fans the 3D versions are a huge success.