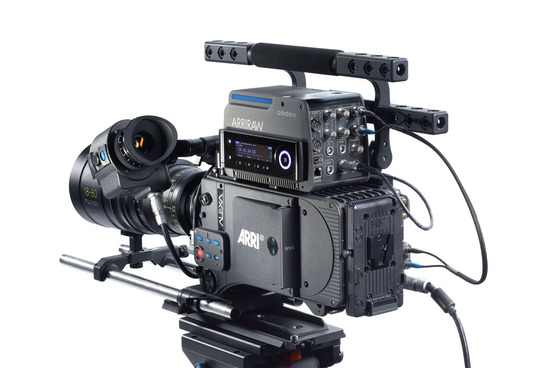 CODEX To Make an ArriRAW Recorder For Alexa and D21 Cameras
Posted on Apr 1, 2011 by Alex Fice
The new Codex ArriRAW recorder Codex Digital has announced that it has reached an agreement with ARRI to manufacture a Codex ARRIRAW recorder for use with ARRI's ALEXA and ARRIFLEX D-21 film-style digital cameras. The new recorder will be marketed both directly and through ARRI's worldwide reseller network. ARRI and its resellers will also be selling Codex camera mounts, datapacks and transfer stations.
"We are pleased to work with ARRI in introducing this new product to the market," says Codex Digital Managing Director Marc Dando. "We have seen a huge interest in ARRIRAW from directors and cinematographers worldwide, with several movies already shooting. The Codex ARRIRAW recorder will give them confidence that there is a complete workflow available with the backing of Codex and ARRI."
Earlier this year, Codex Digital became the first company to receive ARRI's ARRIRAW format T-Link (Transport Link) certificate, confirming the ability of its recorders to record raw data from the ALEXA camera. Codex recorders have been used in combination with the ALEXA camera on several film productions, including Extremely Loud and Incredibly Close (Warner Bros./Paramount), Abraham Lincoln: Vampire Hunter (Fox), The Wettest County in the World (Benaroya Pictures) and Gravity (Warner Bros.). 
"ALEXA and the Codex Onboard recording system have been used on significant feature films, TV series and high-end commercials during the past months, and the feedback was extremely positive," says Stephan Schenk, General Manager Business Unit Camera & DI systems at ARRI. "Codex is not only delivering a reliable product but also immediate and effective support on set. With the Codex ARRIRAW Onboard recorder and workflow tools, ARRI can now offer a technically and commercially attractive solution to its customers around the world through a single, locally established point of contact."
The entry-level recorder will feature single-channel ARRIRAW recording. Purchasers of the device will be able to upgrade at any time to a fully-featured Codex recorder.