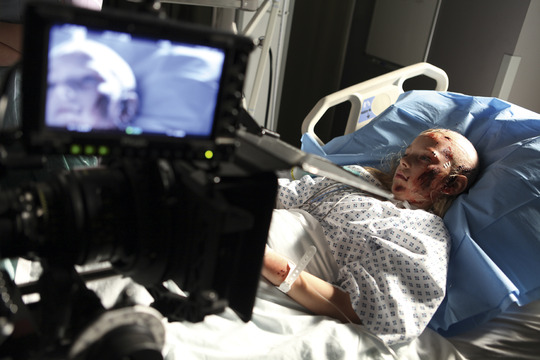 ALEXA Shoots Munroe for ITV HD
Posted on Mar 24, 2011 by Alex Fice
Munroe played by actor James Nesbitt and camera operator Steve Murray
As Arri's ALEXA becomes the 'Go To' camera systems for UK television drama with various productions lining up to use it, Mike Spragg describes how Munroe, currently airing on ITV, benefitted from the ALEXA magic
The project was a little unusual in that originally I was supposed to share Monroe with another DoP Steve Lawes but due to various circumstances, Steve was then going to do the whole thing and then two days into the shoot had to leave and I took over with a days notice and no prep and no camera testing!
Monroe was conceived as an UK version of the US award winning episodic House (though don't quote me as ITV for some reason don't like the comparison!) Cleverly written by Pete Bowker, almost the entire show is shot on set, a converted girls grammar school in Leeds. With the exception of Monroe's house and a couple of hospital exteriors we never went on location.
The design concept of the hospital was from old Victorian through to a '2001' hi-tech super modern operating theatre. Corridors, the arteries of the hospital were classic Victorian using greens and yellows as was the main recovery ward. The entire location was surrounded by a substantial scaffold rig which housed directional 20 and 10k lamps and a soft setting of indirect Dinos.
The whole place was designed to go from day to night quickly and never to be at the mercy of daylight or weather. Our lead director, Paul McGuigan, wanted to have the option of extensive use of Steadicam and to be able to go from one end of the hospital to the other in a single shot. That is where the softer lighting set up enabled us to remain shadowless, but it was a constant battle to try and introduce a degree of directional light to give shape. Alexa suited this kind of shoot partly because of its compact nature and lightness but also in that rated at 800 ASA, the camera was extremely responsive in low light, but also able to deal with strong daylight through the exterior windows. Alexa was so light by comparison to Arri's D21 and 35mm cameras that our Steadicam OP Steve Murray, often requested that a Gekko Kisslite was mounted onto the camera to increase its weight!
Arri's ALEXA is being used for the majority of UK drama at the moment.
One of the key things that appealed to me with the D21 which has been continued in Alexa was the simplicity of the Menu/User functions. Essentially like a film camera, you can select ASA, shutter speed and set your colour temperature and that is about it! Just how a film camera should be. Then all creative lighting and colour decisions are made with filtration in front of the lens and the lamps.
Too often video/HD cameras offer too many variables that to my mind can often confuse and complicate the desired result.
To further enhance the speed and flexibility of the camera, we chose to shoot on SxS cards. As the edit was on site, cards were ingested and a report fed back almost immediately and it also meant that I could apply a rough AVID grade for rushes at lunchtime or in the evening. On set, Rec 709 was used for monitoring. One of the main problems with shooting LOG is of course no matter how long people have been in the industry, a LOG image with its flat overexposed look panics people so it is imperative, as a DoP, that rushes, on set monitoring and the AVID look are as close to the intended end product as possible. There was an interesting first week as the edit and AVID learnt to deal with Alexa.
The main design of the two theatres was to be as high tech and sterile as possible. Here I used overhead fluorescent (corrected) tubes, the in vision beautiful LED theatre lights and usually just a Dedo backlight and the Gekko on camera to light the artist's eyes. Again the Alexa pictures were beautiful and with Thomas Urbye our colourist at The Look applying an over exposed green blue grade it looked stunning. I didn't have time to worry about the camera being so new and the fact that I had never worked with it in earnest, but Alexa was simple to use and produced beautiful images.
Lenses were Cooke S4s with the exception of a few occasions when we used the Zeiss uncoated lenses. These are great, but on a television schedule often it's difficult to predict how they would perform and the kind of flares that you would end up with. Our reference for this was Dan Mindel's work on Star Trek, but since then an editor friend and I have sat down and we are now sure that most of the flares in Star Trek were done later in After Effects as they are so carefully controlled. Also flashlights were shone from the edge of the shot to fake the flaring.
Still, the success of Alexa speaks for itself in the number of current feature and television dramas being shot with the camera.
If I had a criticism? The camera is so fast it takes some getting used to!! I know our lighting companies won't want to hear this – the size of your lighting kit and particularly your power requirements can be much smaller!! So it's green tool.