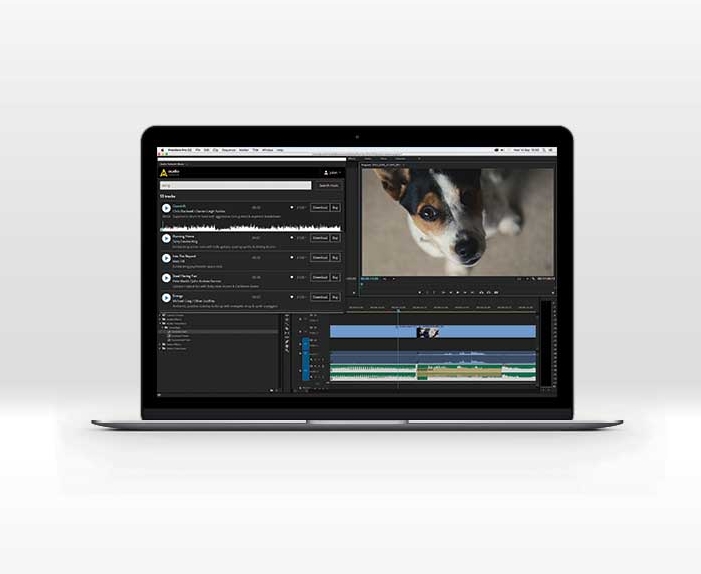 The Music Butler
Posted on Jan 3, 2017 by Julian Mitchell
It's easy to drag downloaded audio from Audio Network onto your timeline with the Premiere Pro plug-in to check it against your edit.
We follow our look at Filmstro, the brave new world of music library software, with Audio Network's new plug-in that brings their huge library to Premiere Pro's timeline. Is it more traditional? Yes, until you start using it.
If there was ever something that the Internet could disrupt it was music; a low data rate and the need for immediacy made it ripe for revolution. What iTunes started for commercial music, companies like Audio Network are continuing for library music.
But offering a vast music library like Audio Network's (120,000 tracks at the last count with 1000 more tracks being added every month) online is a tricky proposition. Should it be a stand-alone programme that you can round trip to and back from? Much better to be something inherent to an NLE programme where editors are already deep into their edit. Adobe was the first NLE to welcome Audio Network, including it in the Creative Cloud. There should be more coming along soon.
After you open your Audio Network account or even sign up for a new one you can download the app at adobe.audionetwork.com. Go through the installation process and you then find the App in your extensions (Window > Extensions). As long as you've got a Premiere Pro project open you can then start the search for the sound to suit your edit.
Start your search engine
Audio Network let 800 editors use the beta software so hopefully you will be following in some big footsteps when you start searching for the track you want. Start by searching a term, say 'uplifting girl' (there will already be some suggestions under the search box probably some favourite searches); this is my way of asking for an uplifting track sung by a female. The search result numbered 100 tracks. The top result was We Own the Night by Pete Masitti and John Andrew Barrow – which is 03:16 long and costs £120 to license.
The description is 'New old school groovy pop with female vocal & big shout chorus'. There is an audio waveform and a large play button so press it and then click through the track to see if it'll fit your edit with or without some judicious cutting. But there's more – click on the main title and you get a choice of mixes of the track and also some recommendations based on your search criteria.
The interface is very easy to use. Click on the price and all the different licences come up for this particular 'uplifting girl' track – Creator £6.99; Creator+ £19.99 (this is Audio Network's newest licence category for freelancers or YouTubers); Professional £120; Television Show £120 and Commercial/Ad £495.
If you want more information just click on the description of the track and you get the music's key, metre, tempo, album number and year of release amongst a few others.
Downloading
So you've chosen a track and now want to hear it against your edit. Previously you would have had to import the audio from your already bought music library, track by track into your edit bin in full resolution and start editing. But hit download in Audio Network and being an MP3 the track appears in your project bin in an Audio Network folder almost immediately. Open it up and drag the audio onto your timeline. If you're expecting some tone on your audio to protect it from pirating, then you need not worry. Audio Network's only appeasement is the low data rate MP3, which when bought turns in to a fully resolved .WAV file.
But the MP3 is fine for torturing with everything Premiere Pro can throw at it audio edit wise. We also dragged many more tracks onto the timeline and cut them, crossfaded them and treated them. It's all good.
Buying
Audio Network has made searching, choosing, trying out and editing really easy. You won't be surprised that buying is just as easy an experience. Choose to buy and the track goes into your cart. You have an order summary where you can rename your track for future reference. Your price with VAT is clear as are links to review the app, recommend it to a friend and contact Audio Network.
So back-to-back issues of the magazine with new music library solutions in. We are spoilt for choice. Both systems have their merits, with Filmstro you have to do some more work but being editors and creative people that's OK (see our interview with Sebastian from Filmstro in the last issue). Audio Network's new plug-in for Premiere Pro is like operating a Rolls-Royce. It has been beautifully engineered and thought out, and is highly recommended. If you're operating another NLE then hopefully you won't have to wait too long for it; follow them on social media for the latest news.