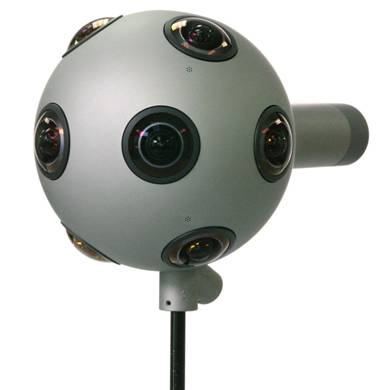 Nokia OZO Professional VR Camera Now Available from Radiant Images
Posted on Mar 16, 2016 by Alex Fice
The OZO camera at Radiant Images in LA.
The OZO VR camera, weighing less than 10 pounds, captures 360 degree and stereoscopic video with 360X360 surround sound via eight synchronised global shutter sensors and eight integrated microphones. OZO features wireless control and enables real-time monitoring with an efficient and time-saving playback solution.
With OZO in high demand, Radiant Images has been selected as one of the first authorised resellers in the USA.
"The OZO represents the next wave of innovation in VR capture and we feel honoured that Nokia has entrusted us to collaborate with professional content creators to help them fully utilise the creative power of this camera," said Michael Mansouri, VP at Radiant Images.
He added, "There is a simplicity and beauty to OZO that's just incredible and really fits our mindset of streamlining the process of visual storytelling. OZO is compact and versatile and is going to make it even easier for our clients to capture truly immersive VR content in a very compelling way."
Conceived at Nokia's R&D facilities in Tampere, Finland, one single video files stores all video and audio date in perfect sync; one output cable; one internal battery and power with solid state drive recording cartridge.
OZO uses eight synchronised 2K x 2K camera sensors, and records to a 500 GB solid state drive that can hold up to 45 minutes of footage. Software built for OZO enables real-time 3D stereoscopicmonitoring, and a playback solution that removes the need to pre-assemble a panoramic image, a time-consuming process with previously available solutions.
OZO's recorded content can be published for display on commercially available VR viewing hardware and it integrates into existing post production workflows including third-party colour correction and stitching tools, simplifying content production at all stages. More information is available at ozo.nokia.com.
OZO joins Radiant's stable of customised VR cameras, mounts and delivery solutions. Radiant Images is the creator of the first-of-its-kind Mobius POV helmet rig and the Headcase Codex 360 rig, plus numerous advances in VR mobility and VR power solutions. The company also is partnered with VRLIVE (www.VRLIVE.com), a virtual reality live-streaming network that delivers high-quality 360-degree content to any mobile device anywhere.
OZO is available for purchase with immediate delivery and may also be rented on a project basis by the day or week.