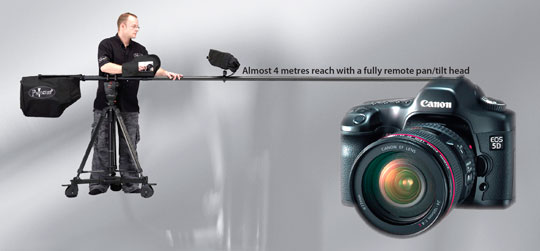 Polecam Show A Starter Pack For Video DSLRs
Posted on Mar 8, 2011 by Alex Fice
A very big Canon 5D Mk2 or a very small man/rig. Polecam's DSLR Starter PackPolecam are launching their 'Starter Pack' at NAB this year. It has been designed primarily for use with digital SLR cameras and they promise to offer all the essential features of the standard Polecam rig that broadcasters use for dynamic production shots.
"Polecam Starter Pack enables an entire new generation of video producers to experience the creative advantages of our truly-portable camera crane," explains Polecam founder and Managing Director Steffan Hewitt.  "The ability to create dynamic pan and tilt shots round a very wide radius, to shoot over the heads of a crowd and to get in ultra-close to the action, is appreciated by Polecam operators around the world.  We have been under pressure to introduce an entry-level Polecam system for some time and have achieved this without compromising on quality."
"Polecam Starter Pack incorporates a newly designed D-SLR head and redesigned back-end," details Polecam Sales and Marketing Manager Jeremy Curtis.  "The rig can be attached to any standard professional camera tripod or harness mount.  The Starter Pack comes complete with a counterweight system, mains power supply unit with three four-pin XLR cables (for head, camera and monitor power), three interlocking carbon-fiber poles with a total length of nearly 12 feet, control joystick and the pan/tilt head.  The new back-end has a threaded bar for counterweights, an extended top plate plus a new cable-management arrangement. The standard Polecam back plate is not essential when using a D-SLR but can be added as an option to accommodate battery power facilities or as an upgrade path to a full Polecam rig."
Price point of the Polecam Starter Pack including pan/tilt head for the Canon 5D D-SLR is under $10,000.